Taking the Fear and Desperation Out of Online Dating
The quest for a calmer, gentler dating app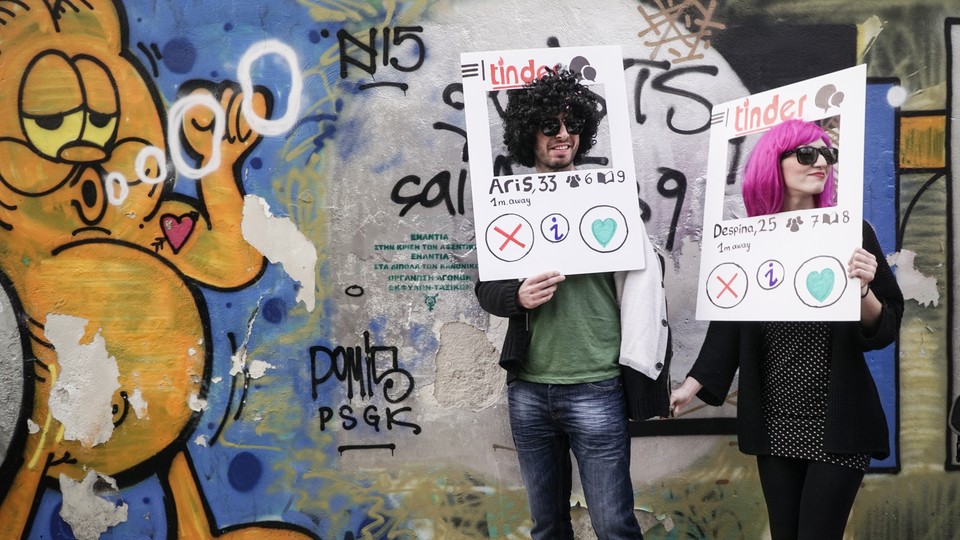 Whenever people start dating differently, a freakout inevitably ensues. As Moira Weigel details in her book Labor of Love, when young people started "going out" instead of having gentlemen callers visit women in their family homes, their elders were horrified. Some thought women who allowed men to buy them dinners or tickets to the movies were "turning tricks." The reaction to the phenomenon of "going steady" in the 1940s and 50s was less extreme than accusing people of prostitution, but still hand-wringy.
Add technology to the mix and you get fear of change, doubled. When people began forming connections online, romantic or otherwise, the anonymity the internet allowed was terrifying. Anyone you talked to online could be a murderer, or so it seemed. Even as people got over that, a stigma lingered around online dating—that you must be desperate, or weird, to try it. In the early years, online dating carried a whiff of sadness—it was for people who had "failed" at dating in-person.
Whitney Wolfe, the founder of the dating app Bumble, said she thinks some companies were promoting that message themselves, through the way they marketed.
"In the last decade, [dating sites] marketed to the desperate, to people who were lonely and hopeless," she said on Wednesday at the Washington Ideas Forum, an event produced by The Aspen Institute and The Atlantic. "Therefore when someone used it they felt this sense of shame or embarrassment."
One old eHarmony commercial on YouTube starts with a man saying "I was skeptical about anything that was on an internet." (Yes, an internet.) Later, in the same commercial, a woman says, "I don't think anybody, no matter how old they are, should ever give up." Evoking skepticism and giving up may not be the best way to make people excited for a dating service.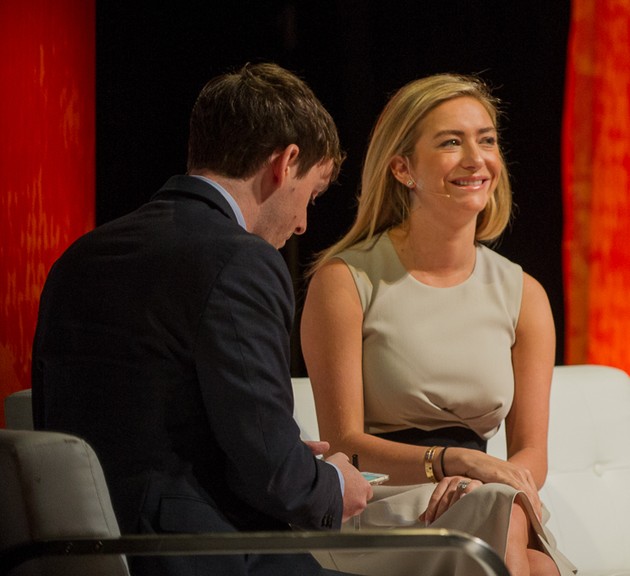 Skepticism and fear are typical reactions to technology that changes how people connect. My colleague Derek Thompson, who interviewed Wolfe at the Washington Ideas Forum, brought up a 1909 song by Irving Berlin, warning women against dating men who own cars. "Keep away from the fellow who owns an automobile / He'll take you far in his motor car / Too darn far from your Pa and Ma," the song goes. It then evokes the classic fear for a woman dating a man, especially one relatively unknown to her, of being harassed, or even harmed: "There's no chance to talk, squawk, or balk / You must kiss him or get out and walk."
Wolfe said she hoped her app could erase some of those fears for heterosexual women who are online dating; the gimmick of Bumble that separates it from Tinder, Hinge, and the scads of others is that the woman has to send the first message. Unfortunately, men regularly send women harassing messages on dating platforms like Tinder and OKCupid, and the culture around online dating can seem toxically misogynist at times. (Wolfe herself is a former Tinder employee, and settled a sexual harassment and sex discrimination lawsuit against her former bosses in 2014.)
When the woman has to message first, Wolfe says,  "the women feel empowered and confident," and the men feel "relieved." The traditional gender roles of the man as pursuer and the woman as the pursued still often play out online, though certainly not all of the time. Wolfe thinks some of the harassment comes from men who are afraid of being rejected.
"When men are on these platforms—generally speaking, not everybody—there's this sense of 'I have to make the first move, I have to go hunting,'" she says. "That puts a lot of pressure on the man. It also opens up a stream of bad behavior because if the woman doesn't respond, it's taken as rejection. So when the woman is making the first move, he's complimented, he feels flattered." Hopefully, if the interaction goes according to Wolfe's hopeful script, the woman's fear of getting unwanted harassing messages from randos and the man's fear of being rejected are both erased.
More generally, Wolfe thinks dating apps can, contrary to the old stereotype, make people's searches for love less desperate. When the opportunity to meet new people is always available, there's less need to scan every bar and party for prospects, panning for gold in a river of bros.
"I don't want, as a young woman, to be pressured to go out every Thursday, Friday, and Saturday to try to find something," Wolfe says. "You should be able to do that on a business trip or wherever you are at your own leisure."