More Evidence Cars Will Never Be Sexy Again
Apple's rumored takeover of McLaren is a symbolic final breath in the life of automotive desire.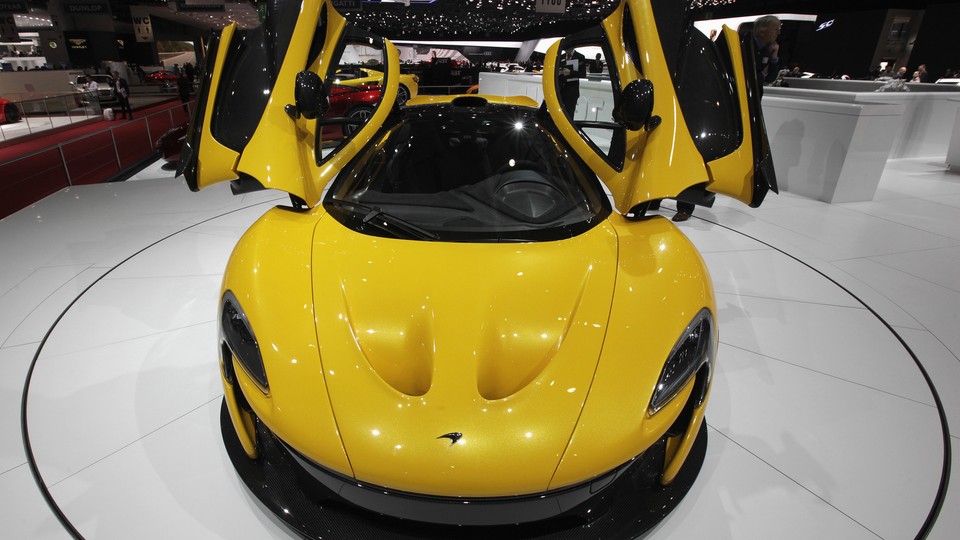 The automobile has become the enemy of progress. It's an unlikely outcome, from the vantage point of the 20th century. Not that long ago, cars were still unequivocal symbols of personal power—especially in America, where basic mobility is often impossible without one.
But now cars are increasingly uncool. For one part, they're a major source of carbon emissions, and thereby a principal cause of global warming. For another part, they're expensive to own and operate, especially in big cities. The high-status technology, media, and finance professionals who live in cities like New York and San Francisco and the like can get around by public transit, on foot, and by bike. Elsewhere, the recession stifled car purchases and use among all demographics. Millennials just entering the workforce, who might have started buying cars had the economy been better, are more likely to have found and then acclimated to other options—including ride-hailing services like Uber.
Then there's the robocars. Once a wild-west, self-driving are cars gaining momentum. Google has been driving robotic Lexus SUVs in Mountain View for years. Uber has begun a working trial of an autonomous fleet in Pittsburgh. Tesla has installed partially-autonomous "autopilot" in its cars for years. And finally (thanks partially to Tesla autopilot's questionable safety record) the U.S. government has issued guidelines for autonomous vehicles, along with an endorsement of their promise for the future.
Autonomous cars are destined to become fleet cars. Services like Uber and Lyft depend on the idea that riders don't want to own cars, but only to rent them when needed. Making the cars drive themselves removes the need for people to operate them, too—thereby snuffing out all the human pleasure associated with driving. While still hypothetical, Google's autonomous cars will likely work the same way. Like many technology businesses, Google and Uber are based on the premise that people don't want to own anything—whether a word processor or an automobile—but only to borrow them on-demand.
Leasing a car feels much the same as owning one. The lessee is still responsible for it, still garages it, still winces at dings on its surface. But nowadays, a different kind of lease has become common: the transient usage of software-driven services that appear and disappear at whim. Google Docs leaves much to be desired, but who cares when it's free and easy to use? A particular Uber ride might be more or less unpleasant than another, but soon enough it will drive away never to be seen again. Goods become tools, and temporary ones at that.
But yet, people do care about cars that way. Or at least, they did. As automobiles become more like online software services, travelers will become less attached to their aesthetic properties. As I've written about before, Tesla has already begun preparing car culture for the end of the automobile as an object of desire. The Model S is a supercar that's as stylish as a pair of Dockers. Google's prototype for a cute pod of a self-driving car does something similar. Uber's early autonomous cars are about as unsexy as they come: a fleet of Ford Fusions topped with big, LIDAR hats—hardly the kind of vehicle that could adorn posters on adolescent bedroom walls. As my colleague Megan Garber put it, cars like these take the automotive logic of the 20th century— "cars as luxury, cars as freedom, cars as sex"—and flip it on its head. Now vehicles are becoming a commodity and a service. What's less sexy than a car a bunch of other people have also recently occupied?
The increasing un-sexiness of cars helps explain a startling, recent rumor: that Apple is in talks to acquire or invest in the British supercar company McLaren.
McLaren is best known for its Formula 1 pedigree, although the company also makes million-dollar road cars for the very wealthy. In recent years, the company has also expanded into design consulting and parts, strengths it developed thanks to the unforgiving conditions of Formula 1 racing. Estimated to be worth about $2 billion, Apple could easily snap up the company with some of its $200 billion or so in cash reserves.
Apple, meanwhile, has reportedly been developing its own electric and/or autonomous vehicle program. As with everything Apple, the company has been secretive about its plans. One thing we do seem to know about "Project Titan," as the Apple project was code-named, is that it recently underwent a dramatic restructuring, including a number of layoffs. All is not well in Apple's garage.
That makes the possibility of an Apple partnership with automakers seem more likely. McLaren quickly denied the rumors of investment or takeover, but whether or not a partnership or acquisition will ever really happen is less interesting than what it means that the public would find one so interesting in the first place.
Some of those affinities are obvious. McLaren has been working on lighter and more efficient electric drivetrains, a feature of obvious interest to any future automaker. And Apple's reported shift from developing a complete autonomous car to a provider of technologies for other manufacturers seems to correspond with McLaren's strategy to use Formula 1 as a testbed for more mainstream applications. Other Apple technologies, like the iPhone in-car entertainment system known as CarPlay, offer paradigmatic examples for potential operational infrastructures for future automobiles. The "Intel Inside" of future automobiles.
But others are less obvious. In truth, the appeal of Apple's hypothetical absorption of McLaren is most easily explained from the gut or the crotch rather than from the head or the hands. No matter the number of analysts poring over the strategic benefits of a future set of Apple-branded components and subsystems derived from McLaren inventions and installed in ordinary Fords and Hyundais, the idea of an Apple acquisition of McLaren evokes one singular and undeniable image: a sleek, dark, and perfect Apple supercar.
I can imagine it in my mind's eye. Black or silver (or rose gold, of course), the Mac (forgive me) is a vessel where the seam between glass and metal cannot be distinguished. When a nearby owner is recognized, the gentle sigh of tamed hydraulics acknowledges him or her, engaging some heretofore unthought car door entry paradigm. Its engine hums low and bright, powerful yet winsome. If the automobile has always been a symbol of power and freedom and sex, and if everyone wants nothing more than to stroke an iPhone until it sublimates pleasure and access—just imagine how good it would feel to grip the tightly stitched wheel of an Apple-McLaren love child.
But yet, we already know that no human will soon grip any wheel, let alone that of a supercar. And so the truth eventually creeps into the dream. There will be no Apple supercar, because cars themselves are being dismantled and reinstalled as technology services.
McLaren, for example, has already spun off a consulting group called McLaren Applied Technologies, which domesticates the wild Formula 1 machine into more practical affairs: data analysis, advanced control systems, data-driven intelligent products. The Formula 1 racer inevitably must settle down into the workaday necessity of, say, "facilitating analysis of human and machine performance through advanced data analytics, algorithms and prediction."
It's the supercar equivalent of your favorite punk band selling its signature lick for an adult diapers jingle. The very idea of a supercar—and to some extent, of an ordinary one—is excess. A singular human being whose feet and hands pilot two tons of metal and rubber and leather and explosives from the garage to the supermarket.
And yet, that is just the function that automobiles are now abandoning. Instead, cars are becoming leased appliances, made and sold with efficiency to suppliers intent on renting them out for minutes at a time to customers who would rather forget ever having been inside them. Nothing could be less sensual than the boring universe of business-to-business fleet sales—except, maybe, the boring universe of business-to-business fleet-sales component supply.
Cars once lived among us, their clear-coated steel body moldings and tinted glass  windows offering counterpart to human flesh and tailored textile. But soon, they will live on the inside of technology services—as components and subsystems, just as do the microprocessors and batteries and GPS units and accelerometers that drive our smartphones. Automobiles are doomed and destined to become mere parts infrastructures for worldly conveyance. There they won't even be seen, let alone desired. What kind of freak lusts for microprocessors?
The dream of Apple's subsumption of McLaren is a collective final breath of the automotive dream. And like that death rattle, it is both terrifying and beautiful. Even near its end, the automobile still has its wits about it. The memory of speed and power and control persists, for a moment anyway, just before it turns into yet another borrowed appliance, to be used and also forgotten.