Google's 'Cozy' Relationship With Driverless-Car Regulators
A trove of emails between the company's executives and federal officials show a tight bond between Silicon Valley and Washington.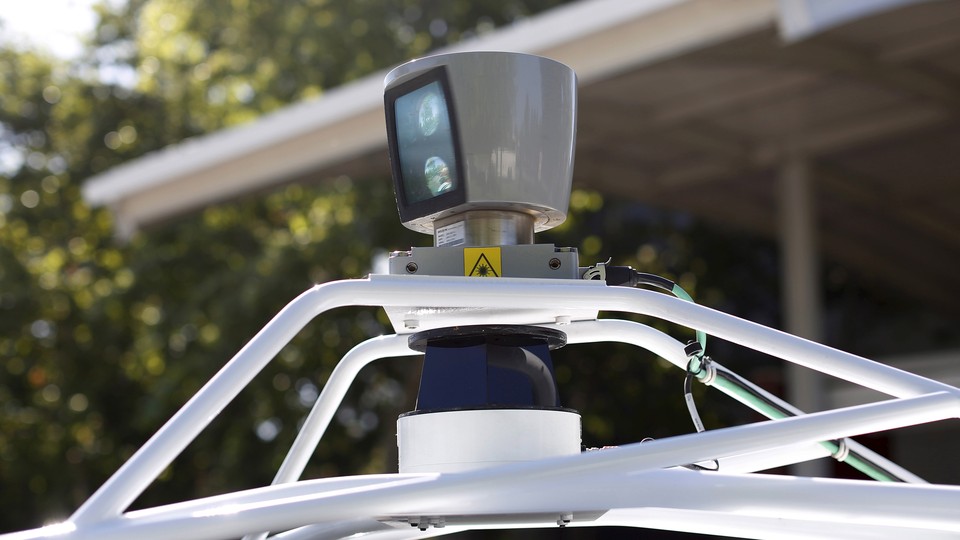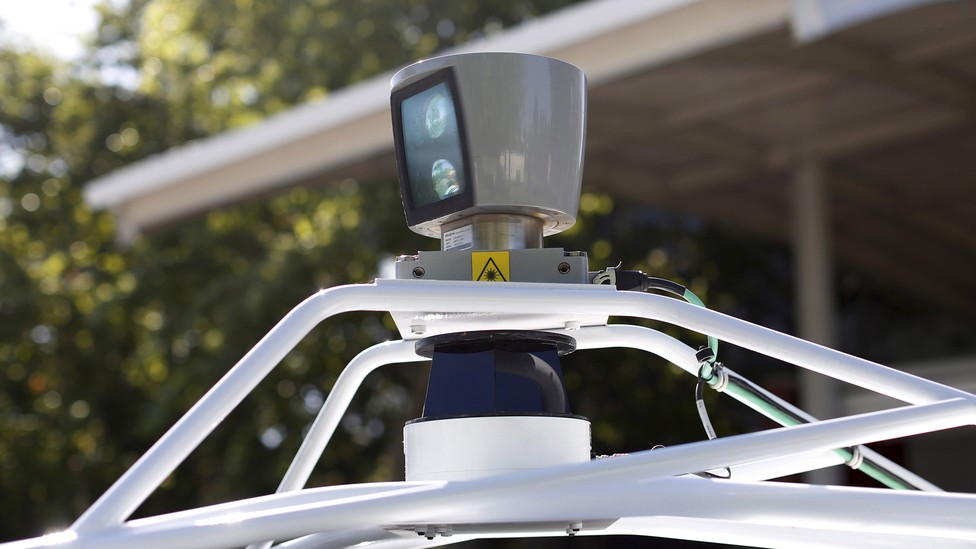 Updated on September 13 at 6:34 p.m. ET
Self-driving cars have generated enormous interest in recent years, in part because of how rapidly they've appeared on public roadways.
This month, Uber passengers will be able to hail driverless rides in Pittsburgh. Google's self-driving cars are already being tested in four states.* Across the country, the technology is advancing more quickly than regulators can pace. In turn, there have been relatively few opportunities for public participation in conversations about how driverless cars are transforming roadways. Yet public documents show federal officials have been deeply—and quietly—focused on the technology for several years.
More than 1,000 pages of emails between top executives at Google and senior officials at the National Highway Traffic Safety Administration (NHTSA) and the White House Office of Science and Technology Policy reveal a tight relationship between the federal government and Google going back to at least 2011, with regular in-person meetings, repeated vehicle demonstrations, ongoing policy discussions, and several one-on-one emails between top leaders in government and in Silicon Valley. The documents were obtained in an open records request by the nonprofit government watchdog group Campaign for Accountability and provided to The Atlantic.
"At a minimum, the documents show a pretty cozy relationship between Google and the Department of Transportation, as well as the White House," said Anne Weismann, the executive director of the Campaign for Accountability. "Google, it appears, had a lot of input into how the federal government was going to deal with driverless cars. I don't think there's necessarily anything suspicious or improper about that, but there's a fine line."
The fine line Weismann describes has to do with navigating corporate and public interests as they pertain to technology that promises to transform cities, decimate and create entire industries, and save tens of millions of lives this century. It's natural that federal officials have turned to Google to educate themselves on this technology. Google's Self-Driving Car Project, which launched in 2009, is one of the best known and oldest of its kind among its peers in Silicon Valley. Google has also been considerably open with the public about its progress, sharing monthly reports about its software with the public and otherwise articulating its vision for a driverless future. Though it isn't unusual for government officials to rely on corporations for technological expertise, it's difficult for the public to glean how closely these entities are collaborating when such work happens in private. "Any time we're looking at a specific group of emails, we're only getting a small piece," Weismann said. "To a large degree, unfortunately, [public understanding of what's going on] depends on how transparent a particular administration wants to be. And the trend seems to be moving away from that. We're given less and less access."
The National Highway Traffic Safety Administration released a short policy statement on autonomous vehicles in 2013, and it hosted a pair of public meetings about the technology earlier this year, but much of the federal government's work on the technology—including plans for regulatory oversight—has occurred behind closed doors.
There will be more opportunities for the public to participate in policymaking discussions once the new federal guidelines are issued, according to a senior Department of Transportation official who agreed to speak on-record only if his name wasn't used. In the meantime, the Campaign for Accountability's trove of emails offers a unique glimpse at tandem efforts between federal officials and Silicon Valley executives to bring self-driving vehicles to the masses.
The emails outline years of regular communications between top officials at Google and senior leaders in the Department of Transportation—including the head of Google's Self-Driving Car Project; the project's program manager; the project's head of business development; several Google vice presidents; Google's head of public policy; a Google product manager; a Google user-experience researcher; top Google engineers; Google lawyers; the deputy director of NHTSA, the agency's top lawyer; NHTSA's director of policy; the director of the Vehicle Research And Test Center; and several other top leaders from the federal Department of Transportation. The documents are focused on Google, but they also show plans for occasional meetings with officials at Bosch, Audi, Honda, Toyota, VW, BMW, and Tesla.
The emails themselves detail plans for regular confidential meetings between Google and federal officials, including private demos of self-driving vehicles for then-Transportation Secretary Ray LaHood in 2012 and for Secretary Anthony Foxx in 2014, as well as ongoing conversations about the best strategies for engaging state-level policymakers and members of the public. (At one point, in 2011, a Google executive emailed federal officials to request they sign a non-disclosure agreement before a meeting, though it's not clear from the records whether federal officials agreed to do so.)
In addition to formal policy meetings, the emails also refer to several dinners between top officials at Google and the Department of Transportation, including references to multiple outings to The Source, a pricy Asian fusion restaurant in Washington's Penn Quarter neighborhood, a short walk from Capitol Hill. It's not clear from the emails who paid for those meals, but the communications do show careful attention to ethical questions about meal payment in another instance, when Google asked federal officials to double check whether they would be able to accept free lunches during a weeklong visit to the Google campus. (A federal official replied that yes, they could.)
In another message, in 2012, the question of ethical boundaries is raised regarding the departure of Ron Medford as deputy director of NHTSA. Medford left the agency to become Google's Director of Safety for Self-Driving Cars—a high-profile hire for Google at the time—and colleagues opted to drop him from an email thread between NHTSA and Google during his transition between those jobs. The United States Office of Government Ethics has guidelines for what sorts of restrictions might apply to former government employees whose new jobs put them in contact with former colleagues, but Google declined multiple requests for interviews with Medford. (A spokesperson for the Google Self-Driving Car Project emailed this statement: "Thousands of people die on roads around the world every single day, so in order to bring this lifesaving technology to the world quickly, we will need to collaborate with many groups, including safety advocates, disability groups, regulators and public officials. This technology has progressed by leaps and bounds over the last few years, and we've kept public officials updated on our project so they have the information and technical expertise to develop policies that will bring this lifesaving technology to the world.")
"I know there's some high profile people who have left," a senior official with the Department of Transportation told me. "But I think they're more the exception than the norm."
Most of the emails obtained by the Campaign for Accountability are confirmations of upcoming meetings or otherwise friendly check-ins between Google and federal officials—including Google executives and government leaders joking a YouTube video that shows a poor imitation of a Google self-driving car, plus several emails characterized by complaints about coverage of the technology by The New York Times.
One thread of emails, from 2012, underscores how closely officials in Washington and in Silicon Valley appeared to be working together. The thread picks up after an exchange that left Google confused about the possibility of forthcoming—and unanticipated—federal guidelines on autonomous vehicles, a possibility that turned out to be a misunderstanding. Medford, still with NHTSA at the time, registered disappointment with Google for having received a call from the company's lawyers. "We shouldn't have this kind of confusion since we are direct and honest with each other," he wrote. Chris Urmson, who was then the head of Google's Self-Driving Car Project, replied: "Without a strong partnership, we don't believe it will be possible to realize the vision we both share for self-driving technology. We'll continue to be open and transparent with you and NHTSA. Please continue to let us know if an interaction strikes you as anything less than this, and we'll work hard to fix it."
Avoiding conflicts in this realm is surprisingly easy, one federal Transportation official told me, despite the revolving door between government and industry. "You need to make sure that you don't just get sucked into old relationships," he said. "For NHTSA, they have a very clear mission: It's safety. So you don't have a conflicting mission you're working with. It's easy to cut through any of the distractions."
That seems to be the message from several corporate stakeholders—including Google, Uber, Volvo, Lyft, and Ford—which are jointly lobbying for self-driving cars under the umbrella of the Self-Driving Coalition for Safer Streets. Despite ostensibly fierce competition among these companies, it seems likely that when new federal guidelines emerge, manufacturers will find themselves to be more at odds with the federal government than they are with one another. Of course, that will depend on what NHTSA's guidelines say.
"The issue here is not that the industry is against federal regulation, but rather that the traditional regulatory process takes anywhere from five to 10 years," said David Strickland, the coalition's spokesman and lead counsel—and a former NHTSA administrator. "A decade is way too long to wait as the technology develops and improves in a handful of months."
Strickland's concern, he says, is that the typical way of establishing policy will "paralyze the marketplace and hamper testing and deployment." It remains to be seen which regulatory bodies—and at what levels of government—will be most involved in oversight of self-driving vehicles. Regulators will need to understand  the basics of existing transportation laws like vehicle standards and road operation, as well as grasp the implications of having machine-driven cars that rely on advanced sensors and sophisticated software. "There currently are no regulatory bodies that carry such a full suite of expertise," said Justin Kintz, a spokesman for Uber.
The "early consensus" of whether federal, state, or local agencies ought to handle oversight, he says, "seems to be pointing toward federal oversight, given the interstate nature of transportation."
---
* This article originally misstated that Google is testing its self-driving cars in three states. We regret the error.