A Peek at Babe Ruth's Private Scrapbooks
Twenty-five volumes from the National Baseball Hall of Fame's collection have been digitized for the first time.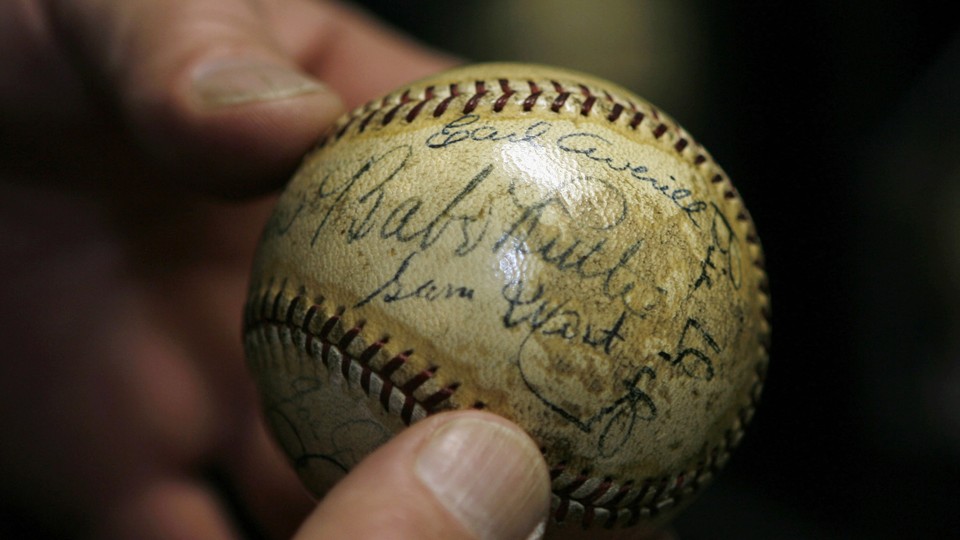 By now, nearly 70 years after his death, many of Babe Ruth's most impressive records have been broken. Yet there are still only a few baseball players who approach the great Bambino's influence as an American cultural icon.
Everything about the guy was legendary.
There was the raw talent, yes. Ruth had, as Murray Schumach put it in Ruth's 1948 obituary in The New York Times, "an amazing flair for doing the spectacular at the most dramatic moment."
He was a stellar pitcher, a bombastic home-run hitter, a ballplayer so powerful and so revered that generations of Boston Red Sox fans blamed his 1920 trade to the New York Yankees as a curse on their city.
Off the field, the Sultan of Swat was just as magnetic. Ruth was charismatic and quirky, an affable showman known for his boisterous post-game celebrations and the fact that—despite his tendency to make friends everywhere he went—he could never remember anybody's names. "Indeed, by a singular display of craft, he overcame this slight deficiency with consummate skill," Schumach wrote. "If you looked under 40 it was 'Hello, kid, how are you?' And if you appeared above that line of demarcation it was 'Hello, doc, how's everything going?'"
Ruth spent his life dedicated to baseball. So it's only fitting that he is the face of a new effort to digitize a massive collection of archives from the National Baseball Hall of Fame and Museum. The institution launched its project this week with the release of a trove of Ruth's scrapbooks from the 1920s and 1930s. The scrapbooks—totaling 25 volumes and more than 1,400 pages—were assembled by Ruth's manager, Christy Walsh, and contain newspaper clippings, box scores, cartoons, letters, and other artifacts from Ruth's career.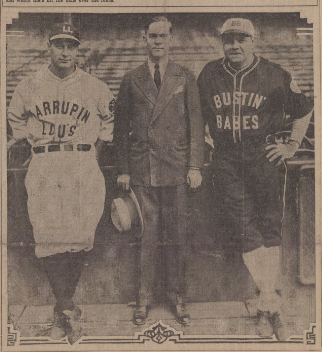 Up until now, the scrapbooks have only been available to researchers—in-person and by appointment in Cooperstown, New York. The books have never been on display. The digitized collection will expand in the coming months to include rare photos of Jackie Robinson, letters written by Ty Cobb, and other archival artifacts.
"The greatest barriers to digitizing the vast majority of history are funding and lack of understanding about what digitization involves," said Kristen Gwinn-Becker, the CEO and founder of HistoryIT, the archival company that orchestrated the Hall of Fame's digitization project. "That doesn't mean that we shouldn't strive to digitize as much as possible and, more importantly, to do so in such a way that makes it truly accessible."
The collection of Babe Ruth scrapbooks, which is now freely available online, is fascinating for a few reasons. For one, the papers represent more than Ruth's indelible mark on baseball. The scrapbooks also trace his theatrical performances in vaudeville, which eventually led him to television and film.
Given their curated nature, the archives are compelling, too, because of what they might reveal about the man who put them together. To the right researcher or historian, the mix of stories that Walsh selected could itself be revealing. He seemed to keep a close eye on Ruth's competitors, for example—one clipping is about "Another Bambino," the rising star Heinie Manush, while another focuses on Kenneth Williams, whose home-run record challenged Ruth's in 1922.
"Speak of home-run hitting and the minds of baseball fans throughout the country at once turn to George Herman 'Babe' Ruth, the great Sultan of Swat," reads one 1924 clipping, from the San Diego Union. Ruth's "home-run smashing" had produced a "revival of interest in the diamond sport," the newspaper trumpeted. A century later, baseball and Babe Ruth remain as deeply ingrained in the American identity as ever.