Why Is the Biggest Name in Self-Driving Cars Leaving Google?
Chris Urmson's departure raises a host of questions about the future of driverless vehicles.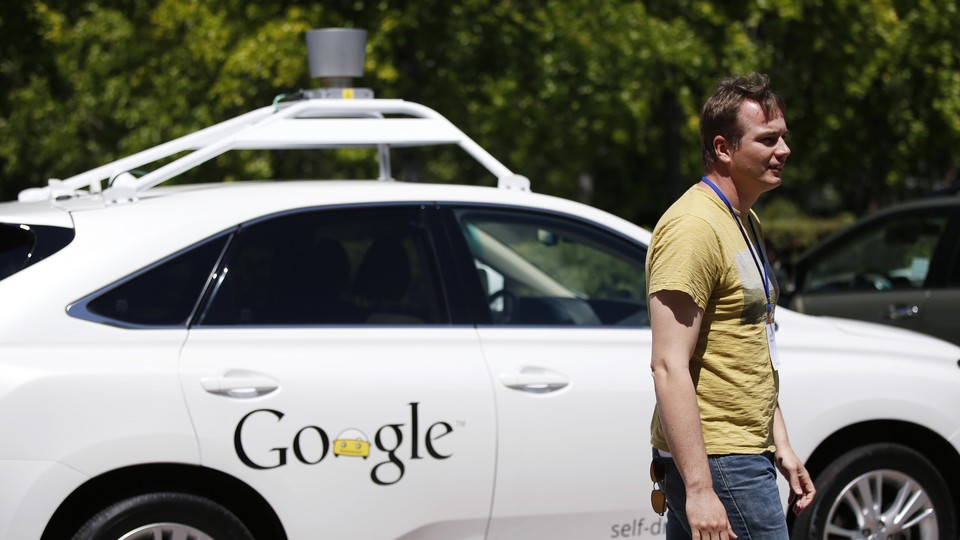 In the rapidly growing world of self-driving vehicles, Google is a clear leader. And Chris Urmson has been the human face of the company's Self-Driving Car Project since it launched back in 2009.
So it's big news that Urmson is leaving Google, a move he announced over the weekend in a blog post. It's also, so far, a big mystery as to what that means—for Urmson, for Google, and for any of its competitors.
The biggest question is: Was he poached? Uber, famously greedy for autonomous-car talent, has recently announced several expansions to its own self-driving car ambitions—including testing driverless vehicles on public roads in Pittsburgh, and a new mapping effort in Mexico. Uber also has a track record of scooping up Google's best. It hired the software designer Brian McClendon, previously one of Google's most high-profile executives, to head its maps division last year.
Urmson makes it seem like his next plans are uncertain: "If I can find another project that turns into an obsession and becomes something more, I will consider myself twice lucky." But Silicon Valley's tech giants are famously secretive, especially in the realm of driverless cars. It wouldn't be shocking, for instance, if Urmson wound up at Apple.
Little is known about Apple's work on self-driving cars, though reports of mysterious middle-of-the-night work makes it sound like a Willy Wonka-run shop. The company has been ultra-cagey about discussing its ambitions for autonomous driving, though public records—including a patent filing revealed this week—offer some clues.
"There is a joke in the Bay Area that if you know somebody in the vehicle space and they left their old job but they haven't updated their LinkedIn, they must be at Apple," Chris Gerdes, a professor of mechanical engineering at Stanford University, told me last fall. And there are other clues that Apple continues to ramp up its efforts on autonomous driving, like recently reassigning one of its most influential executives, Bob Mansfield, so that he can focus on the project, according to The Wall Street Journal.
Then again, as one roboticist pointed out to me, many tech companies try to prevent people from company-hopping this way. "He likely has a non-compete clause for at least one (but probably more) years," Missy Cummings, the head roboticist at Duke told me in an email. "I bet he pops up in a related field like drones or some other robotic field."
Adding more intrigue to Urmson's departure are reports that he isn't the only one leaving Google. John Markoff, writing for The New York Times, characterizes Urmson as "the latest in a string of departures by important technologists working on the autonomous car project." Markoff also points out that the staffing changes come after Google hired John Krafcik, who was previously a chief executive at Hyundai America, to lead the car project as it spins out as its own company under the larger umbrella of Google's new(ish) company, Alphabet.
So maybe this is just one of those moments where a company is changing enough to prompt some of its big names to move on. That's not unheard of—and Urmson did write that he is "ready for a fresh challenge"—but his departure still raises questions about how the Self-Driving Car Project will fare without him. Several people who have either worked directly with Urmson, or closely followed his work at Google, declined to speculate on what's next, but underscored how important his contributions to Google have been.
"His departure is certainly a loss for the project," Mark Bergen and Johanna Bhuiyan wrote for Recode. "Urmson was the main engineer who built the code running Google's autonomous software, according to one person who worked with the team." Urmson didn't immediately respond to my request for comment on Monday.
"I have every confidence that the mission is in capable hands," he wrote in his blog post. "There are many other problems or products this talented group of people could work on, but they've chosen self-driving cars because they understand the impact their work can have on making our roads safer and bringing everyday destinations within reach for millions of people."
What Urmson chooses next, and what happens to Google in his absence, remains to be seen.