Unusual Hawaii Petroglyphs Seem to Depict Ancient Surfers
Archaeologists say the sandstone etchings may be 400 years old.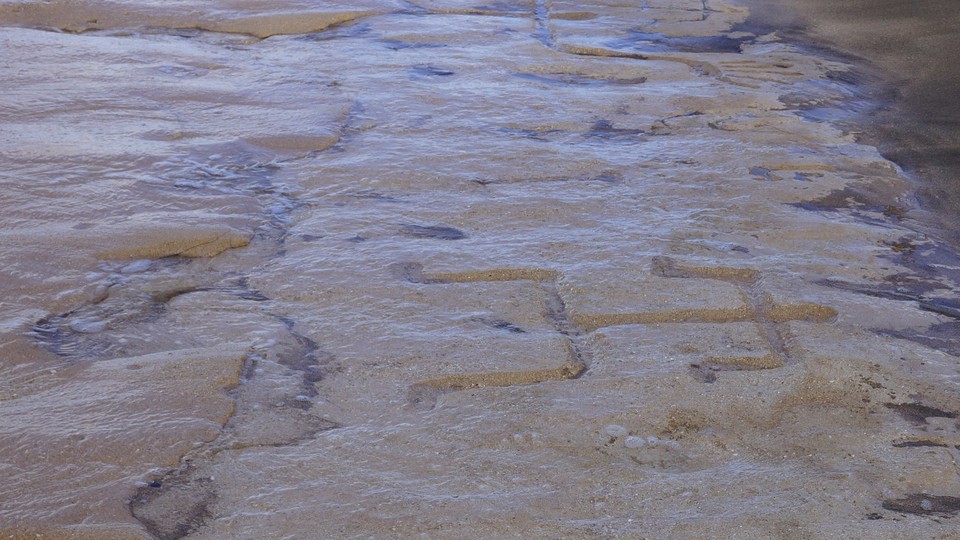 If the sand hadn't shifted just right, and if a beam of sunlight hadn't illuminated the shoreline at that very moment, and if no one had actually been on the beach to see it, 17 giant petroglyphs in Hawaii might never have been rediscovered.
In the past several weeks, working off a tip from a couple of tourists who saw the unusual markings in the sand during a trip to the beach last month, archaeologists have uncovered a series of figures etched into sandstone across a 60-foot stretch of the Waianae Coast, on the island of Oahu. Officials estimate the markings are some 400 years old, predating European contact with Hawaii by nearly two centuries.
"We consider these Waianae petroglyphs to be consistent with traditional pre-Cook Hawaiian petroglyphs," wrote Edward Stasack and Diane Stasack, who are widely considered to be leading experts on Hawaiian petroglyphs, in an email. ("Pre-Cook" is a reference to James Cook, the British explorer who first arrived in Hawaii in 1778.) "The ones we've seen appear to be those with a linear torso—commonly and regrettably referred to as 'stick figure.'"
Archaeologists are baffled and delighted by the discovery. Though petroglyphs are found at historic sites throughout the Hawaiian islands, it's uncommon to find them so close to the water. The discovery is unusual in other ways, too. "We find a lot of petroglyphs that are a foot or so tall, but this one measures four to five feet from head to toe," said Alton Exzabe, an archaeologist in the Army, in a statement by the state Department of Land and Natural Resources. "It's pretty impressive."
Scholars differ in their views of what Hawaiian petroglyphs represented. Some appear to be sacred or spiritual in nature, whereas others are interpreted as more casual markers of a person's presence at a particular spot—basically, so-and-so was here. Symbolism and meaning can be "significantly different from site to site," the Stasacks told me. There's also a good deal of variety in what the etchings depict, according to a 2005 account by Bob Krauss in the Honolulu Advertiser:
There's a little duckling in the field at Puako, Hawai'i, that's delightful. The artist has captured the waddling walk of a baby duck with a few lines. The same artistic merit is true for a hula dancer petroglyph. Other petroglyphs are powerful, like praying figures in the same field. One image I call Ghost Woman. It's ethereal. There's a petroglyph near the Kona Village resort on Hawai'i that may depict human sacrifice. Two men appear to be carrying a body slung on a pole.
Because of Hawaii's relative isolation from the rest of Polynesia, Hawaiian petroglyphs have the potential to be uniquely revealing about ancient Hawaiian culture. Yet there's much that is unknown. "There are many questions remaining," the Stasacks told me. "With every new hypothesis comes a new way of seeing things."
There are other challenges. Determining the age of petroglyphs is notoriously difficult and "quickly becomes a very, very speculative exercise," says Alan Downer, the administrator for the Hawaii State Historic Preservation Division. Any engravings exposed to seawater, like the ones uncovered last month, are unlikely to be as reliably dated as those in other regions due to environmental conditions. Some archaeologists believe the engravings uncovered last month are about 400 years old, based on the age of the sandstone where they appear and the degree of weathering, but more sophisticating dating techniques that would be used on petroglyphs elsewhere may not be possible. The Stasacks emphasized to me that they weren't involved with the analysis that concluded the 400-year-old estimate, and say the Waianae petroglyphs could be "almost any age" based on the style, even though they appear traditional. Researchers are also uncertain about the origins and significance of the latest find.
"We think that these probably have something to do with surfing," Downer told me. "Several of the pictures depict a figure on a surf board."
Hawaii's modern surf culture is often traced back to 20th-century figures like Duke Kahanamoku, the handsome Olympic swimmer who earned the sobriquet, "the father of surfing." The sport's cultural roots in Hawaii are, in fact, much deeper. King David Kalākaua is often credited for reviving surfing in Hawaii in the 19th century. Long before that, ancient Hawaiians practiced what they called heʻe nalu, or wave sliding, using enormous wooden boards.
As with similar surfing-themed petroglyphs on the North Shore of Oahu, a region that's world famous for surf breaks like Pipeline, the newly found etchings appear near well-known West-side breaks. "But exactly how—or really even, if—they are surfing related is speculative at this time," Downer said.
The Waianae petroglyphs suggest that such etchings may be more common along the island's shorelines than archaeologists previously thought. And it's still possible others might be found. "It takes a long time for sand in the surf zone to erode stone, even stone as poorly indurated as this," Downer told me. "These glyphs are deeply incised so it would take a great deal of erosion to wear them away. Finally, it seems likely that these were only exposed do wave action every few decades and protected from wave action for the decades in between exposure, substantially reducing erosion."
Still, preservationists say it's difficult to protect the etchings, and warn that beachgoers should not touch them. "Even the process of scraping sand away by hand or with brushes can damage the integrity of the figures," officials said in a statement.
People who have long lived in the area say the same petroglyphs surfaced once before, about 40 years ago. In the weeks since they were first found again, the sand has already shifted to cover them.