Peter Thiel's Self-Serving New York Times Column
The billionaire justified his fight against Gawker with a misleading reference to privacy legislation.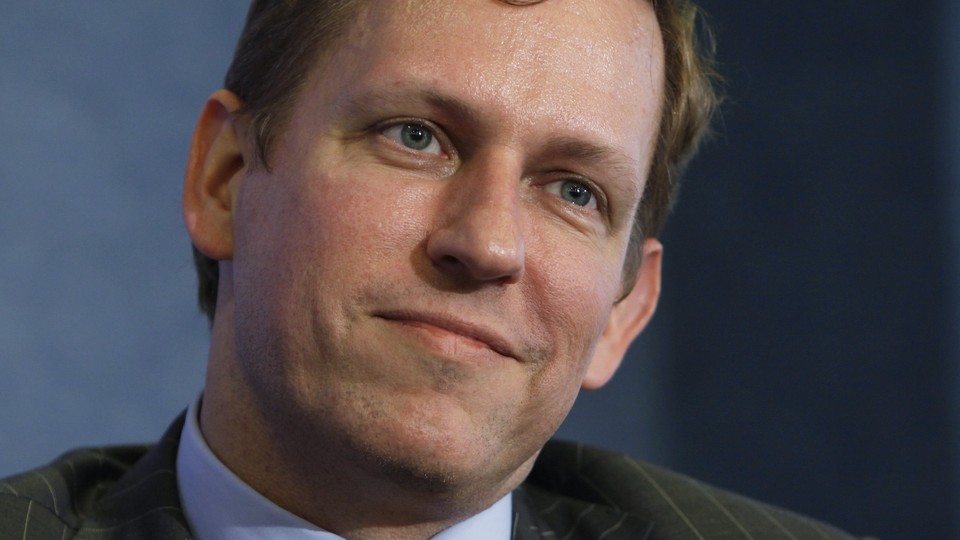 Peter Thiel has no regrets about pouring millions of dollars of his own money into the legal fight that bankrupted Gawker Media. "I am proud to have contributed financial support," Thiel wrote in The New York Times on Monday, "… and I would gladly support someone else in the same position."
Thiel says he spent about $10 million to help Terry Bollea—the wrestler better known as Hulk Hogan—sue Gawker for having published, without his consent, a video that showed him having sex with his then-friend's wife. Hogan ultimately won his case. Gawker, facing a $140 million judgment, filed for bankruptcy.
Many have noted that there are few characters to root for in this saga. Gawker's decision to publish the Hogan tape is questionable at best, regardless of whether you consider Hogan to be a public figure. The media company is known for its brashness, and has made several widely-condemned editorial decisions in its 14-year history. Thiel references these in his column for the Times, and it's hard to argue that some of what Gawker has done—like outing Thiel, who is gay—is anything but despicable. But Thiel's involvement in the Gawker fight is about much, much more than a personal vendetta. (Perhaps I should note here that I wrote a regular column about internet hoaxes for Gawker in 2014, and that the editors I worked with were consistently sensitive, smart, and receptive to even minor concerns about tone and fairness.)
As Nicholas Lemann wrote for The New Yorker in May, Thiel—who is a graduate of Stanford Law School—is "surely aware of this case's potential to begin a reëxamination of the fundamental questions in American press law, far beyond the fate of Gawker." (Remember, too, Lemann says, that Thiel is backing Donald Trump in the presidential campaign—the same Donald Trump who trumpeted his plan to "open up our libel laws so when they write purposely negative and horrible and false articles, we can sue them and win lots of money.")
Writing for the Times, Thiel attempts to justify his antagonism of the press by drawing a connection between Gawker's publication of the Hogan tape and a piece of legislation aimed at discouraging what's often known as "revenge porn," or the distribution non-consensual sexual imagery.
The Intimate Privacy Protection Act, introduced by Rep. Jackie Speier, a California Democrat, would make it illegal to distribute a private, visual depiction of a person's "intimate parts" or of a person engaging in sexually explicit conduct, without that person's consent.
"Nicknamed the Gawker Bill, it would also provide criminal consequences for third parties who sought to profit from such material," Thiel wrote. Except it's not really nicknamed "the Gawker Bill," according to Speier's office.
"That is 100 percent not a thing," her chief of staff, Josh Connolly, told me. "And it's really self-serving, I think, on his part, to try to conflate our bill with their very specific case that has all sorts of loaded issues associated with it."
The bill's intent was to provide a level of protection for individuals—with non-famous, non-wealthy people in mind, he told me. A typical example might be a woman whose ex-boyfriend uploads to the Internet nude photos of her, without her consent. "This [legislation] was in no way crafted in response to, or to address the Gawker case," Connolly said.
Speier said in a statment provided by her office that the bill is meant to "address a range of privacy violations that have had devastating impacts on the lives and livelihoods of countless victims, from residents in assisted living centers to patients seeking confidential medical care to individuals involved in bitter breakups."
"It is not 'the Gawker bill,'" she added.
In an age where anyone can be a publisher, government regulation of what might be deemed "news" is thorny, and yet, Speier specifically intended to grant the press an exemption. The law would not apply to cases in which disclosing such imagery is in "the bona fide public interest," according to the language of the bill. "Our congressional intent is that it really should carve out [an exception] for any sort of legitimate conduct by the press," Connolly said.
Legitimacy, of course, is a standard that is sometimes decided by the courts. That's what happened to Gawker, and the outcome of that case may be the start of what Lemann calls a "protracted war" against journalists at a time when the press is "far more vulnerable, economically and culturally, than it used to be."
Thiel, apparently without irony, claims that he wages this battle for the good of the press. (His tactics, a former lawyer for The Wall Street Journal wrote in June, "in fact resemble nothing so much as the legal maneuvers white racists used to threaten the Northern press with ruin if it continued to cover the violent official response to efforts to desegregate the South in the 1950s and '60s.")
"The press is too important to let its role be undermined by those who would search for clicks at the cost of the profession's reputation," Thiel wrote for the Times this week. What he seems not to understand is that freedom of the press means that editorial decisions are made in newsrooms, not by venture capitalists or presidential candidates hellbent on revenge. Thiel could have "fought speech with speech," instead of with $10 million, Marcus Wohlsen wrote for Wired in June. "In seeking to destroy Gawker, Thiel showed that what matters to him isn't freedom but the raw exercise of power."
And in writing for the Times this week, Thiel showed that he's not as concerned with protecting privacy as he is with serving up a narrative that he believes justifies his actions.