A Tech Website That Makes It Easy to Travel Back in Time 
Techmeme lets readers enter any date since 2006 to see what it looked like that day.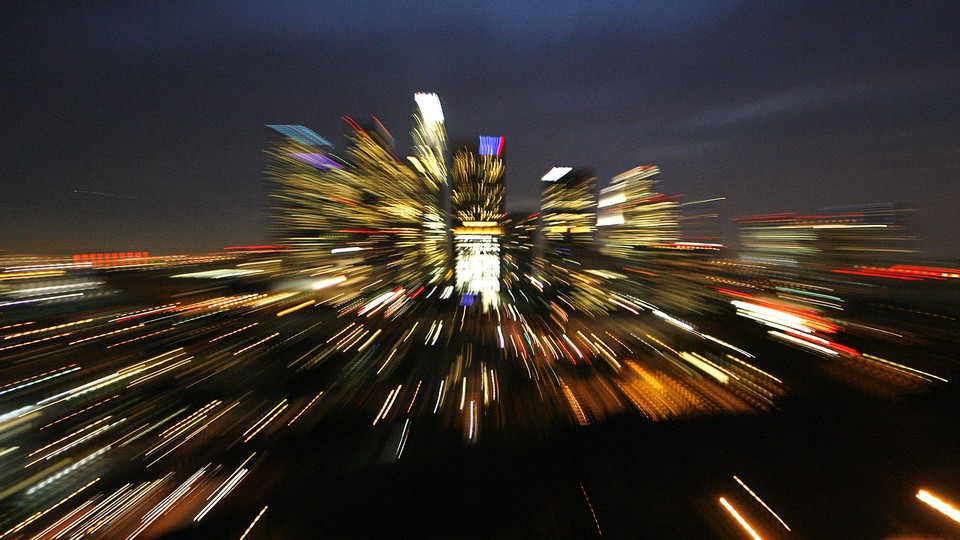 A truly digital online archive is a special kind of rabbit hole, strange to climb into for two reasons. First of all, the history is so recent—few web archives can take you back to the 1990s, even—and yet so much about the look and feel of the internet has changed dramatically. Secondly, most of the best web archives are still deeply broken. They offer only a deteriorating echo of what once existed and link rot is everywhere.
And yet snapshot views of the web can be a fascinating way to capture the flavor of the internet as it once was. This is how the Internet Archive's WayBack Machine organizes its screen captures—you can search various sites by how they looked on certain days—and it's how Techmeme's ingenious new timestamp works.
At the top of Techmeme's page, if you click on the date and time, you're given the ability to enter some other date, back to the year 2006. (Sadly, you can't travel forward into the future of Techmeme coverage. I tried.)

What you get is a glimpse of a moment in time, which makes the feature fantastic if you know which days in tech history were especially newsy. Maybe you want to revisit June 30, 2007, for instance, the day after the iPhone was introduced. Or October 6, 2011, the day after Steve Jobs died, to see the flood of remembrances. Or May 18, 2012, the day Facebook went public.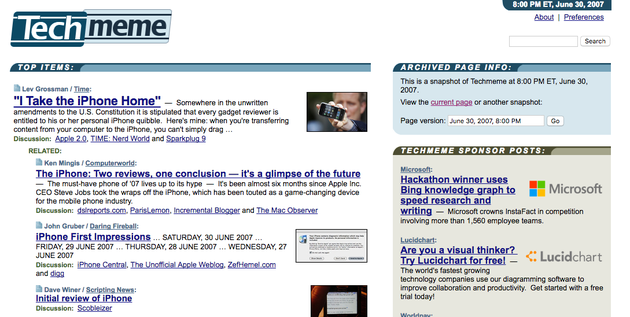 A more haphazard approach to looking back may not be best for serious researchers focused on a single topic, but it's certainly an entertaining exercise for tech enthusiasts.
Return to the Techmeme of May 2, 2006, for example, and you'll find a link to a story about the coming arms race between Google and Microsoft—this was three years before the launch of Bing, Microsoft's ill-fated attempt to challenge Google search. On January 1, 2008, the site led with a story about how Gawker's Nick Denton would begin paying bloggers based on web traffic. (Fast forward to today and Gawker is throwing a farewell party to its old self, as Gawker Media faces a bankruptcy auction.) On April 27, 2009, you'll find the headline for a story about the new MySpace CEO. On May 1, 2010, there's a story about how Twitter was more popular with black people than white people, years ahead of most mainstream coverage of the platform's influential role in public discourse on race.
Specific stories aside, it's neat to see how Techmeme's look has changed—though, given the site's text-heavy design history, its aesthetic evolution isn't all that pronounced. (For a more evocative example of the web's transformation, I sometimes revisit CNN's homepage as it appeared on September 11, 2001.) The larger point is that archives of old webpages—not articles but whole pages—don't just give you a text history, like you'd get if you read a single story from some date in history. They also offer a richer sense of what it was like to encounter a story on the web when that story was first being read. You get a feel for how the internet looked, and for which stories were considered important, given their prominence on the site. (At a time when few sites think seriously about creating meaningful access to their archives, it's particularly impressive that Techmeme has had this feature in place since it launched in 2005.)
Gleaning newsiness or editorial values from story placement is, of course, a tradition rooted in print. The front page of a newspaper remains a powerful place to trumpet not just the news, but news judgement.
There are plenty of people, me included, who have long argued that the homepage—an extension of A1 for a news site in a post-print era—is dead or dying because of social distribution. Techmeme's approach to archives probably isn't a way of honoring the historic value of homepages past, or even making a case for them today, but rather a matter of practicality. Because Techmeme is a curation site—it features links from tech stories published all over the web—an overview of which stories it chose to highlight on any given day is the most meaningful way to experience previous iterations of its coverage.
It's also a way to safeguard against the inevitable: When some of the stories Techmeme once handpicked for its readers vanish from their original sources, all that will be left is a snapshot in time. But all those snapshots have a way of adding up. Together, Techmeme's 10 years of easy-to-visit homepages and the WayBack Machine's half-a-trillion archived pages make for a pretty reliable vehicle to the digital past.