Uber's Latest Push Toward Driverless Cars
The ride-hailing service's new plan to collect street-view photos in Mexico further lays the groundwork for a fleet of autonomous vehicles.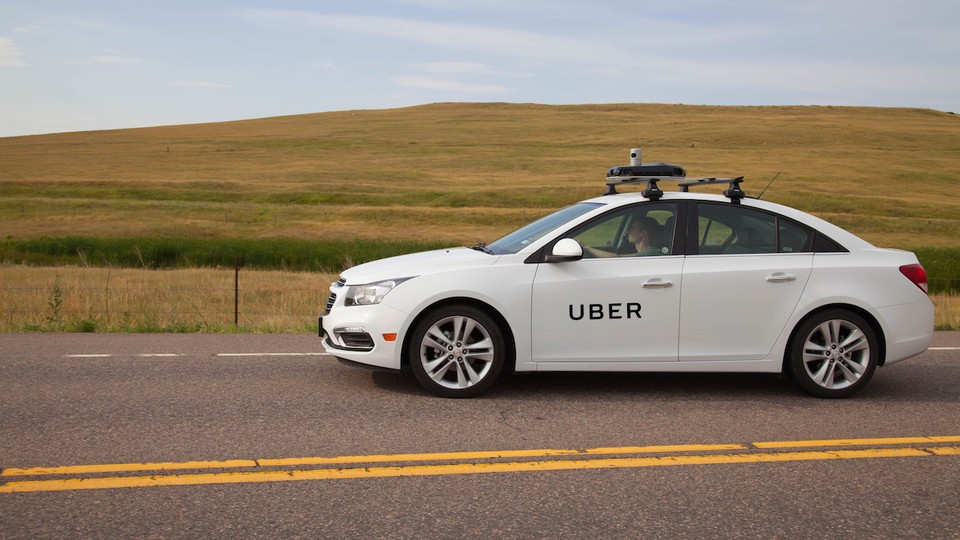 You need more than car parts and a fancy computer to build a driverless car. A vehicle that drives itself also needs to know exactly where it is in real time. Self-driving cars need maps. Really, really good ones.
"With autonomous vehicles, maps are going to be fundamental," said Brian McClendon, a vice president at Uber and an expert in geospatial data visualization. "And the maps that are needed for autonomous vehicles are beyond anything that's being created today by any third party."
To Uber, the ultimate "third party" may be Google, where McClendon worked on maps for a decade, and which Uber still relies on for the inner workings of much of its service. The Uber interface is built on the Google Maps API, and Uber drivers have the option to jump out of the Uber app to navigate directly within Google maps as they're driving. (In China, Uber partners with the search giant Baidu instead of Google.)
But with Uber increasingly investing in research related to self-driving vehicles, an area where Google is arguably the global leader, there's pressure for the ride-hailing giant to move away from its dependence on Google. On one hand, this is a logistics issue. "Uber itself has a different set of needs than Google did [when it created its own maps]," McClendon said. "Some things we need, Google doesn't have. We need to figure out how to improve, and build a service based on those improvements." On the other hand, it's about staying out in front among a fiercely competitive group of Silicon Valley's most powerful companies in the race toward driverlessness.
Basically, if you want to be in the self-driving car game, McClendon told me, "you're going to have to create your own maps for it." So that's what Uber is doing.
On Thursday, Uber announced it will begin taking street-view photographs in Mexico, an initiative that represents a new level of commitment to proprietary mapping data. Uber will deploy several dozen vehicles across several cities in the country, with an ongoing plan to map any city in Mexico where Uber is available.
The move also represents a significant push into an area that will be key for the development of self-driving vehicles. Every company that's serious about its stake in driverless cars is working on mapping in some capacity. Google and Apple have been mapping their way across the globe for years. Tesla is using data from drivers testing its Autopilot system to develop its own maps. And when Uber tried to buy Nokia's mapping software last year, it was outbid by a group of German automakers—a signal that traditional car manufacturers understand mapping as a critical component of the future of driving.
Uber's announcement on Thursday is the second major announcement from the company on how it plans to improve its mapping capabilities in as many weeks. Earlier this month, the satellite-imagery company DigitalGlobe announced a new partnership with Uber, the idea being that DigitalGlobe's high-resolution images will help improve the precision of Uber's existing maps.
In both cases, better precision has both short-term and long-term benefits. And both lay the groundwork for Uber to eventually replace its fleet of human drivers with self-driving machines. "The level of density and information you need for mapping for driverless is much higher and much harder to collect, with a lot more data associated with it," McClendon said. Creating maps for a driverless car is a slower process than mapping the world for human-run interfaces, he says, which means short-term mapping changes have to be made with the eventual shift toward autonomous vehicles in mind.
In the immediate future, more precise maps will help human drivers, too. With satellite imagery, Uber can better map side roads, parking lots, and building footprints—including details that could help a driver figure out where, exactly, to pick up a passenger who is waiting. Then, with street-level photography, Uber can overlay that data with information about traffic restrictions and other local quirks that can create inconveniences or confusion for a driver trying to drop off or pick up a passenger.
In Latin America, which is one of Uber's fastest growing markets, the service's blossoming popularity is incentive for improving the precision for people using the app now—both drivers and passengers. But in the long-term, mapping improvements have as much to do with Uber's interest in self-driving cars.
None of this is new, exactly. By taking their own images at the local level, Uber is continuing a project it began last year with mapping technology it acquired from Microsoft. That acquisition already built on a series of decisions that show how Uber is carving out a role for itself among the leaders in self-driving cars. In early 2015, Uber poached dozens of Carnegie Mellon engineers and roboticists—hiring approximately 40 of them all at once—in a move that stunned the university and trumpeted Uber's seriousness about driverless cars. Uber then acquired the mapping software company deCarta, a development that The Wall Street Journal cast as a way for Uber to "lessen its dependence on Google and Apple." In May, Uber announced it would begin testing a self-driving, hybrid Ford Fusion on public roads in Pittsburgh. Part of that car's mission, the company said, would be to "map details of the environment."
Now, it seems, Uber's Mexico project is just the beginning of a street-level mapping initiative that could eventually become a worldwide effort. "This new technology, we think, will be able to be deployed more widely more often, so we get more frequent updates and also wider coverage," McClendon said. "Uber is in 450 cities and we will eventually need to improve maps in many of them based on our usage."
The timeline for when that happens may be shaped by Uber's relationship with Google, which is poised to be a direct competitor in the driverless car space. I asked McClendon whether Google might feel a sense of urgency to split with Uber, given the potential for competition, but he declined to guess. "I have no knowledge of how Google might or might not compete with us, but I think it's a long-term question and I won't speculate," he told me.
Regardless of how Uber and Google work together going forward, an increasingly computer-navigated world will dramatically change the human relationship with maps—a relationship that has already evolved significantly in recent years. "The transition from paper maps to online maps to mobile maps to the future, each one of these had huge changes in society," McClendon said.
For centuries, paper maps were all about discovery, but not necessarily high-level accuracy. You couldn't easily zoom in on them, anyway, so they didn't have to be ultra-precise. Online maps gave people the ability to go much deeper into existing representations of the world, and that experience revealed a huge collection of missing data. That happened again with mobile mapping, which amplified errors and gaps in mapping information.
"What mobile maps really did was demonstrate how bad our maps are," McClendon said. "Because you would be holding your map in your hand on your mobile phone and it would say, 'This is the name of the street and this is the name of the building and we claim the address is right here,' and you would just stare at it and go, 'No. I'm standing right here and that's not there!'"
"Every time you have a mobile phone and it disagrees with the ground truth of the world," he added, "you lose a tiny bit of faith in it."
Faith in better maps, from the perspective of Uber drivers and riders, ends up being an expectation of better service. Maps, then, are arguably at the heart of Uber's ability to succeed. "I mean, the reason I came to Uber is maps are fundamental to Uber's business," McClendon said. "Every algorithm and every effort that we put into the service and the product is dependent on maps. Both for the rider and for the driver."
"Travis recognizes that," he added, referring to the Uber co-founder and CEO Travis Kalanick. "We take maps very seriously."
And so, by extension, it is natural for Uber to take driverless cars very seriously, too. To succeed as a business that changes established norms as dramatically as Uber has, Kalanick told Recode last year, "you have to be a fighter." And by 2030, he has estimated, the fight will be taking place in the realm of self-driving cars. Uber doesn't plan to build its own cars, Kalanick has said, but it does intend to have fleets of self-driving vehicles at its disposal. When that happens, manufacturers of the technology will be fighting to win over the public. And Uber will be fighting, as it long has, to stay on top.