The Last Known Roll of Kodak Film From 1888
A rare artifact from the dawn of amateur photography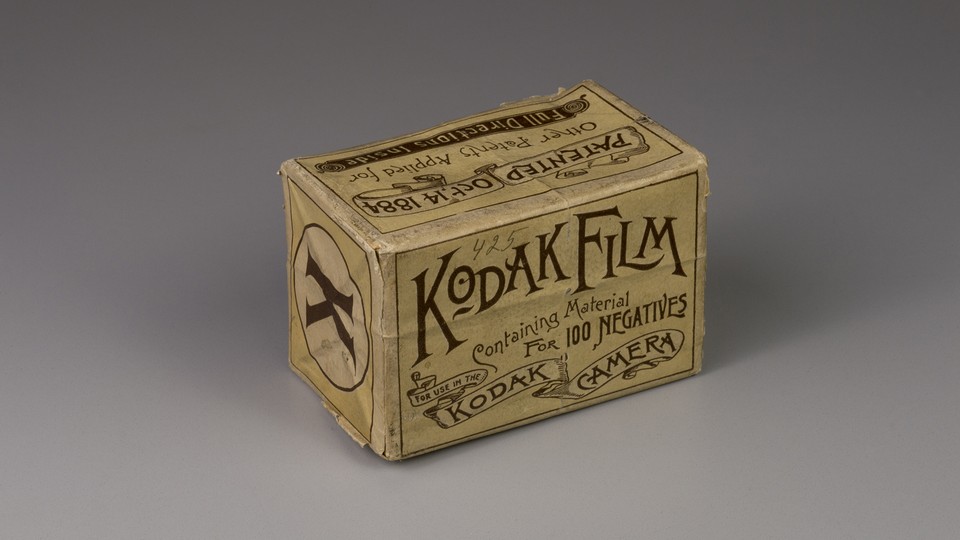 It was a simple promise, and a compelling one, at a time when photography was still in it infancy: "You press the button, we do the rest."
With that, Kodak's famous slogan made picture taking seem accessible to the masses in a way it never had been before. The 1888 ad campaign represented "a new impetus to the art among a class that has no time to dally with chemicals and develop the plates," The New York Times wrote in 1890. "Now, every tourist feels that he must take a camera with him on his summer trip."
There was enormous demand for new rollable film at the time, and manufacturers began producing some some 900 feet of it each day, the Times reported. In today's terms, that number sounds paltry. People now upload something like 2 billion images every day. Humans have taken trillions upon trillion of photographs.
In just over a century, humans have gone from learning what film can do to largely abandoning it. Many photographers still swear by film, but digital photo-taking is the choice of the masses. And now, the only known box of Kodak Film (for use in the Kodak camera) in existence is sitting, unopened, in a collection of artifacts at the George Eastman Museum in Rochester, New York.
The museum announced Monday it acquired the film, which dates back to 1888, along with one of three known boxes of Kodak Transparent Film, which was originally introduced in 1889 and used in early motion pictures.
Back in those days, you could buy a Kodak camera for $25, and it came with factory-loaded film that would produce 100 circular photos with a two-and-a-half-inch diameter. The devices were a bit like the disposable cameras that would be introduced a century later—you know, the kind people leave with the centerpieces on tables at weddings—only the original Kodak Camera could be reused. After taking 100 photos, people sent their cameras back to Kodak with $10, and Kodak would return the prints and the camera, newly loaded with a fresh roll of film. Because of this business model, the film was rarely sold separately. The museum's newly acquired box is unopened, a spokeswoman told me, "so we don't have images of the film itself. But it can be heard rattling around in there!"
"The debut of Eastman's American Film and Transparent Film in the late 1880s was the beginning of snapshot photography," said Todd Gustavson, the museum's technology curator, in a statement. The Kodak Camera was set off a cultural phenomenon that would forever change the way humans interact with their environment and one another. The Times, in 1890, reflected on the amateur photography craze by turning to the words of Henry Wadsworth Longfellow: "We judge ourselves by what we feel capable of doing, while others judge us by what we have already done."