Social Media Goes Dark During Chaos in Turkey
For a brief period, confusion in the country was compounded by a Facebook and Twitter blackout.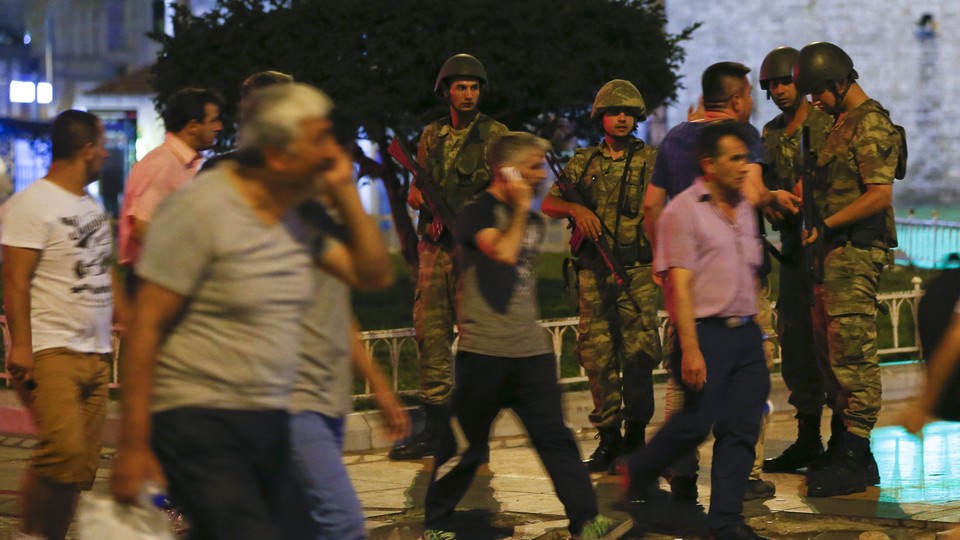 Just as chaos began to take hold of Turkey in a potential military coup—fighter jets roared overhead and two key bridges in Istanbul were shut down by the military—the government seems to have decided to shut off the internet. According to Turkey Blocks, a project from Encrypt UK that monitors censorship in Turkey, Facebook, Twitter, and YouTube were blocked by 10:50 p.m. local time.
Turkey isn't new to blocking the internet in times of political strife. When suicide bombers killed more than 45 people at Istanbul's Ataturk Airport last month, the Turkish government appeared to take down those same three sites. But when parts of the internet go dark, the Turkish government generally blames outages or traffic spikes, denying that it throttles or shuts down access to certain sites.
Just before midnight, Twitter users in Turkey began to report that Twitter and Facebook were back up. It's unclear why service was restored.
Deji Olukotun, the senior global advocacy manager at Access Now, an international digital-rights advocacy group, said internet blackouts just add to the confusion of a chaotic situation.
"People will need access to information and, if there is violence, access to emergency services," Olukotun said. "Blocking and throttling are early warning mechanisms for human rights violations. To protect human rights, the authorities should keep social media and the internet on."
Just earlier today, Iraq appeared to shut down internet access in response to large protests in Baghdad. And it's not just political unrest that moves countries to take such a drastic step—I wrote earlier this year about an internet outage in Iraq that coincided with national exams. (Olukotun says Access Now has already recorded 25 internet shutdowns in 2016 alone.)
But unlike Iraq, Turkey—a NATO member that's for years angled for EU membership—was for a time lifted up as a rare example of democracy in the Middle East. In recent years, however, as President Recep Tayyip Erdoğan accumulated increasing amounts of power, his government cut back dramatically on press freedoms and openness.
Turkey's internet hiccup comes just two weeks after the UN Human Rights Council called on governments not to throttle or block the internet.
Not every social-media service was down as the coup first unfolded. When Facebook and Twitter appeared to be down, I tuned into a Periscope stream being broadcast live from the Istanbul airport. I watched with more than 200 others as onlookers milled about in apparent confusion, some carting about their suitcases. Most other Periscope streams from the city were pointed at TVs.