Dollhouses Weren't Invented for Play
Before they were toys, "cabinet houses" and other miniature homes were used to show off wealth and teach domestic roles. An Object Lesson.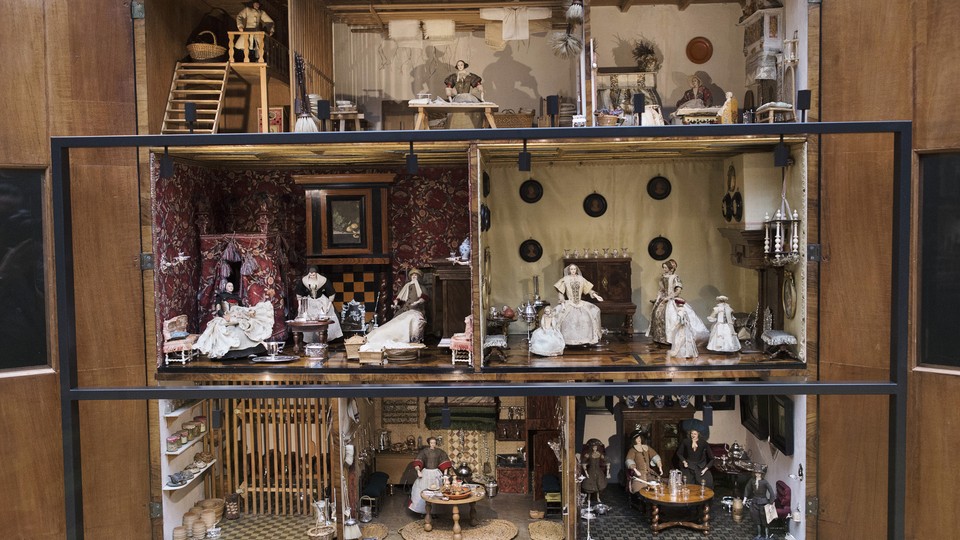 In 1974, my mother built me a dollhouse, a classic Victorian with six large rooms. She painted it pink and blue, my favorite colors, made a cobblestone, contact-paper path to encircle it, and fashioned a garden of plastic plants. She crocheted tiny rugs and tiled the kitchen floor. She sewed curtains for the windows: red velvet for the parlor, lace for the master bedroom, with tiny thread tiebacks. On walls were paintings she made of old postcards. The house was strung with real electric lights.
The dollhouse was the best toy I would ever own. And it was much more than a toy. As a character in my dollhouse—my mother had sewn a doll with long hair and glasses that resembled me—I could be an orphan sleeping in a cot built from a ring box. Or a teenager lying with a boyfriend on a tiny bearskin rug, drinking wine from a mini bottle and devouring a polymer chocolate cake the size of a dime. When I arranged tiny brass beds or slid a plastic roast chicken in the oven, I entered another universe.
And yet, at the same time, I also ventured more deeply inside myself.
* * *
The social history of dollhouses is at odds with the idea that dollhouses are spaces of emotion, freedom, and imagination.
In the beginning, dollhouses had only two purposes: display and pedagogy. First built in the 17th century in northern Europe, primarily in Germany, Holland, and England, dollhouses were designed for adults. They were closely associated with wealth and served as markers of social class and status. As Faith Eaton explains in The Ultimate Dolls House Book, the German word dockenhaus meant not dollhouse but "miniature house." And a miniature house was not a house to play with. In Holland, these exhibits of wealth were called "cabinet houses." The front of the house opens like a china cabinet on hinges that can be closed and locked. Inside cabinet houses, people could both show off and conceal their collections of expensive miniature objects.
Beginning in the 17th century, "Nuremberg kitchens" might contain a hearth, cooking pots, a straw broom. These all-metal houses were designed without ornament, for purely utilitarian purposes. Used as teaching tools for girls, Nuremberg kitchens allowed mothers to show daughters how to set up and control a house. All about learning rules, a Nuremberg kitchen was the opposite of a dollhouse as a dream world of fantasy. It was a place where girls learned to manage not only the objects of the house but also its servants, where girls would learn to become the lady of the house.
By 18th-century England, the "Baby House" emerged. The Baby House was an exact copy of the owner's home, a replica designed to showcase the owner's wealth—a small, "baby" version of a real-life house. Unlike the Dutch Cabinet House, which might have miniature furniture but tended to be full of expensive or rare objects, the Baby House was full of furniture in tiny versions of the owner's rooms.
Changing definitions of childhood in the beginning of the 19th century shifted ideas about play. But it took the industrial revolution and the increase in mass-produced objects to make dollhouses and miniatures begin to be construed as toys. And it took until after World War II, when the U.S. stopped importing goods from Europe, for dollhouses to become mass-produced and affordable. Miniatures began to take on a second, different life.
* * *
In the last few years, for the first time since the 1970s, interest in dollhouses and miniatures has been on the rise.
#rethinkdollhouse is the hashtag owner Darren Thomas Scala invented for his store D. Thomas Fine Miniatures, a new miniature shop in Westchester County, New York. In the shop are dollhouses arranged on pedestals, shelves of furniture behind glass, a gallery space with rotating miniature exhibits, and a room where miniature-making workshops are held. Darren tells me that he hopes to upset the perception that miniatures are just cute toys for young children. "I needed people to see, feel, and touch these objects," he explains, "to see their fine craftsmanship, the delicacies and intricacies of how they are made and importantly how they make you feel. ...I wanted to make them feel like it's okay to play."
Indeed, many adults who loved tiny things as children are returning to miniature play and reclaiming dollhouses. In the past year, articles in Lenny Letter, BUST, Elle, and The New York Times tell stories of miniature artisans and collectors. Lena Dunham's film Tiny Furniture explores her mother Laurie Simmon's miniature art. The age of Dollhouse 2.0 is upon us.
Dollhouses are enthralling a new and younger generation, and social media is the mode of engagement. Thousands of mini-blogs and vlogs showcase dollhouses, mini-furniture, and miniature food. Etsy, Pinterest, and Tumblr are replete with miniatures for display and sale. Other blogs showcase dollhouse furniture being made and dollhouses being renovated, with text and photos.
A notable example is Kate Ünver's popular site, The Daily Mini. It was first launched on Instagram, where it currently has more than 62,000 followers; Ünver estimates that more than half of them are under 25. The site offers daily photographs of miniatures plus a Q&A section featuring miniature artisans. People from all over the world submit their miniatures to Kate's site for display—along with "a coin or a finger for scale." The photographs showcase a range of objects: slices of tiny toast, a television playing I Love Lucy, a small chainsaw.
In 2015, on her miniature blog, anthropologist and artist Louise Krasniewicz wrote her "miniature manifesto," urging that miniatures be understood in relation to current cultural movements and trends. Linking those who build miniatures to the recent "Maker Culture," she suggests that "what miniaturists are doing is making worlds, not just scaled objects." For Krasniewicz, miniatures are "not an escape from the real world but a way to engage, confront, question, critique, or consider it."
* * *
Dollhouses are both private and public. A dollhouse may live in our house or in a museum or online. People might sit down in front of a dollhouse, swing open its walls, remove its roof, and disappear alone inside. Or they might gather with a group of visitors at a museum and admire a dollhouse behind glass. The motto of the National Association of Miniature Enthusiasts is: "Only through sharing can we really enjoy our treasures."
For so long, dollhouses and miniatures were hidden in people's homes or in a select few museum collections. In the 17th and 18th centuries, the first miniatures were deeply private, kept in the family home and designed to show off a family's wealth to a limited number of visitors. Or in the case of Nuremberg Kitchens, kept at home to teach daughters in a family how to run a household.
As a child, my dollhouse play was solitary. Still, I craved community; I read all of the books designed for miniature collectors, written by older women I would never meet. My mother took me to the occasional doll and museums that housed miniatures.
But in the new world of miniatures, seeing other people's dollhouses and miniatures only requires the swipe of a screen. Now, in an hour, I can watch a tutorial on how to make mini sushi; study Steampunk miniatures on Pinterest; read an interview with Christian Mackie, an artist who makes miniature mountain paintings at The Daily Mini; browse the blog of the International Guild of Miniature Artisans; subscribe to the listserv "Small Stuff" for new miniature projects. The rich emotional complexity of dollhouses and miniatures is now available, to all, for free, at any time.
I no longer own my Victorian dollhouse, but my mother has saved all of its furniture and the miniatures that accompanied it. I've given them to my daughters. Every day, I walk past my girls' dollhouses set up in our dining room and see beloved pieces from my own childhood—a claw-foot bathtub, a yellow knitting bowl with tiny yarn balls, a dressing table trimmed with pink lace. Sometimes, when they are at school, I choose a dollhouse, sit down in front of it, and play. I spread a quilt on a small bed. I stack miniature logs in a fireplace. I am transported out of myself. Yet I am more myself than ever.
---
This article appears courtesy of Object Lessons.