An Exciting History of Drywall
It's a staple in American homes, but at what environmental cost?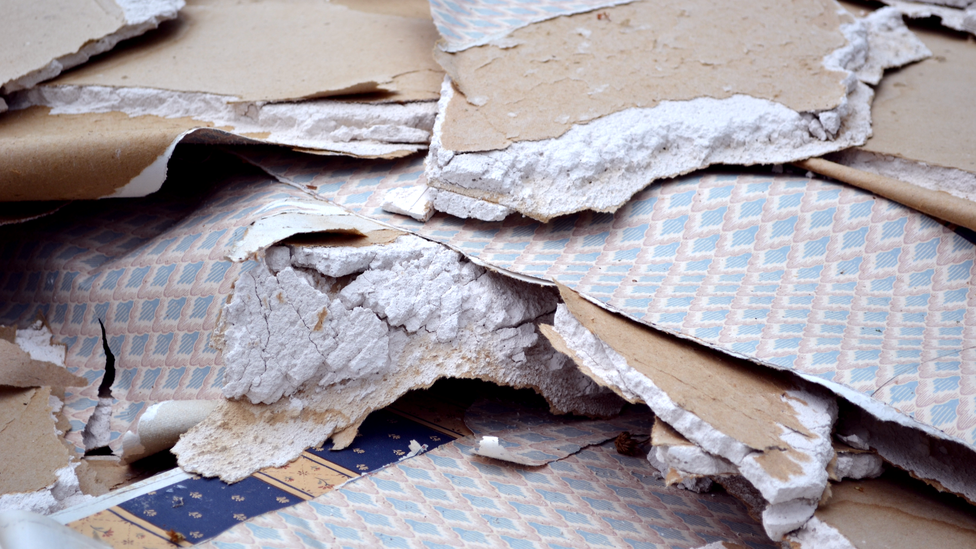 As Hurricane Katrina raged through New Orleans in 2005, neighborhood after neighborhood collapsed from flooding. Of the houses that stood, many still had to be bulldozed due to mold within the walls. But one building, a plantation-home-turned-museum on Moss Street built two centuries before the disaster, was left almost entirely unscathed.
"The Pitot house was built the old way, with plaster walls," says Steve Mouzon, an architect who helped rebuild the city after the hurricane. "When the flood came, the museum moved the furniture upstairs. Afterwards, they simply hosed the walls—no harm done."
The other houses weren't built the old way. "All the homes around the Pitot house were lost because they were built with drywall," says Mouzon.
Drywall, also known as plasterboard or wallboard, consists of two paperboards that sandwich gypsum, a powdery white or gray sulfate mineral. Gypsum is noncombustible, and compared to other wall materials, like solid wood and plaster, gypsum boards are much lighter and cheaper. As a result, drywall is popular in homes across the U.S.: According to the Gypsum Association, more than 20 billion square feet of drywall is manufactured each year in North America. It's the staple of a billion-dollar construction industry that depends on quick demolition and building.
But as New Orleans showed, convenience comes with a cost.
Drywall was invented in 1916. The United States Gypsum Corporation, a company that vertically integrated 30 different gypsum and plaster manufacturing companies 14 years prior, created it to protect homes from urban fires, and marketed it as the poor man's answer to plaster walls. A 1921 USG ad billed drywall as a fireproof wall that went up with "no time [lost] in preparing materials, changing types of labor, or waiting for the building to dry."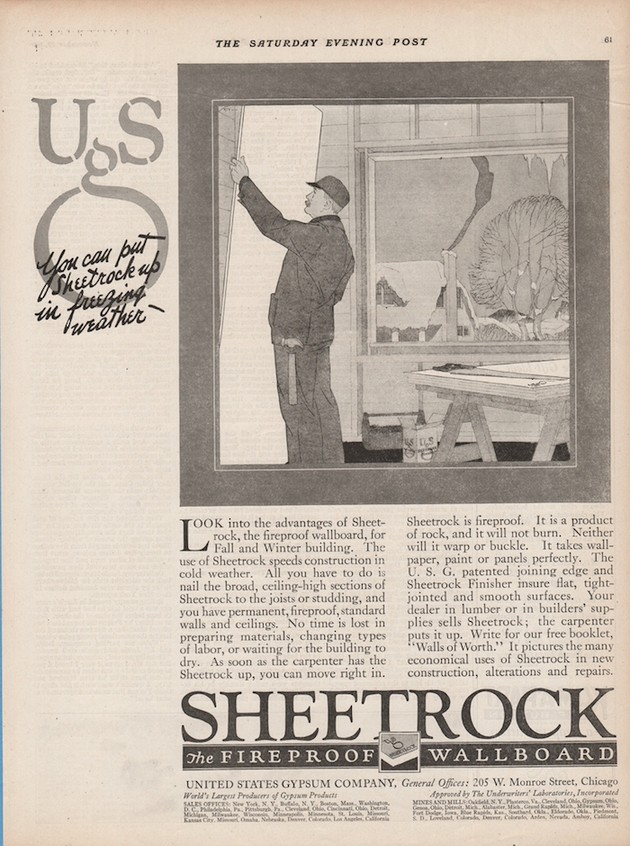 Drywall didn't catch on right away, but in the 1940s, sales grew rapidly thanks to the baby boom. Between 1946 and 1960, more than 21 million new homes were built nationwide for the tens of millions of additional babies. "People wanted white bread and confectioner's sugar," says Mouzon. "They wanted a neat, tidy little white-boxed world in the 1950s after the war. It made perfect sense then."
Today, USG is by far the largest of the eight gypsum manufacturers in North America. It holds around a quarter of the wallboard industry's market share and does $4 billion in sales a year. (Berkshire Hathaway, Warren Buffet's conglomerate, owns 27 percent of the company.) It gets its gypsum from mines or as a synthetically engineered byproduct of coal-fired power plants. If current production rate stays constant, USG believes there's at least 350 years worth of gypsum available on Earth.
Though ideal for construction, gypsum is not known for its environmental friendliness. Workers in gypsum mines—either above-ground quarries or pasty-white caverns—inhale a lot of gypsum dust, which the Occupational Safety and Health Administration recommends must be limited to 15 milligrams per cubic meter during a typical workday. And areas with disused mines are prone to ground collapse when surface developments disturb the cavities below. (The upside? Gypsum mines bring jobs to communities in states that produce the most gypsum, like Texas, Oklahoma, Kansas, Indiana, Nevada, and California.)
After gypsum is mined and manufactured into drywall, it's shipped out to contractors and retailers to be used for new construction. According to the EPA, once that construction is finished, most scraps are sent directly to landfills. There, gypsum becomes wet, mixes with other organic materials, and turns into hydrogen sulfide, a rotten, egg-smelling gas lethal to humans in high doses. The compound can contaminate water and raise its acidity—a risk to marine and freshwater animals.
"When site workers put drywall scraps into a dumpster, they consider themselves at the tail end of a waste cycle," says Amanda Kaminsky, founder of Building Products Ecosystems in Brooklyn. "We're trying change workers' mindsets to realize they're at the beginning of the manufacturing process." To do so, Kaminsky's company is coming up with ways to educate construction teams on safely sorting waste materials and delivering scraps to gypsum-specific recycling facilities. These facilities, like USA Gypsum (USG), in Pennsylvania, can recycle most of the waste and turn scraps into agricultural products. USA Gypsum makes a gypsum soil additive that helps some crops, such as tomatoes, become tastier, for instance.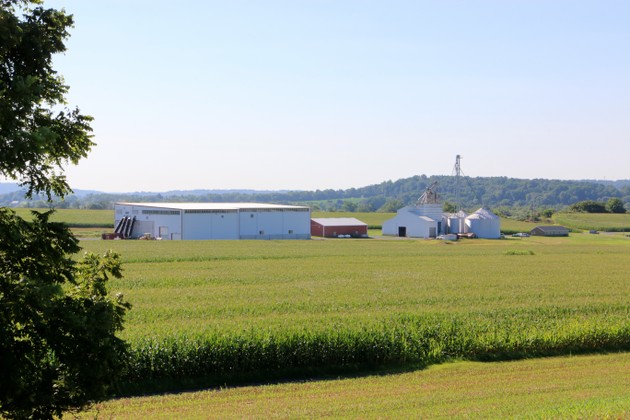 Large gypsum manufacturers also do some recycling, bringing a portion of construction waste back into their plants to make more drywall. In USG's case, half of their gypsum supply still comes from mining, but Al Zucco, whose job as USG's vice president of sustainable supply chains is to reduce energy expenditure, agrees that it saves time and money to recycle the scraps locally. According to him, USG is trying to improve the recycling process to reduce their dependence on mines.
* * *
Recycling, of course, can only go so far. To avoid drywall's downsides, other companies are coming up with environmentally friendlier alternatives. The Calgary-based company DIRTT (Doing It Right This Time), for example, designs modular walls insulated with recycled denim and pieced together with removable panels made of materials such as glass or wood. For any organization that needs to change out their technology fairly often, such as a hospital, the panels can be reconfigured to accommodate updated monitors, new equipment, or extra storage.
There are other options if a modular approach isn't needed or if cost is an issue. Mouzon, the architect who worked in New Orleans, has experimented with building wood-paneling systems that remove the gaps between wallboards altogether. "At the beginning, tradesmen don't like it because they're used to running their lines in the walls wherever," says Mouzon. "But, once they see the system, there's less thinking they have to do because it's more organized. After a few jobs, it's pretty much a wash in terms of cost."
In his recent projects, Mouzon says house builders are starting to pay attention to alternative methods and suggestions, possibly because being eco-friendly is a current trend, but possibly also because the cost of drywall has increased dramatically. In December 2012, drywall purchasers began to file class action lawsuits against USG and the seven other major North American manufacturers for price-fixing. The purchasers alleged that a 35 percent price hike for gypsum wallboard that year was the largest within a decade and that drywall manufacturers had stopped giving them job quotes, which meant prices could change at any time during a project. A settlement fairness hearing was held in July of last year, and USG had to cough up $55 million to reimburse the purchasers' expenses.
Price-fixing scandals in fact are standard fare for drywall manufacturers. In a 1996 Department of Justice memo that ordered Georgia-Pacific, the American pulp and paper company, to divest two gypsum plants in order to restore viable competition, the department notes that major producers of gypsum wallboard have been caught up in civil and criminal price-fixing litigations in the 1920s, 1940s, and the 1970s.
Like white bread in the 1950s, drywall became the de facto consumer substance with the promise of a better, cleaner, easier life. White bread sales are now declining, but drywall is doing better than ever. Maybe that's because drywall really is the best way to create affordable housing for millions. But it may just be easier to change America's eating habits than its living habits.