The Military Origins of the Cardigan
The popular sweater has a revolutionary history that includes Riot Grrrls and Coco Chanel. An Object Lesson.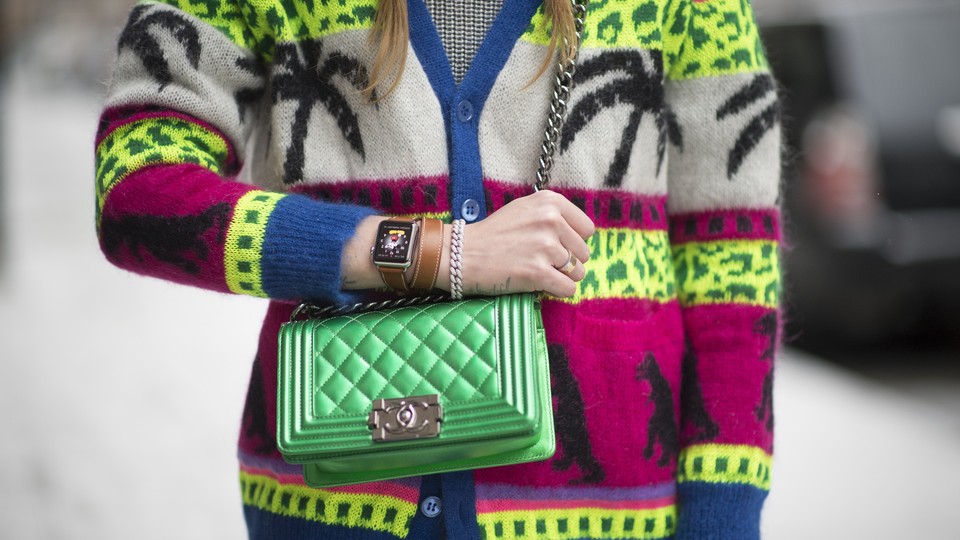 Cardigan sweaters are the workhorses of the apparel family: so ubiquitous it's easy to forget that they didn't always exist. They are sold at most clothing stores in a rainbow of colors, and at democratic prices. They can be either exceedingly preppy or seductively edgy, depending on who wears it, and how: button-downed professionalism versus grungy Kurt Cobain hair flip. They've taken on a silver-screen allure thanks to their more glamorous wearers like Brigitte Bardot. They even caused a royal stir back when Michelle Obama wore one (a black Azzedine Alaia) to meet the Queen in 2009, prompting a prickly Oscar de la Renta to proclaim, "You don't go to Buckingham Palace in a sweater."
But the cardigan comes with a vivid—and fierce—historical provenance. Its eponymous inventor, James Thomas Brudenell, the seventh Earl of Cardigan, was a lieutenant general in the British army. He was "an arrogant and cantankerous person," according to the historian Robert Powyszynski, Sr., but also a wealthy, stylish, and seductive one. As a testament to his foppish tastes, he spent £10,000 a year outfitting his regiment in swanky new uniforms.
The Earl must also have been blessed with an intrepid spirit (or afflicted with a midlife crisis), because in 1854, at the age of 57, he led the famous Charge of the Light Brigade at the Battle of Balaclava during the Crimean War. As Powyszynski writes in The Charge of the Light Brigade, Cardigan was a man "with everything to lose and nothing to gain" when he led the doomed charge. But he survived without a scratch, getting as far as Russian enemy lines before turning tail and riding back to safety. Cardigan returned to London ahead of his troops and, before the truth of his about-face was revealed, he enjoyed a hero's welcome and a reception by Queen Victoria at Windsor. The knitted waistcoat became a hot commodity during the Earl's brief window of glory. As proof of the cardigan's utilitarian staying power, it soon began to be commercially produced in factories, keeping thousands of chilly Brits warm even after they went cold on its namesake.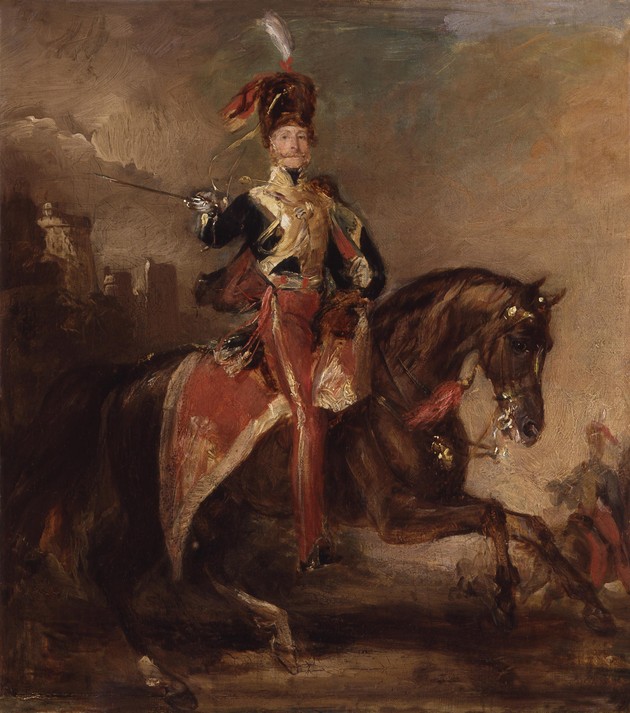 A few decades later, in 1883, Coco Chanel, née Gabrielle, was born in a provincial town in central France. Known now by the general public for her "Number 5" perfume and innumerable knock-off bags emblazoned with interlocking "C"s, Chanel went from poor orphan to owner of the world's largest fashion empire through a combination of talent, verve, and intuitive understanding of her zeitgeist. Also the originator of the haute-couture phenomenon known as "that piece of fabric costs how much?" she made a fortune using humble materials and smart but simple designs to create a look that revolutionized women's dress. The French critic Lucien François summed it up best: "When Mademoiselle Chanel gets to heaven, she will surely impose her cardigans and little jersey shifts on the Princesse de Clèves and Marie Antoinette."
To Chanel we mortals owe the modern woman's cardigan. As Rhonda K. Garelick writes in Coco Chanel and the Pulse of History, at the time Chanel came up with the "sweater-shirt," she was designing more and more menswear-inspired garments: sailor suits, fishermen sweaters, and pullovers that looked like riding outfits, all detailed with buttons, ribbons, or other feminine touches. Mademoiselle made the first cardigan prototype herself, and it was an instant success. "I cut an old sweater. … I sewed a ribbon [around the collar]. Everyone went crazy, [saying] 'Where did you get that?'" Chanel later recalled.
Chanel was inspired to take up her blade because she hated how tight-necked men's sweaters messed up her hair when she pulled them over her head. As Garelick comments, "It was a perfect metaphor for her entire life: When Coco couldn't squeeze herself into something one way, she simply found—or created—another way, even if she needed a sharp instrument to do it." Just as she attacked her hair with scissors, cutting it shorter and shorter until it became her distinctive gamine bob, she insisted on controlling form when it came to her clothing.
*   *   *
If the cardigan in its original incarnation was born in wartime, Chanel's genius lay in applying that same military spirit to women's fashion. Chanel, like Lord Cardigan, designed a kind of soldier's uniform. In 1915 she created outfits for the aristocratic women who volunteered as nurses during World War I: "crisp white blouses … simple skirts, and white hats." But even her regular ready-to-wear apparel, streamlined and unfussy, contained a distinctly soldierly quality that contrasted with the full skirts and petticoats of the previous generation. The color "soldier blue" even figured into her collections. Chanel's fashion didn't just speak to the modern woman's dynamism, but also to her political and social consciousness. As Garelick puts it, "Thin, androgynous, simply dressed in striped naval-uniform-style suits, or schoolboy sports clothes and blazers, the 'Chanel woman' conjured the silhouette of the war's millions of soldiers—the young men dying just out of sight of the general population."
It took a few more decades for the cardigan to catch on in the United States. By the late 1950s, American women were tired of being swathed in cumbersome layers. According to Chanel, they were ready for the relaxed waist and mannish fit of the modern silhouette even before the French. She rushed to fill the void that her American designer counterparts hadn't, commenting, "They've been offering women idiocies which made it impossible to walk or run. American women refused these before Frenchwomen, because American women are more practical. … They walk, they run." What was already démodé in Paris was actually long overdue in the States.
Chanel's cardigans also appealed to Americans' sense of egalitarianism. Harold Koda, director of the Metropolitan Museum of Art's Costume Institute, points out that Chanel's style embodied good taste and universal appeal. "With Chanel," he explained in a 2011 interview, "a casual cardigan suit, anyone could wear it, so [Americans] loved it." Of course, it was egalitarianism for the elite. The other half of Chanel's design genius lay in the fact that while anyone could wear it in theory; the price tag prohibited them from doing so in practice.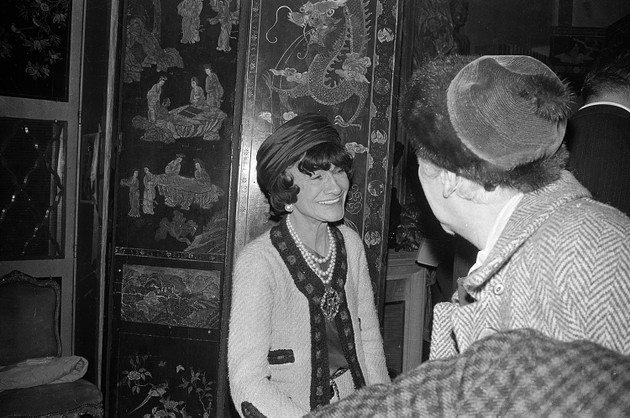 The cardigan also fit well with America's emerging women's liberation. The February 21, 1949 issue of Life magazine features the cardigan in its many incarnations under the headline "Cardigans: Old Sweater Gets New Uses." The rest of the issue reports on U.S. labor troubles in the post-war job market, samples the war memoirs of Winston Churchill, and promotes Life's international distribution, "week after marching week," against the propagandistic lies espoused by the Soviet Union. But tucked in between, a spread explains that the fashionable new cardigan has "showed up in a lot of new shops and places." Tailored to be "short and tight," "bolero" style, or "fancied up," the garment, it points out, is practical for the lady who needs to skip from the ski slopes to the luncheon to the opera. Even the younger set have their version: the "Natch" cardigan, patterned after boys' varsity jackets, complete with letters and "sloppy as ever."
Alongside ads for Tums ("for the tummy") and World Book Encyclopedias ("Straight 'A' for Karel!") are pictures of models sporting cardigans in all their variation: a wasp-waisted blonde peering into a salad bowl, sweater draped elegantly around her shoulders, a teenager with a record in her lap modeling the "Natch." Some models smile; one looks demure; another, in profile, sips a drink and looks pointedly away. In the versatility of this stylish new garment, female readers get a sense of the variety of women they can be.
Cardigans acquired their edge in the 1990s, when they began to play a role in third-wave feminism. Cardigans were part of the early uniform of the Riot Grrrl feminist punk movement, which strove to make feminism urgent and accessible to young women at a moment when the media leaned towards highlighting conservative politics at the expense of women's rights. Riot Grrls in Olympia, Washington, got together to play music, make feminist zines, and push their way to the front of shows where boys dominated the mosh pit. "Everybody in Olympia's tight-knit punk scene knew who these girls were," writes Sara Marcus in her history of the Riot Grrrl movement, Girls to the Front. The uniform helped: straight-cut bangs and "librarian-style" thrift store dresses and cardigans. Later on, Riot Grrrl style turned harder, with piercings and dreadlocks replacing the hard-edged librarian look as the movement shifted to the Twin Cities.
These days, the cardigan is not so overtly political, but it is just a much a part of the trappings of a new subculture. Library Science and Digital Humanities have become hip academic domains, as has a signature cardigan-bearing librarian look that blurs the line between quirky and twee. There's even a Tumblr called "Librarian Wardrobe," which features librarians from around the world documenting their workaday ensembles under the creed "not always buns and sensible shoes." Cardigans feature as a token accessory in these selfies in the stacks—although bow ties are a close second.
The look has spread to the general young, hip population. It's never been cooler to channel your inner schoolmarm, from the manic pixie dream girl with her blunt bangs and red lipstick to the longhaired beanpole in tortoiseshell specs slouching around the G-train in Williamsburg. Worn loose and grandfather-style, it drapes over men's and women's bodies and downplays their differences. In that way, it speaks to our reconsideration of gender norms, something Chanel was doing on a broad scale before there was a term for it.
At a women's clothing store down my street, they are selling Made-in-China cardigans, two for $10. These are a far cry from Coco's couture, but a credit to her lofty claim that she "dressed the universe." There was always a dark side to the refreshing militancy of Chanel design, anyway. The glamor and innovation of Coco Chanel's life and work can't be separated from her support of fascism. Chanel was an archconservative and an anti-Semite who dined with Joseph Goebbels at the Ritz, had affairs with Nazi officers, and passed information to the Germans.
Can I replace my billionth lost cardigan with a $5, factory-made version and think only of its anecdotal history, and not of its military and fascist historical origins, or its contemporary sweatshop ones? Used properly, with knowledge of its history, the cardigan offers an opportunity to wrap these questions around the body, rather than just to let them roll around in the head.
---
This article appears courtesy of Object Lessons.