Slack, the Facebook Slayer
What if the future of the social web begins in the office?
Facebook may be devouring the web, but Slack is increasingly nibbling on a significant portion of it.
The group-chat platform announced on Tuesday that it's partnering with 12 companies to introduce what it calls "message buttons." The idea is that key functions from outside apps—like using Kayak to search for a flight, or using Greenhouse to approve a document—can be accomplished from within Slack, with the click of a button. "The first dozen apps have already added Message Buttons, and with over 500 apps now available in the Slack App Directory, more interactive integrations are to come," Slack wrote in a blog post explaining the new feature. (You can watch a demo video on YouTube.)
This may not sound surprising. After all, Slack has always found useful ways to integrate third-party apps within its service—or, in Slack's parlance, to reduce the "context switching" that eats away at productivity. But the move also reveals quite a bit about Slack's larger ambitions, and may hint at the larger direction of the social web.
The main point is, Slack doesn't want you to have to log off—ever. This is a familiar mentality online these days.
The huge tech companies that build closed systems are increasingly designing them so that people will want to stay within those structures. This makes sense: Why risk losing the attention that generates revenue if you don't have to? Facebook is probably the best known purveyor of this strategy, and it has reaped huge rewards along the way. Facebook alone slurps up 30 percent of total display-ad revenue on the web—totaling $8 billion last year—according to a new report by the Pew Research Center.
And that's because Facebook's 1 billion daily active users aren't just logging onto Facebook to check in with friends and family. For many users, Facebook is a de facto storage system for photos, the first place people find news and information, a private chat platform, and the way to log into countless other sites across the web.
There are, however, two distinct fissures in Facebook's otherwise total dominance. One is among the very young, who opt for Snapchat and Instagram over Facebook; and the other is among the professional crowd, many of whom may be using Facebook but also spend an enormous and increasing amount of time plugged into Slack. Seventy-seven Fortune 100 companies now use Slack, the company says. (The Atlantic, like many newsrooms, has used Slack since 2014.)
As Slack rapidly grows, its approach to keeping users in one place increasingly looks like Facebook's. The same way that Facebook doesn't want you straying into the wilds of the open web to read a news article that one of your friends posted, Slack doesn't want you heading over to Tumblr to search for the perfect reaction GIF for your Slack chat. So where Facebook has Instant Articles (which allow users to read outside articles from within Facebook), Slack has integrations with companies like Riffsy, which offers a smattering of GIF options when prompted by a Slack command (kind of like the Giphy command in Slack, but without the terrifying roulette quality). Both companies are building mobile-first products—which, of course, they should be.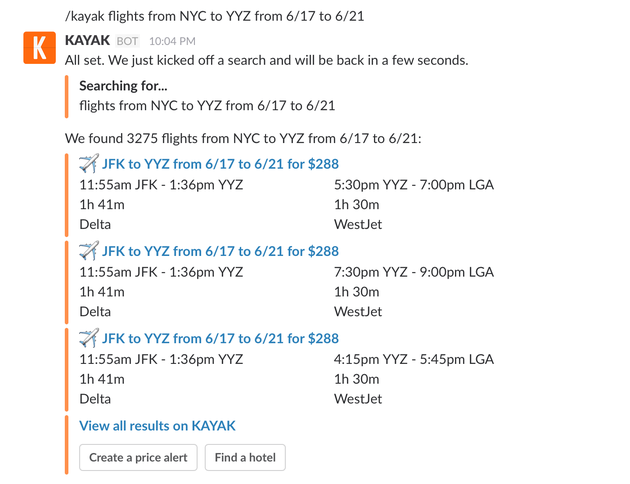 Facebook is still far, far bigger than Slack. Facebook has more than 300 times as many daily active users—1 billion to Slack's 3 million. But Facebook has also been around since 2004. (And remember, MySpace was bigger than Facebook until Facebook turned 4.) Slack's growth so far is, by any measure, astounding.
Does this mean that Slack might someday be the new Facebook? This isn't an unreasonable leap to make; just stay with me for a second. Though it seems that the two sites are for fundamentally different purposes—one for work, one for socializing—there's reason to suspect that a Facebook-Slack power struggle isn't out of the question. (And not just because of all the other ways work and non-work bleed together, culturally, especially in the United States.)
Slack isn't built for social performance in quite the same way that Facebook is, but Slack does seem to be more a reflection of the real-time web than Facebook. Yes, Facebook has Messenger and News Feed, but there's still something about the interface that feels old-school—at its core, Facebook is more like a bulletin board than a conversation. Perhaps more importantly, for people who are seeking a place to convene with small (ideally private) groups of friends and family online, Slack could be preferable. And there's evidence that people are increasingly seeking such social environments online. (Again, see Snapchat.)
With email inboxes now full of messages mostly from machines (mass-blasted newsletters, marketing missives, and so on), and forums like Twitter and comment sections often devolving to name-calling and vitriol, why wouldn't a person seek an invite-only digital enclave for their inner circle?
2014: People on Slack asking each other, "Is Twitter down?"
2016: People on Twitter asking each other, "Is Slack down?"

— Will Oremus (@WillOremus) June 10, 2016
Slack is designed for business use, but that doesn't mean it has to stay that way. Stewart Butterfield, the Slack CEO, told me last year that he knows families who use it for personal group messaging and photo-sharing. I have friends and coworkers who use the platform for chatting with non-work friends. ("I don't use it outside of the regular work context," Butterfield said. "Work is all consuming for me.") The fact that Slack has a free version may be a good way to give businesses a trial (and eventually convince them they need to upgrade), but it's also a potentially scalable model. Clearly, even in a shrinking funding environment, investors see that prospect, too. Slack's valuation is hovering around $4 billion, a staggering amount even in Silicon Valley.
In an earlier conversation, nearly a year ago, Butterfield told me that he had been getting "a lot of requests" for Slack to be a universal client. Eventually, he suggested at the time, the toggling between different platforms—email and Google Hangouts and Facebook and text messaging and Twitter and so on—was going to get old, and people wouldn't do it anymore.
In Slack's announcement on Tuesday, the company focused its messaging on how its message buttons, and the ability to do more without ever leaving Slack, will make life easier for employees who use the platform at work. But tucked in a press release was this phrasing, too: "We think it's going to usher in a whole new world of apps built for Slack." Slack is positioning itself so that more of the web will be filtered through its interface. In other words, Facebook is eating the Internet, but Slack figures there's still plenty to go around.