Does Facebook Really Need Journalism?
Not as much as journalism needs Facebook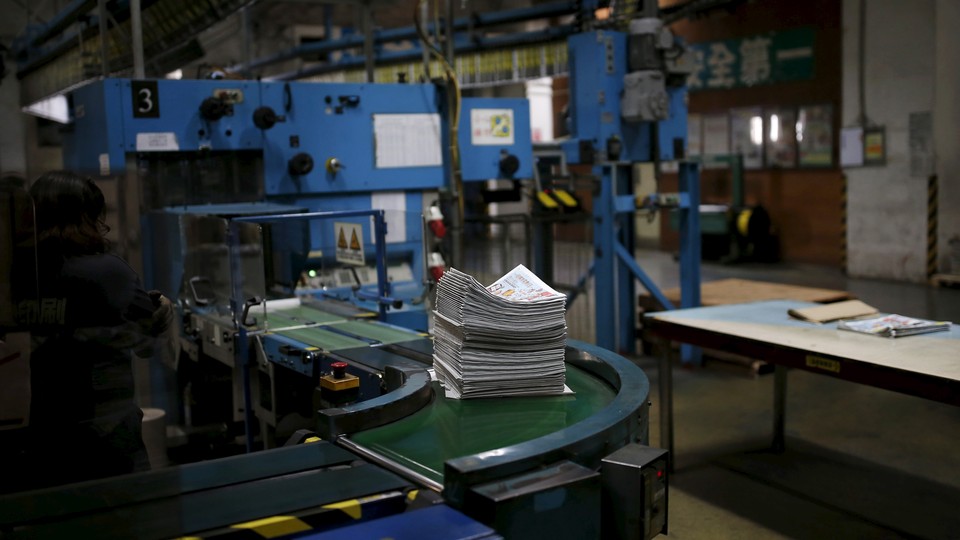 It's clear from any number of measures that people don't trust or even particularly like the media. (Anyone who works in media might remind you that "the media" is not actually the monolithic or coordinated entity it is often accused of being—which is, of course, precisely the kind of reaction that makes the media unlikeable.)
Today, just 6 percent of people in the United States say they have a lot of confidence in media, according to a survey by the Media Insight Project, a significantly lower score than Congress's 17 percent approval rating, according to Gallup.
The disillusion in media, it seems, is eroding people's loyalty to individual news brands—or, at least, distrust and decreasing loyalty are happening simultaneously in an age when news consumers have more options than ever for finding news.
Increasingly, instead of foraging for information out on the open web, people often begin and end with Facebook, where news is served up buffet-style in timelines also peppered with baby photos, political gripes, and other personalized missives from friends and family. What people outside of the media industry may not realize is that Facebook drives an enormous amount of traffic to news sites, more than 40 percent of it for many big publishers, making media companies heavily reliant on the tech giant for the kind of attention that ostensibly gets converted into ad dollars. Given the fact that Facebook isn't just a news site, it's reasonable to assume it would fare just fine if major publishers stopped posting content to the site. In a crowded journalistic field where traffic from Facebook is broadly seen as essential, such a move would arguably only hurt those publishers.
Although it may seem like good news for media companies that total digital ad spending swelled 20 percent last year, it's mostly good news for Facebook.
Five technology companies—Facebook, Google, Twitter, Microsoft, and Yahoo—took in 65 percent of total online advertising last year, according to the Pew Research Center's new State of the Media report. The big five's share amounted to about $39 billion out of $60 billion overall, and it represents a higher share of revenue among those five companies than the year before.
"Facebook alone now takes in 30 percent ($8 billion) of total display ad revenue, up from 25 percent of the total in 2014," Pew wrote in a wide-ranging report that underscores the tension between news organizations and Facebook, and the profound shift that's dismantling the journalism industry as we know it.
"Increasingly, the data suggest that the impact these technology companies are having on the business of journalism goes far beyond the financial side, to the very core elements of the news industry itself," Pew wrote. "In the predigital era, journalism organizations largely controlled the news products and services from beginning to end, including original reporting; writing and production; packaging and delivery; audience experience; and editorial selection. Over time, technology companies like Facebook and Apple have become an integral, if not dominant player in most of these arenas, supplanting the choices and aims of news outlets with their own choices and goals."
Perhaps most importantly, the tech companies are winning—in eyeballs and in dollars. In the first quarter of 2016, 85 cents of every dollar spent in digital advertising was going to either Facebook or Google, according to a Morgan Stanley analyst quoted in April by The New York Times.
Amplifying the already gargantuan influence among tech companies in the news space is the extent to which they've jumped to a lead on the mobile web—where, as Pew puts it, traffic is "ascendant" and revenue is exploding. Mobile ad sales finally overtook desktop advertising last year—a trend that bodes especially well for Facebook and Twitter, for whom mobile ad revenue represented a huge share of overall digital ad sales: 77 percent and 88 percent respectively, according to Pew. (And though banner ads are still their own $12 billion market, accounting for 44 percent of total display ad spending, other types of ads—video, in particular—are growing rapidly. Video advertising, Pew says, is experiencing "an uptick reminiscent of the early days of mobile growth.")
At the same time, the vast majority of the news sites Pew analyzed are seeing traffic shift dramatically away from desktop, with 38 out of 40 organizations getting more visitors from smartphones and tablets than from computers last year. "The mobile increase was particularly striking among the print outlets studied," Pew wrote. "Among the 50 highest circulating daily newspapers, the number whose digital traffic was mobile-majority increased by more than half in 2015."
In other words, audiences are flocking to mobile but, for news organizations, the ad revenue isn't materializing to match.
"This robust digital advertising market has not lifted most news publishers—even digitally native ones—out of a place of financial uncertainty, as competition for those ad dollars and the rise of consumer ad-blocking poses challenges to their digital business models," Pew wrote.
On top of all that, as Facebook reaps huge financial rewards, people's direct engagement with mobile news sites is in many cases plummeting and return visitors are scant. In a previous study, Pew found that most people who read an article on a website don't read any other articles on that site in the same month.
Newspaper sites, in particular, seem to be suffering. Even among the papers getting more unique mobile visitors each month, the time people spend with those sites is shrinking. The majority of news magazines saw a similar trend—more site visitors, less time spent. People may be glued to their smartphones, but  the journalism industry, Pew says, "seems not to have found a way to persistently capture that audience online."
People in the United States spend more than 40 minutes a day on Facebook, according to data provided by the site in 2014 (globally, it's closer to 50 minutes, including the site's messenger app). And in the U.S., Facebook, followed by Snapchat, compels the most attention in terms of time spent on any app, according to data from the app-tracking firm App Annie.
Let's recap, shall we?
A small cohort of major tech companies, led by Facebook, has carved out new channels for distributing the news.
They're claiming the lion's share of ad revenue for themselves.
They've snapped up news consumers' time and attention, diverting them away from news sites.
And, with features like Facebook's Trending Topics, they're dipping a toe into the editorial process, too.
If that isn't enough to rattle even the most optimistic of journalists(
), consider the finding that simply getting news on Facebook appears to further erode people's already negligible trust in media. Just 12 percent of those surveyed by the Media Insight Project reported having "a lot of trust" in news they encountered on Facebook.
Any way you look at this picture, Pew says, it's clear that "tectonic shifts" are taking place. "What is less clear is how the tug and pull between tech and journalism companies will evolve to support each other as necessary parts of the whole, and what this rebuilt industry will ultimately mean for the public's ability to stay informed."
That seems to be putting it mildly, considering what's at stake.
"It has been evident for several years that the financial realities of the web are not friendly to news entities, whether legacy or digital only," Pew wrote. "There is money being made on the web, just not by news organizations."
---
Related Video