Smartphones Rule the Internet
Among the world's most popular websites, most traffic comes from mobile devices.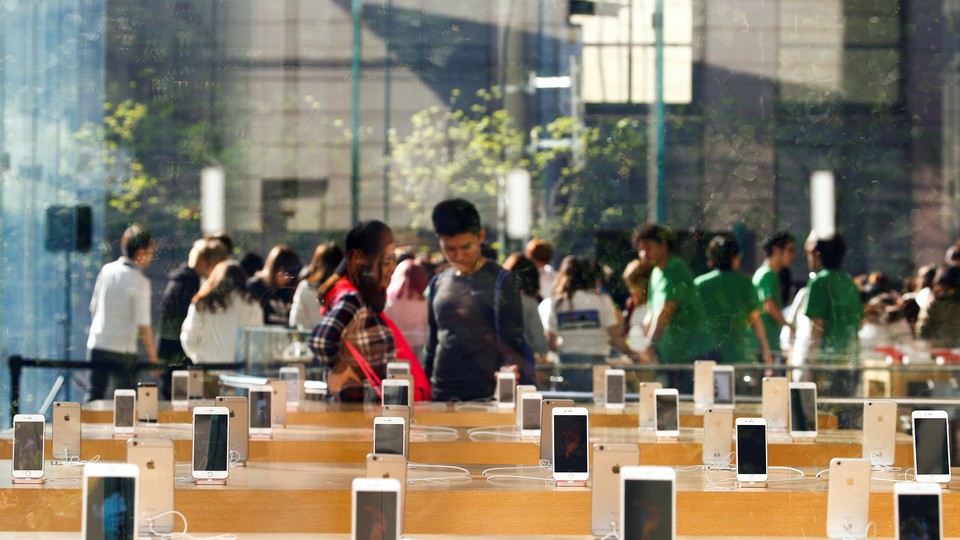 Laptops aren't exactly quaint yet, but we've officially reached the point in the mobile revolution when desktop Internet access is waning.
The trend toward smartphones—and away from desktops—has been underway for the better part of a decade. But in recent years, the shift toward mobile has been particularly pronounced. In 2014, by several measures, total mobile Internet usage outpaced desktop Internet access. In Africa and Asia, people of all ages call smartphones—not laptops—the most important device they use to go online, according to a GlobalWebIndex survey last year. Worldwide, most people under age 34 say the same thing.
A look at the web's most popular sites is similarly telling. More than half of Facebook's roughly 1.7 billion monthly users visit the site exclusively from their smartphones—that's 894 million mobile-only users each month, up from 581 million such users last year and 341 million mobile-only users in 2014, according to the company's latest earnings report.
Google confirmed last year that more searches come from mobile devices than computers in 10 countries, including the United States. Over the holiday season, Amazon said more than 60 percent of shoppers used mobile. And Wikipedia, which recently revamped the way it tracks site traffic, says it's getting more mobile than desktop visits to its English language site.
In April, Wikipedia had about 361 million unique visits from smartphones and tablets compared with some 229 million from desktops—meaning roughly 61 percent of traffic to the English-language version of Wikipedia came from mobile devices, according to data provided by a spokeswoman.
The trend toward mobile-only is likely to continue. Last month, the audience-tracking firm Nielsen found that smartphones are the most-used medium in the United States—beating out television, radio, and desktops, even though more Americans own TVs and radios than smartphones.
"Consumers carry their phones everywhere," said Glenn Enoch, a vice president at Nielsen, in a statement about the findings. "High penetration plus portability and customized functionality have made them a staple of consumers' media diet."