American Neo-Nazis Are on Russia's Facebook
To escape Facebook's crackdown and connect with white-power groups worldwide, U.S.-based extremists are joining VK.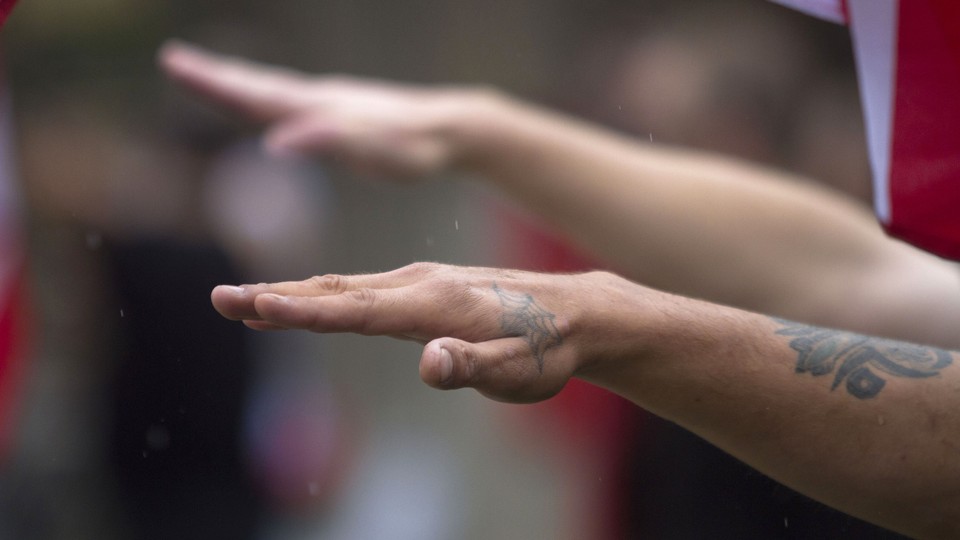 An online group called "United Aryan Front" recently warned readers that "the wolves are closing in...and we are the sheepdog" and followed with a call for recruits: "If you are not a part of an organization but would like to join us...you can!! White Lives Matter is the largest organization of whites in the world."
The post wrapped up with a smattering of hashtags like #WhiteLivesMatterAcrossAmerica.
But the site where this rant was posted isn't based in America. United Aryan Front, along with scores of other American extremist groups, is on VK, also known as VKontakte—otherwise known as Russia's version of Facebook. The social network has become a home for white-power groups who were pushed off of Facebook for hate speech, or who want to connect with fellow racists in other countries.
The move to VK is part of the growing tendency of white supremacists to interact in online forums, rather than through real-life groups like the KKK, according to Heidi Beirich, director of the Southern Poverty Law Center's anti-terror  Intelligence Project. Through the early 2000s, skinheads and other groups would host dozens of events per year with hundreds of attendees, she says, but now there are only a handful of those rallies each year. "People online are talking about the same kinds of things that used to happen at the rallies, but now they're doing it completely through the web," she said.
Jessie Daniels, a sociologist who studies cyber racism, has also noticed that racist groups are now much more active online than in the streets. In this way, they reflect overall trends in society: The rest of us might be Bowling Alone, but white supremacists are rallying alone. For the supremacist groups, the benefits include anonymity, ease, and an opportunity to connect with extremists in other nations. Take, for example, John Russell Houser. Before he killed two people at a showing of Trainwreck in Louisiana last July, he appears to have posted frequently about the Golden Dawn, a far-right Greek political party.
"The internet has made it possible for white people around the globe to identify with trans-local whiteness," Daniels said.
The most striking evidence of the shift was Dylann Roof, who killed nine African-Americans in a church in Charleston, South Carolina, last April. According to Beirich, Roof had no ties to "real-world" extremists. Instead, he had simply Googled phrases like "black on White crime" and perused sites such as the Council of Conservative Citizens, which traffics in racist rhetoric.
Last year, the overall number of hate groups rose for the first time in five years, according to the SPLC's annual count. Hits to Stormfront.org, a white nationalist hub with 300,000 registered users, have ticked up since Donald Trump announced his candidacy for president, Beirich said. According to an SPLC study, in the past five years members of Stormfront have murdered nearly 100 people. White nationalists have also taken to Twitter and other sites that host discussion forums. Facebook itself is not immune to white-power groups, who often use coded language like "new Europe."
Beirich and her group have found that newcomers are sometimes radicalized by these sites, much like some people who debate with ISIS online instead get sucked into its orbit. "It can be someone who posts a banal racist comment and people will swarm them," she said.
White supremacists began migrating to VK over the past three years, Beirich said, when Facebook cracked down on hate speech. The platform offers a similar user experience as Facebook, complete with profiles and groups, but with seemingly less enforcement. The Simon Wiesenthal Center, which also tracks extremist groups online, gave VK a D- grade for policing hate on its annual report card, but Facebook got a B-.
VK did not return a request for comment by deadline.
Although VK's terms of service prohibit information "which propagandizes and/or contributes to racial, religious, ethnic hatred or hostility, propagandizes fascism or racial superiority," Beirich said the site appears to turn a blind eye.
"Certainly from our perspective the site seems like a free-for-all," she said. "And that is what white supremacists think, too."
A few quick searches on VK reveal groups dedicated to preserving the Aryan race and honoring the legacy of Hitler. The news site Vocativ has counted 300 or so pro-Hitler groups on the site. Of the 202 followers of the "NSM USA Public Action" Nazi group on VK, 38 list their location as the U.S. And 243 of the more than 14,000 fans of "Aryan Girls" on the site appear to be American. A post on Stormfront claims VK is "used by 70 million white racialists everyday!" [sic]
Two years ago, an Adolf Hitler fan page on VK attempted to hold a "Miss Ostland" beauty pageant, but the page was shut down after Vocativ published a story about the event. Today, the "NSM [National Socialist Movement] USA" page on VK is alive and well. Its latest post was on May 17 —a video of a speech by American neo-Nazi commander Jeff Schoep.