The Definitive April Fool's Prank Bracket
Editor's Note:
This article previously appeared in a different format as part of The Atlantic's Notes section, retired in 2021.
March Madness is old news, guys. It's April now, and you know what April 1 brings? Madness. Absolute madness. And the worst type of madness, as anyone who as been on or heard of the Internet knows, is #brand madness.
So, of course, we made a bracket about it. We rounded up 16 pranks from 16 #brands and divided them into four categories: media, tech, stuff you can buy, and other, because some pranks are just so special that they defy categorization. Fill it out yourself, if you like! But also know that this is objectively correct and definitive. Enjoy!
(April Fool's! No one enjoys this.)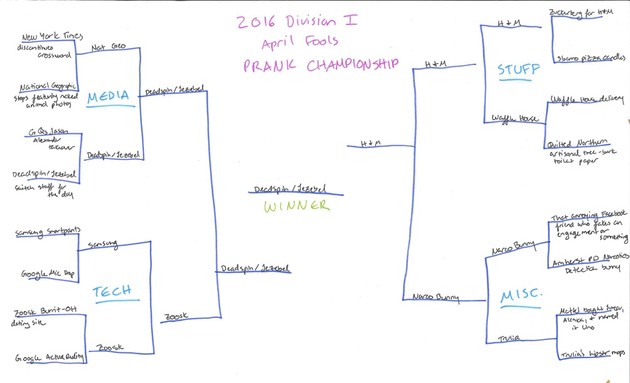 Media
Tech
Samsung announced a new line of "intelligent trousers," which ostensibly monitor their wearer's vital signs and send them a smartphone notification to keep their pants on if they get too excited. Coming from a company that recently released a 5,000 dollar refrigerator with a 21.5'' touchscreen crammed into it, we weren't at first sure if this was a joke.

Google showed off its latest virtual-reality headset, the see-through Cardboard Plastic. "What's realer than real?" the voiceover deadpans in an announcement video. "Probably nothing. Or maybe something. I doubt it, though." Points for self-parody.

Google tried a little too hard with a cutesy addition to Gmail it called MicDrop, which added a new button to the email screen. When clicked, it appended a mic-dropping gif of a minion (from the Despicable Me movies) to outgoing messages and muted the responses. The prank went over very, very poorly, and Google pulled the feature last night.

In a better, happier world, Zoosk's dating site that matches users based on their burrito preferences—delightfully named Burrit-OH!—would be real. And it would be a smash hit, and it would save all kinds of bickering on the Chipotle line, and the people would rejoice. Alas, it's not actually happening. To all you tofu-bean aficionados tryna make it with a carnitas lover: Godspeed, you crazy kids.
Stuff
Other
That annoying acquaintance on your Facebook feed who's announced that they're engaged or moving or pregnant or something. Spoiler: This will always lose. You're the worst. You know who you are.

The Amherst Police Department's faux-newest member is Dusty, the Narcotics Detection Rabbit, complete with official police harness and adorable lil' tail. If you have to suffer through an April Fool's prank, at least you get to look at a picture of a bunny.

Unfortunately, no, Mattel did not purchase Juneau, Alaska, and rename it after everyone's favorite slumber-party card game, but they made a hell of a logo. (Uno-fied April 1, 2015). (Uno-fied!) (Fine, we're suckers for wordplay.)

Trulia, the real-estate website, jumped on the hipster-hating bandwagon ("Hipsters are the WORST") and made a map to let house-hunters know where to avoid if they can't stand to look at their "skinny jeans and perfectly coiffed mustaches and mermaid hair." But Trulia may be helping out their enemy here: Hipsters across the country are gathering their belongings to conquer the last remaining pristine landscape.