Sad People Aren't Ignored on Facebook
A new study finds that users don't ignore a status message just because it expresses a negative emotion.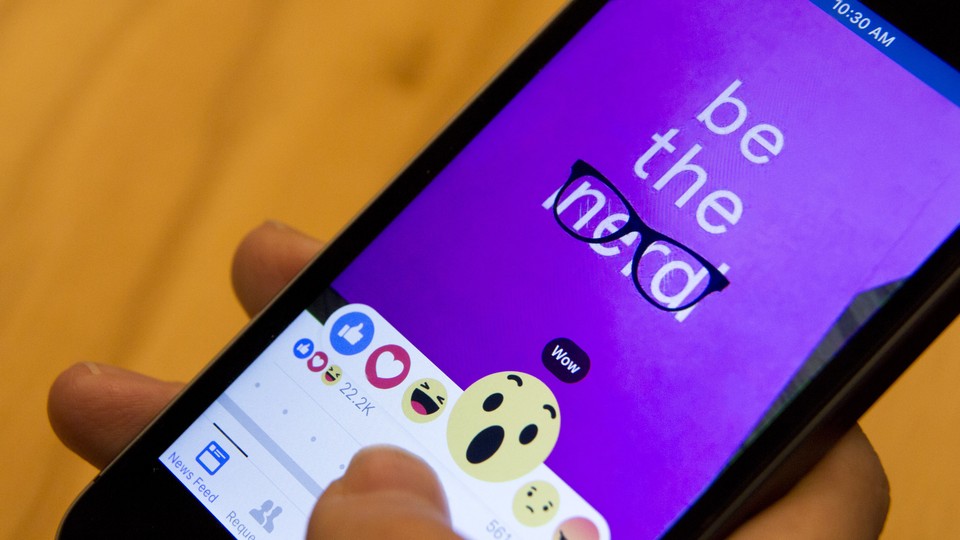 Facebook, the sixth-most valuable company in the world, is now large enough to conduct its own scientific research about itself. One study, announced this month, seems to reflect a worry within the company that people don't think they can turn to their social network for support.
"There's a notion that Facebook is only for cat videos," says Moira Burke. "We wanted to understand whether that's true or not." Burke is a computational social psychologist at Facebook; she was previously a researcher at Carnegie Mellon.
"I see people talking about deeply personal, negative parts of their lives on Facebook," said Burke. But does that hold up across the board? And even if people do post about the more sorrowful aspects of their lives, does anyone reply?
A new paper, co-authored by Burke and another Facebook researcher, and published this month in the journal CSCW, asked how Facebook users react to other Facebook users expressing positive or negative emotions on the site. Specifically, it analyzed uses of the "feelings annotation tool," the drop-down box that lets a user say they are feeling happy, sad, angry, or one of several dozen other emotion words. After a user selects a feeling word, Facebook inserts both it and a representative emoji next to their feels-annotated status:

Burke and her co-author, Mike Develin, ran more than 31 million statuses in their study. More than a third of all feelings expressed in status messages were negative, they found. But people still replied to users who shared sadder feelings—in fact, they replied to those users more.
The study found that status messages that included negative feelings tended to get more responses. Posts annotated with a negative emotion got twice as many comments as the average user's, and the comments tended to be longer. People also received more private messages after sharing their "negative feelings."
"Teens tended to be more negative," says Burke. "And that's consistent with what we know about teens and cognitive development."
The textual content of these messages and comments also tended to be more supportive than the average comment or message, Burke added. Researchers found this despite reading no comments in the study: Instead, they built a dictionary "by culling words from Hallmark cards" and websites that "provide examples of sympathy or condolences" and cross-checked this database with the words in the comments.
There's no way to tell whether people annotated some emotions sarcastically, Burke said, "but you wouldn't see the magnitude of these effects if it was just sarcasm."
From this study, Burke infers that people tend to be explicitly supportive of negative emotions when they're expressed on Facebook. This runs counter to findings in similar research on other social networks. A 2014 study found that people were less likely to respond to expressions of "severe, enduring loneliness" on Twitter than they would to the average tweet. (The researcher who led that study now works at Facebook.) These two findings point to important differences between Facebook and Twitter, said Burke: On Facebook, friendship is a mutually agreed-upon status, and you're more likely to be friends with close confidants. On Twitter, you might be sighing into the void. But this study does not allow quite so tidy an inference. Only 8.1 percent of all English-language Facebook posts from Americans include a feelings annotation. The users who contribute to this 8.1 percent differ from Anglophone Facebook users generally: They are four years younger and 20 percent more likely to be women than the average; they also have more friends, log into Facebook more, and joined the social network more recently.
"It's very clear from this paper that [Facebook and Twitter] are quite different as social ecosystems," said Luke Stark, who researches emotions in social media at New York University and was not connected to the research.
He noted that the data wasn't always as specific as it could have been. Researchers threw out an entire category of emotions to arrive at their final bifurcation of positive and negative feelings: The annotation tool allows users to say they're feeling drunk, curious, or normal, but they don't have as clear a valence and were excluded from the study, he said.
The study also "never talks about what proportion of Facebook users actually use [the feelings-annotation tool]. And they don't actually talk about how frequently one might use it over time," Stark told me. "How useful was this dataset to Facebook? My guess is not that useful."
"These are very tantalizing findings," said Bernie Hogan, a research fellow at the Oxford Internet Institute. But he said that while they made a strong claim about how people act on Facebook, their assertion about human behavior outside the social network was much weaker. It was unclear, he said, "what specific mechanisms that exist off Facebook are being tested here."
In other words: The research wasn't a claim about people generally, but a claim about people on Facebook.
The research was also "closed science," he said, meaning that outside researchers could not poke around with the Facebook team's data. "I think it's no longer appropriate to write a paper about closed science that doesn't provide guidance about how one could replicate this work in an open way," said Hogan.
This is especially important since Facebook kicked outside researchers off of its platform last October during an API change, he said. "Why don't you give us another way to look at this effect through an externally valid set of findings?," he said. Psychology's recent problems replicating experiments core to the field also make such outside validation important.
"[Facebook is] monitoring all the time so as to constantly be trying to get this behavior consensus to feed back into the model of the site," Stark told me. "It's uncontroversial to say that by using these data sets, Facebook can shape the behaviors of users. But does modulating behavior mean changing psychological response? It kind of depends on how you understand the model of a human."
"I think you can say by shaping behavior it's having some effect on our sense of our self."