It's Not Only Rich Teens That Have Smartphones
To focus only on the 'digital divide' between desktop and laptop users is to miss an encouraging trend.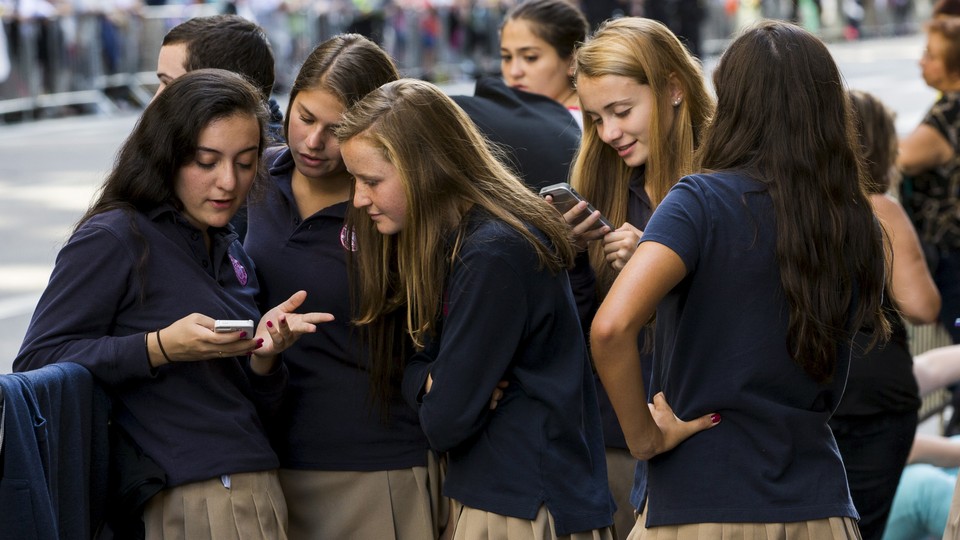 One month ago, the Open Ebooks Initiative launched, with an app containing thousands of popular and award-winning titles free for children from in-need households. These ebooks can be read without checkouts or holds—children can read as many as they like without incurring any costs.
Open Ebooks happened thanks to a set of civically concerned organizations and funders—including the Digital Public Library of America, where I am an executive director—and it's part of President Obama's ConnectED initiative, which is trying to bridge "the digital divide" between rich and poor. It aims to encourage a love of reading and make it easier for kids to read more often.
It is also likely to be the only time that we humble digital librarians receive social media support from the First Lady, Kim Kardashian West, and Shaq.
But from the start, we've heard a criticism that the program is ill-conceived because the target population doesn't have access to smartphones and tablets. It makes instinctive sense—disadvantaged populations can't afford pricey devices—and indeed it was one of my own concerns when we were imagining the program.
Yet in just the first month, the demand for Open Ebooks has been so strong that we have already distributed more than 1.4 million access codes so that in-need children from across the country can use the app. What's going on?
* * *
Like all of us who grew up with computers as the sole portal to software and the Internet, I naturally think about laptops and desktops when I think about the digital divide. As a kid, having a computer of one's own was a clear sign of affluence. The original Mac cost $2,495 in 1984, which is a staggering $5,800 in today's dollars—well over 10 percent of the median U.S. income.
Unsurprisingly, an enormous gulf emerged in the decades that followed between the have-PCs and the have-not-PCs. That gulf unfortunately still exists today. According to a recent, representative survey of 2,600 children between the ages of 8 and 18, only 25 percent of teenagers in families with incomes below $35,000 have their own laptops. In families with incomes above $100,000, 62 percent of teenagers do.
So the digital divide, in one sense, holds. But if our conception of the divide fixates on the computers many of us grew up with, we miss a remarkable story about the recent rapid adoption of smartphones and tablets, including—and perhaps especially—in low-income areas.
The same Apple that sold a nearly-$6,000 computer in 1984—which an internal Apple memo said was for the "person in the street"—released a new iPhone last month that cost $399. Android phones can be purchased for even less. Tablets are available for less than $100.
This is all still very much real money, and especially for people living below the poverty line, it remains a stretch financially. Yet many have indeed stretched to get these devices into their homes. The necessity and popularity of these devices are of a different order of magnitude than the desire for laptops and desktops. Phones are where Snapchat, Kik, and—above all—Facebook live.
The result? According to Common Sense, 51 percent of teenagers in low-income families have their own smartphones, and 48 percent of tweens in those families have their own tablets. Note that these are their own devices, not devices they have to borrow from someone else. Among middle-income families (that is, between $35,000 and $100,000), 53 percent of tweens have their own tablets and 69 percent of teenagers have their own smartphones, certainly higher but by a lot less than one might imagine.
If we pull back and look at households in general, the gap narrows in other ways. This winter, the Joan Ganz Cooney Center at Sesame Workshop published the first nationally representative telephone survey of lower-income parents on issues related to digital connectivity. The study, conducted by the research firm SSRS, included nearly 1,200 parents with school-aged children, interviewed in both Spanish and English, via landlines and cell phones. It was weighted to be representative of the American population.
In this comprehensive survey, a striking 85 percent of families living below the poverty line have some kind of digital device, smartphone or tablet, in their household. Seventy-three percent had one or more smartphones, compared to 84 percent for families above the poverty line. These are vastly changed numbers from just a few years ago. A 2011 study by Common Sense showed that in lower-income (under $30,000) households with children, only 27 percent of them had a smartphone, compared to 57 percent for households with children and income over $75,000.
This news shouldn't make us Pollyanish about the state of inequality in America. Many major, regrettable digital divides still exist. For a significant portion of low-income households, for instance, the smartphone is the only way they can access the Internet at home, since they cannot afford broadband connections. Working in DPLA's office in the Boston Public Library, I see this every day: a flood of people coming in to log onto the desktop computers, or to download resources to their phones and tablets over free wifi. There are numerous, deeply impoverished communities that have limited or no access to any kind of digital device.
But the growth curve of smartphones and tablets across socioeconomic strata is, I believe, underappreciated by those of us who grew up equating "digital" with "desktop computer," and will surely improve even more in the years ahead. It means that a program like the Open Ebooks Initiative can reach an enormous population of kids with their own devices, and may also reach some through shared devices, whether at home or through lending programs in schools and libraries. There's so much left to do to bridge the digital divide, but mobile device availability is one bright spot.
For that reason, we need a multi-pronged effort to ensure we have a broad, engaged, next generation of readers. In this spirit, Open Ebooks was announced simultaneously with a program to get a library card into the hands of every child in the United States. We must also redouble our efforts to support public libraries. In his recent, essential book, BiblioTech: Why Libraries Matter More Than Ever in the Age of Google, John Palfrey has written eloquently of the difficult position those libraries are in: greatly needed as a democratic community resource for books and services, but poorly supported financially and under threat by more nimble commercial services. As Palfrey critically highlights, shying away from technology and doubling down on print doesn't provide a helpful road forward. Public institutions cannot cede the digital realm to the likes of Amazon, which already has an astonishing 65 percent of the ebook market.
Instead, we must do everything we can to connect kids with books. Print books, ebooks, library books, bookstores—let's have it all. Let's give children access to books whenever and wherever, whether it's a paperback in the backpack, or a phone in the back pocket.