Guest Tweeting, the Latest Chapter in a Fraught Journalism Tradition    
And a lesson that media companies have had to learn again and again and again.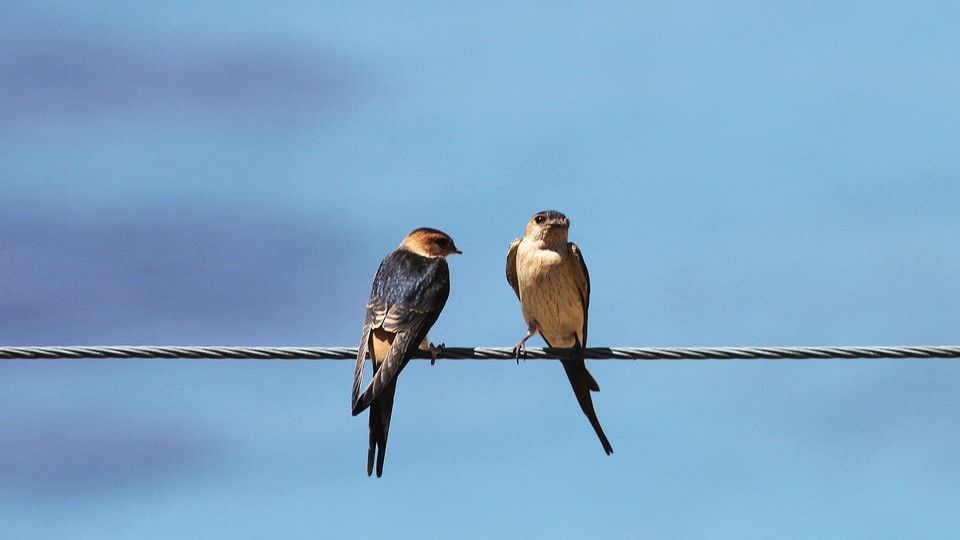 "Ummmmmm. What the hell is going on at The New Republic?"
That was the question I asked this afternoon when I saw an odd tweet published by the 102-year-old magazine. It was directed at the Republican frontrunner for president, Donald Trump.
I'm not going to mess around with any "barnyard expletive" obfuscation here, but, needless to say: This is not a family tweet.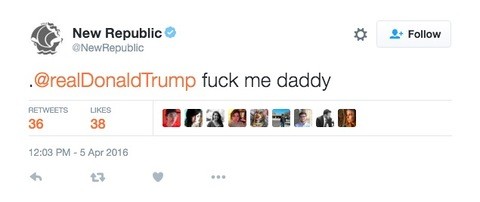 What had happened, a colleague informed me, was The New Republic had handed over the reins of its Twitter account to a guest publisher. That publisher was the poet Patricia Lockwood, who had written an essay for the magazine about attending a Trump rally, and who usually tweets from her own (funny, irreverent, often R-rated) account.
"Imagine the enormous amount of trust it must require for an established journalistic institution to allow me to hijack their twitter account," Lockwood had said on Twitter before taking over.
Which is pretty much what I was wondering. Or, more pointedly, what kind of news organization would do that?
Apparently several of them. The New York Times Magazine has had guest Twitter publishers. Modern Farmer, too. Dan Sinker, of the Knight-Mozilla OpenNews project and a self-described goat ambassador, didn't drop any F bombs while manning Modern Farmer's Twitter account during goat week, which is a real thing.
"I think I specifically agreed to *not* use profanity," Sinker told me. Incidentally, I'm pretty sure Sinker's the one who first directed me to this baby-goat Vine, which is too good not to share, and is a good approximation of how I like to imagine staffers at The New Republic reacting to Lockwood's tweet.
It's not a new-fangled idea for a media company to enlist a guest editor as a way to get attention. Sylvia Plath and Joan Didion both served as guest editors at Mademoiselle, in 1953 and 1955 respectively. Several other magazines used celebrity guest editors to generate buzz in the late 1990s: Katie Holmes, then of Dawson's Creek, took over an issue of Seventeen; Susan Sarandon and Gwyneth Paltrow both did stints as guest editors of Marie Claire.
Having a guest editor take over the issue of a magazine or newsletter usually comes with fairly heavy-handed explanation—presumably at least an editor's note saying what's what. Even this hasn't prevented problems. Guest editors have routinely caused headaches for well-meaning publications. When the former New Yorker editor Tina Brown enlisted Roseanne Barr to guest edit an issue of the magazine, in 1996, two staff members quit in protest. In 2007, the Los Angeles Times had to scrap a plan to let outsiders edit part of the Sunday edition over conflict-of-interest concerns. And when Ashton Kutcher served as a guest editor of Details magazine in 2011, he failed to disclose the financial ties he had to several companies he featured in the publication.
Which may seem shocking to a journalist; but Ashton Kutcher is not a journalist. Why would any organization expect an outsider to temporarily take over a key aspect of its operations and live by its values? On top of that, the atomized nature of Twitter offers something far more disjointed than the traditional magazine: The ability for individual tweets to travel all by themselves, without any context at all.
If you view a Twitter timeline as a continuum, as a sum of many tweets, giving someone temporary access to an news organization's institutional account would be a little bit like having someone randomly jump in and add a few sentences to a story written entirely by another person. Which is fine, I guess, depending on what you think Twitter is for.
Maybe it's a place to experiment and to be playful and, okay, occasionally get too weird in the process. Hey, that's arguably better than the opposite instinct: That thing where mid-market metro dailies just tweet out headlines and links with no personality or engagement whatsoever. But it's also a strange choice for a news organization.
It's reasonable to think that staffers at The New Republic, which covers national politics, wouldn't have opted to send a raunchy message to a leading candidate for president. In the age of Facebook and Twitter, media organizations may have lost control of the distribution of news, but they still have control over what they choose to publish. More broadly, though, media companies aren't the gatekeepers they once were. And an institution's credibility is ultimately all it has.
Gabriel Snyder, The New Republic's editor, told me the episode doesn't affect his thinking about guest editors. "We'll probably ask the next guest to not do something like that, but I don't foresee any big changes."
Not long after it appeared, The New Republic deleted the tweet to Donald Trump. Lockwood's response: "well that was fun while it lasted."