Fewer Americans Are Visiting Local Libraries—and Technology Isn't to Blame
Only one trend is closely associated with their use.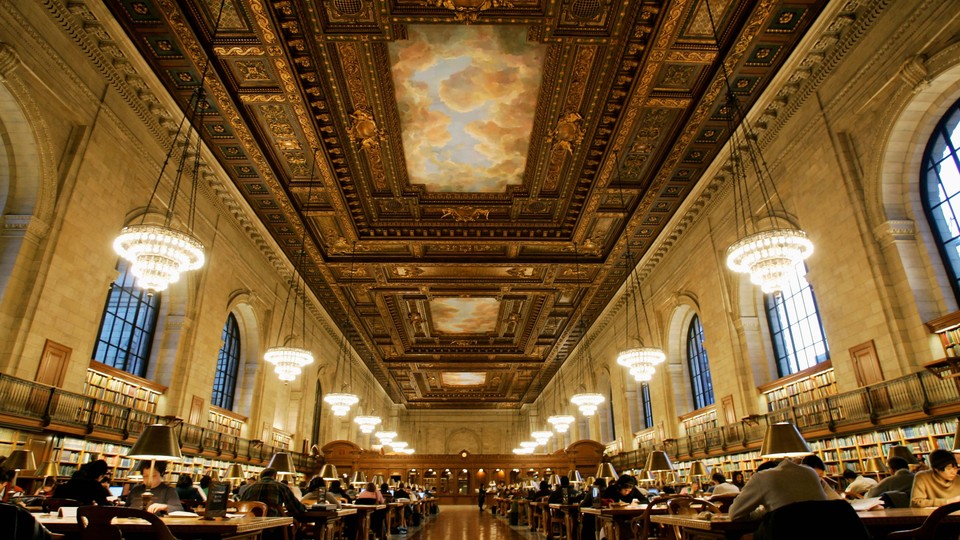 A curious phenomenon is gripping public libraries in the United States.
On the one hand, Americans still adore their libraries. According to a new Pew Research study, 76 percent of Americans say that libraries well serve the needs of their community. And since 78 percent of Americans say they've been to a local public library ever, it seems that nearly everyone who's been to a local library at least once in their lives approves of them.
Yet on the other hand, fewer and fewer Americans are using the institutions every year. In the 12 months before the most recent Pew survey was given, only 44 percent of Americans visited a local library or bookmobile. Three years earlier 53 percent of Americans had visited a library or bookmobile.
In other words, library usage is falling. But why?
---
American Library Use Is Trending Down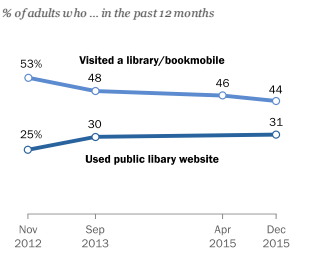 ---
This new data comes from the Pew's new report on the future of libraries, released last Thursday. The research group surveyed 2,700 American adults in October and November 2015.
For the Pew, the study confirms that Americans' usage of libraries is sliding down in real terms. Last year, in a similar report, the think tank said it was too soon to tell if the apparent downward slide constituted a real trend; now it's ready to certify it. What's more, usage of library websites doesn't seem to be making up for the shift: It's stayed flat for three years.
To the Pew, the decline in library use is driven by technological change, so the report implicitly recommends that more libraries publicize their non-print services. Ninety percent of U.S. local libraries offer ebook lending, for instance, but 38 percent of Americans either don't know or don't think that their local branch does so. What if they did?
But is that really all that's up here? When it comes to measuring U.S. library use, the Pew surveys aren't the document of record: that role belongs to reports from the Institute of Museum and Library Services (IMLS), an independent federal agency. Every other year, the IMLS asks librarians in all 50 states about the state of their enterprise. These reports take a long time to create and process, so the most recent data is from financial year 2013.
That document showed a long downward trend in revenues (mostly local government funding) for libraries that began amid the Great Recession:
---
Public Library Revenue and Costs, 2002 to  2013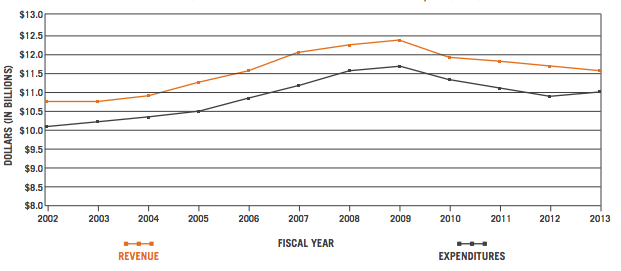 ---
What do revenues have to do with declining use? Possibly everything. In 2012, the IMLS's yearly report examined whether more people use public libraries after they receive more public investment. In a word, yes:
We found that as investments, such as revenue, staffing, and programs, increased, so did critical use measures, such as visitation and circulation. In the same way, as investments were reduced, mostly in reaction to post-recessionary budgetary reductions, we saw decreases in library use. Another important finding is that even though investments might have declined, any decreases in use did not drop by the same magnitude. People continue to use their local public libraries—for access to books and information and for gathering as a community.
In other words, there's empirical evidence that usage tracks investment. If libraries receive more public funds, more people use them. And if governments invest less in its libraries (as they have since 2009), fewer people visit—though the drop in visits from disinvestment isn't as strong as the rise from investment would be.
The correlation between investment and use makes sense. If libraries have more funds, they can have more staff, more classes, more copies of the latest bestseller, and—maybe most importantly—longer hours. Yet at the same time, people are so eager to use the library that they make time to visit even when hours have been shortened and collections have shrunk.
And this agrees with the Pew data. Over the same period of time that Pew says that usage has fallen, libraries don't seem to have gotten any less popular. In 2013, 90 percent of Americans said a local library closing would have an "impact" on their community, with almost two-thirds saying that impact would be major. A nearly identical rate reported the same thing last year. The question wasn't asked this year.
So what can a public library do to reverse the downward trend? Maybe that's the wrong way to phrase the question. Because if the public wants to reverse the trend and make the local library more useful, it should do one thing that evidence supports: Fund it better.