Will Any Oil Company Ever Drill in the Arctic?
The Obama administration opened three new Alaskan reserves this week. Will anyone use them?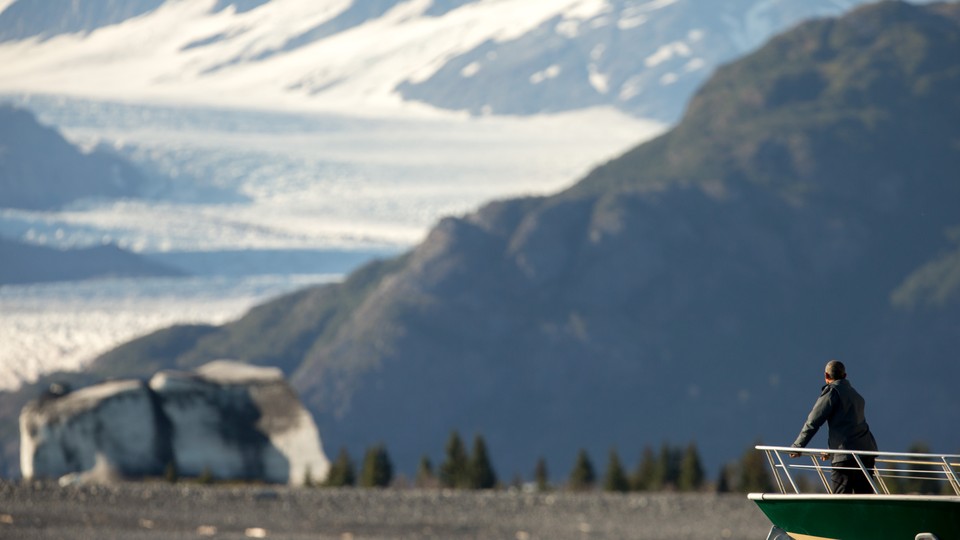 On Tuesday, the Obama administration announced that—after concerns from the Pentagon—it would not open new oil reserves near the southeastern Atlantic coast for drilling. As I wrote earlier this week, the reversal was a victory for local activists and coastal communities, who felt blindsided by the decision to allow Atlantic offshore drilling last year.
That news dominated headlines, and was widely seen as another feather in the president's climate cap. But the federal government moved ahead with plans to lease other big new reserves by 2022, including three untapped seams in Alaskan waters. Though Obama has restricted drilling in the vast majority of Arctic waters, and delayed all Arctic drilling for two years, he continues to move forward with these three sites.
But it's not clear that the reserves would ever be tapped. Last year, Royal Dutch Shell announced it had ended all Arctic drilling after spending more than $7 billion on a single exploratory well. The low cost of oil, it said, simply made pursuing those reserves economically unfeasible. So in 2020 and 2021, when the government puts these new sites up for auction, will anyone bid? Will they ever actually get drilled?
I reached out to Will Hares, an analyst with Bloomberg Intelligence who focuses on European oil firms. "Overall, I believe Arctic lease interest will overshadow costs and perceived risks of the region," he told me, though he said it's too early to know which companies will bid:
Given the Arctic is among the last under-explored oil and gas frontiers in the world, and holds immense geological potential [and] significant strategic importance to the U.S., I would be very surprised if one (albeit very expensive) well failure would discourage the entire industry from attempting to explore this highly encouraging region, despite the regulatory/environmental/operational/cost challenges it presents.
He added that "the level of the oil price in five years time will also dictate the level of lease interest," since Shell pulled out in part because its discretionary spending was running too high for a market with such low oil prices.
But assuming that the price of oil rebounds, he said that one additional factor might restrict whether companies really pursue the wells:
An 'X -factor' which will undoubtedly increase over the next five years, will be environmental opposition to Arctic operations, which Shell's CEO Ben Van Beurden has acknowledged he was surprised by. Reputational damage, pressure from shareholders, and divestment are reasonable concerns to have which could impact development of the Arctic.

A good example of this is Total's ex-CEO Christophe de Margerie recently announcing that the risk of an oil spill in the Arctic is too high and would do too much damage to the image of the company (perhaps a not so subtle jab to BP) and Total will not pursue these types of ventures.
Total, one of the world's five largest private oil companies, has warned against Arctic drilling since 2012.  "Oil on Greenland would be a disaster," he told the Financial Times nearly four years ago. "A leak would do too much damage to the image of the company."