Why Where's Waldo Is Hard and Photo Hunt Is Easy
Tricks from a researcher who specializes in paying attention.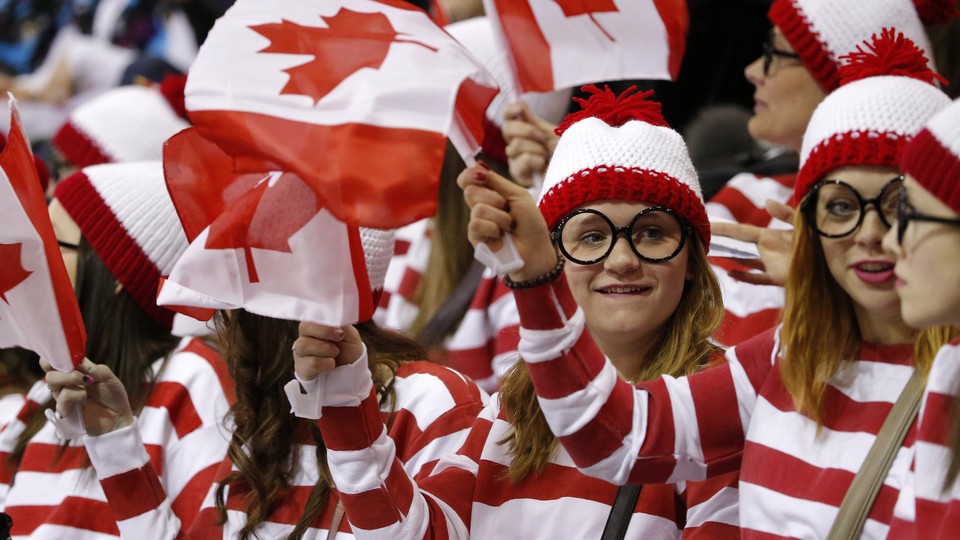 I'm just going to brag about something for a second. I am really good at Photo Hunt. Excellent, you might even say. If the Sports Depot in Allston, Massachusetts, still existed, you'd see that my friend Chrissy and I were straight-up champions circa 2006. (Hi Chrissy!)
Play enough of this bar-top touch-screen game—it requires looking at two almost-identical side-by-side images and racing the clock to identify a handful of anomalies—and you learn a few key tricks. That's because many of the photos are altered in the same way. You should always look for slight differences in the length of a person's sleeves or pant legs, check to see if there's an extra pouf to someone's hair, and keep your eyes peeled for missing windowpanes and extra-long shadows in landscape scenes.
There is, it turns out, a much more straightforward way to ace this game. "There's a technique for Photo Hunt," said Corbin Cunningham, a graduate fellow in the Department of Psychological & Brain Sciences at Johns Hopkins.  "If you cross your eyes and combine the images like a stereogram, the differences pop out. All you have to do is cross your eyes to overlap the images."
This, apparently, is a thing that people know. Or, at least, this one other guy, deemed by Esquire to be the world's best Photo Hunt player in 2009. After he was dumped by his college girlfriend, the magazine reported, Dennis Just turned to the videogame and figured out he was exceptionally good at the eye-crossing trick. (That said, "it's harder than it sounds," Esquire cautioned.)
The reason this came up at all was because I recently interviewed Cunningham about his research into how people pay attention. He wanted to figure out whether telling someone what not to pay attention to (as in: don't think about a polar bear) is purely distracting or ultimately beneficial. In his research, he finds that being told what to ignore can actually help someone find what they're looking for more quickly. (I wrote about his findings in greater depth here.)
In Cunningham's research, study participants were asked to find an object—a certain colorful letter, for example—in a sea of similar-looking letters or imagery. Naturally,  I thought of the rapid scanning that's required to compare photos in Photo Hunt. But I also thought of Where's Waldo?, the illustrated series in which readers are asked to identify a bespectacled man wearing a striped red-and-white sweater. (You may also know the series as Where's Wally? if you live outside of the United States or Canada.) Given Cunningham's latest research, would it be possible to use the technique he identified to locate Waldo more quickly? Could you tell a person something like, "ignore everyone not wearing glasses," to find Waldo more efficiently?
Probably not, he said.
"The reason Where's Waldo is really hard is everything is extremely heterogeneous," he told me. "There isn't anything that one could certainly ignore." And that's because the same features that make Waldo so Waldo-y—those John Lennon glasses, that poof-ball knit hat, the damn stripes—are replicated red-herring-style throughout all the scenes in which Waldo's hiding.
Of course, as Ben Blatt pointed out for Slate in 2013, Waldo's hiding patterns aren't exactly random. Blatt mapped Waldo's location on the page across several books, looking for patterns. "I sat in a Barnes & Noble for three hours flipping through all seven Where's Waldo books with a tape measure," he wrote.
What he discovered from his sampling of the main Waldo books: More than half of the time Waldo is hiding "within one of two 1.5-inch tall bands," one band that's three inches from the bottom of the page and another that's about four inches above that.
But like crossing your eyes to win at Photo Hunt, even though this trick may make finding Waldo easier, it probably won't make it any more fun.