Finding Solace in a Storage Unit
The facilities occupy a complicated place in American life: An Object Lesson.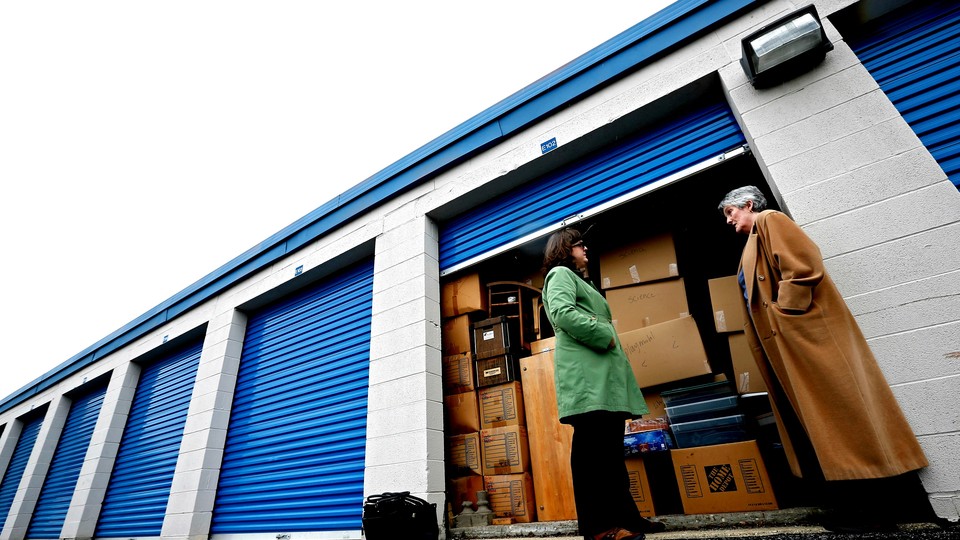 I got divorced at 29, when my then-husband fell in love—and conceived a child—with someone else. Friends and family offered their couches and guest bedrooms during my anxious transition, but I didn't feel fully cared for again until I found the Lock-Up, a temperature-controlled self-storage facility on Chicago's near north side.
Chicago is famously segregated, but the Lock-Up seemed less so. This neighborhood has been gentrifying for years, but here, some of its industrial roots remain. Fires burned in forges at the nearby Finkl Steel Mill, and a large claw dangled and crushed ancient cars above the General Iron Scrap Yard, as a kind man guided me through his labyrinth of lockers.
Across the country, storage-unit facilities cross social boundaries that can otherwise seem impermeable. As Jon Mooallem wrote in the New York Times Magazine in 2009, "one out of every 10 households in the country rents a unit, making [the] facilities among our last national commons—places where nearly every conceivable kind of American still goes." Americans store more than the people of any other nation: According to the Self Storage Association, more than 48,500 of the world's 60,000 storage-unit facilities are located in the United States.
This might speak to both our materialism and our transience. Whether from adventure or pragmatism, the average American moves 11 times in his or her life. In the 1920s and 30s, Milo Bekins, the son of a Dutch immigrant living in Sioux City, Iowa, built the country's first storage facilities in a rapidly-expanding Los Angeles; the Los Angeles Times remembered him as a man who believed that "moving is the American way."
Before renting a unit of my own, I'd thought of storage facilities as an American no man's land, a space where the laws of decency and society didn't apply. The news offers plenty of dark storage lore: In 2015, for example, a woman in Merritt Island, Florida, was charged with animal cruelty for keeping 23 cats in a small unit. When the unit of Michael Berkland, a former Pensacola associate medical examiner, came up for auction in 2012, the unit's new owner discovered the body parts of around a hundred autopsy subjects preserved in formaldehyde. And the 2015 documentary Finders Keepers chronicles the legal fight between John Wood, a North Carolina amputee who'd misplaced his embalmed leg in a defaulted storage unit, and Shannon Whisnant, who acquired the leg at storage auction.
Finishing grad school and stunned by betrayal and divorce, I still had no plan for my own future, no job, no place to live. The Lock-Up seemed like the answer to all my problems. For $118 a month, I could lock away the messy overflow of my life behind aluminum track doors. In the storage industry, professionals refer to the changes and crises that fuel their business as the four Ds—dislocation, downsizing, divorce, and death. But it isn't crisis, exactly, that pumps blood through the veins of the storage industry; instead, it's our stubborn belief that we can defy that change. We refuse to let go of our possessions, even as our lives propel us away from them.
The longer I paid the bills on it, the less sense my storage unit seemed to make. Eventually, I settled into a new apartment in a different state, and none of the things I was storing proved necessary. I didn't know if I even wanted them: pots my husband and I had cooked meals in, wedding gifts, prints we had picked and framed for our walls. In part, I was acting out the dubious impulses of many divorcees, evening the score on emotional betrayal by keeping the stuff. Our stuff and our hearts are hard to separate. I fantasized about defaulting on the unit's lease, sending all physical evidence of my married life to the auction. But instead, I kept the unit more than a year. According to Ryan Burke, a real-estate analyst, I'm not alone. Many storing Americans keep their units—and the stuff within them—for longer than they had planned.
On A & E's reality show Storage Wars, the veterans sometimes caution against bidding high on units where people have packed their property as I did, meticulously, in boxes labeled "Fragile," "This Side Up," "Handle With Care."  The auction veterans have learned that property owners stink at valuing our own belongings. The things we care for emotionally often have the least external value. The real treasures—rare coins, paintings, crystal—remain unmarked.
In the early 1970s, Noel and Betty Watts vacationed in the American west with their young sons. They camped wherever they found a place to stop, rolling without reservations or any kind of plan. Near Laramie, Wyoming, the Wattses bought a souvenir: two prints of a downhill skier, framed, $5.00 for the pair. Later, when Noel Watts retired and they moved to a smaller place in Mississippi, the prints stayed in a storage bin with Christmas decorations. Almost 40 years after the Laramie trip, Betty dropped one and the frame cracked, revealing a rare Edward Hopper engraving valued at $35,000.
Stories like this become allegories, and optimism encourages us to hold on to our stuff. We hope for a materially valuable discovery in our belongings like the one Betty Watts made, or else an emotional, sentimental one. Storage stories evoke optimism in the face of change or loss.
Units across the country also breed a spirit of entrepreneurship and unlikely hope in various ways. Some folks use them as a cheap base for a business. A washing-machine repair business operates from ATL Storage in Tucker, Georgia, for example, and a unit in California serves as a distribution center for Little Debbie Snack Cakes. In his Times story, Mooallem wrote about the veteran Terry Wallace, a helicopter mechanic and backcountry firefighter, who recovered from credit debt by living out of his truck and a 10 x 30 unit in Stockton. It was both a financial and spiritual cleansing. "It's feeling good, and it's working," Wallace told him. "That's the thing: It's working. Debts are down to almost zippo right now."
But not everyone finds redemption through an unconventional self-storage lifestyle; sometimes, attempts to do so just bring more loss. In 2011, Texas's Child Protective Services placed the six children of Prince and Charlomane Leonard with relatives after discovering that the family lived in a 10,000 square foot Houston storage unit. Though more spacious and air-conditioned than the homes of many poor families in recession-era Houston, CPS cited the lack of running water as cause for removing the children from their parents' custody. Charlomane Leonard insisted that she and Prince acted not out of negligence, but as "plain old loving parents who are working hard to secure our future." During their time at the unit, her husband, a welder, graduated from community college, and the Leonards purchased land on which they planned to build a house.
These survival and recovery stories contradict the conventional wisdom that self-storage epitomizes American greed. "Storage is part of our national infrastructure now," Mooalem wrote. "And all it is, is empty space: something Americans have always colonized and capitalized on in good times, and retreated into to regroup when things soured." Last year, stocks in storage companies traded high compared to the broader market. Martin Container, in Long Beach and Los Angeles, rents surplus shipping containers as storage units—an example of how the American habit of self-storage still speaks to our economy, in particular our trade deficit. We import and possess more than we produce.
Looking back, I wonder if my marriage suffered from the same deficit as the American economy. In love, as in industry, one needs to go to work every day, not just to hold onto the spoils from past successes. The industrial corridor where I stored my belongings has been a casualty of such changes, too. Finkl Steel Mill has since been razed, and the alderman for the gentrified neighborhood now wages war on the General Iron Scrap Yard. When I finally returned to the Lock-Up to clear out my unit, I sold or gave away chairs and tables and books, but I kept the blue-grey stoneware plates from which my ex and I ate our meals. They seemed drained of their painful aura, as if the unit itself, or the time the unit bought me, had cast a cleansing spell. Storage units don't really exist for storage, anyway. Instead, they let us make peace with our things.
---
This article appears courtesy of Object Lessons.