The Slow Death of the Political Bumper Sticker
Why the campaign staple has been falling out of favor: An Object Lesson.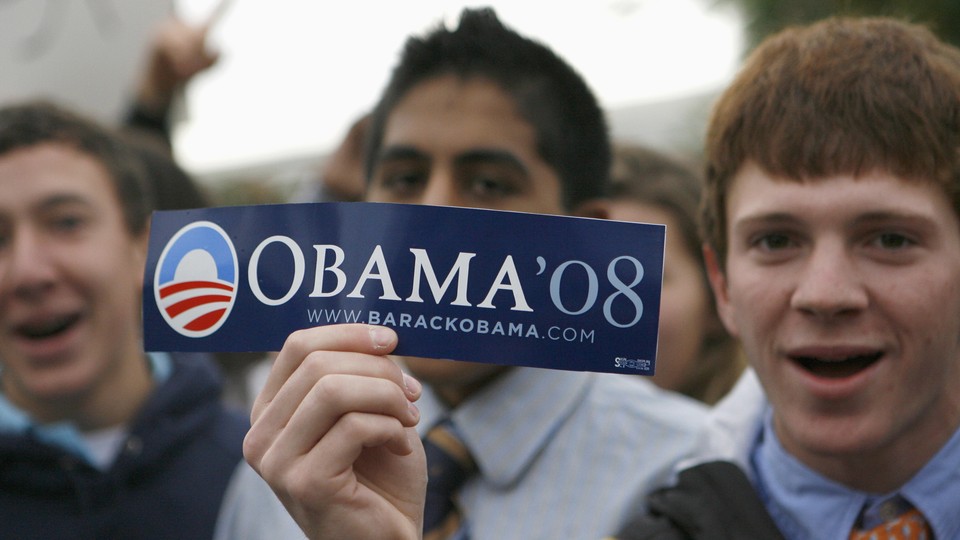 It's election season, which means an uptick in the number of car bumpers declaring their drivers' political allegiances. The application of the political sticker is a ritual I know well: When I was younger, one of my first purposely political acts was to cover the bumper of my used 1991 Toyota Corolla with progressive-minded messages.
But the bumper sticker has its origins in a very different realm. Before they were popular campaign tools, the stickers were used for marketing of another kind: vacation spots.
In 1934, the Kansas City silkscreen printer Forest Gill launched Gill-Line Productions, the company credited with producing some of the country's first bumper stickers. In the years following World War II, Gill began experimenting with new materials, combining an adhesive with DayGlo ink to create the first self-sticking bumper sticker. The new design was a significant upgrade from the paper-and-string contraptions known as "bumper signs."
The bumper itself had only been around since about 1910. According to Leslie Kendall, a curator from the Petersen Automotive Museum in Los Angeles, the earliest bumpers "were springy aftermarket devices designed to safely bounce obstructions (like oblivious farm animals) out of the way of the car, often during attempts to park"—helpful during a time when the roads were less well kept and the drivers less sophisticated.
And, as it turned out, bumpers were also a boon to advertisers for national parks, motels, and other tourist attractions. Capitalizing on the wanderlust of war-weary Americans who'd scrimped and saved and were now eager to drive their new automobiles, marketers would often affix bumper stickers on tourists' cars while they were visiting the attraction, explains Mark Gilman, the chairman of the board at Gill-Line. They were often a point of pride for consumers: "It meant that you'd been somewhere," he says.
By 1950, Gill had built a significant business selling stickers and similar products in the specialty advertising industry. The company's first large volume request was 25,000 bumper stickers for Marine Gardens, a tourist attraction in Clearwater, Florida. But by the next decade, mass orders often skewed political: In 1968, the company printed 20 million stickers for the presidential campaign of the notorious segregationist Alabama governor George Wallace. (It has also printed stickers for candidates including LBJ, Kennedy, and Reagan.)
If you look closely at a bumper sticker, you'll likely see a label indicating which union printed it—my Bernie Sanders sticker, for example, was made by Sign Display Local 100. For this reason, Gilman says, bumper stickers are often popular with Democratic candidates. "We're making a lot of Bernie Sanders bumper stickers this year," he tells me.
The company has sold more than $2 million in bumper stickers this year, Gilman says, but sales of bumper stickers have been dropping. He blames it on digital and social-media advertising as replacements for the stickers, buttons, and campaign pins of yore.
Larry Bird, a curator at the Smithsonian's National Museum of American History, agrees that social media has played a role in the decline of bumper stickers. For Bird—a specialist in American political history and symbols—bumper stickers represent the last vestiges of the old "hurrah" campaigns of the 1950s, which were characterized by parades, painted tractor trailers, and rallies where campaigners would distribute their wares. Today, campaigning is significantly more manicured for television, and has lost what Bird calls the "thingness" that comes with receiving a button or bumper sticker from your favorite candidate.
The premise of bumper stickers, he says, is "actual physical contact and connection through that thing. In other words, I'm giving you this thing with my name on it, and I'm looking at you and you're looking at me, we're interacting." It's a more tangible declaration than a Facebook post: Postwar tourist stickers said, "I went somewhere"; political bumper stickers say, "I care about something."
A nice idea, but bumper stickers and the people who sport them are now often seen in a negative light. Kim Kardashian, when asked by talk show host Wendy Williams if she had tattoos, famously offered this wisdom: "Honey, would you put a bumper sticker on a Bentley?" And a 2008 study by Colorado State University researchers found that people who put bumper stickers on their cars tend to be more aggressive, territorial drivers.
Even so, there's a benefit to the bumper sticker: While we are cloistered in the tiny, antisocial world of our automobiles, these bumper stickers offer us an invitation to interact with the outside world. In his book If You Can Read This: The Philosophy of Bumper Stickers, the author Jack Bowen explained that bumper stickers all contain an unspoken if-then clause: Behind a sticker bearing the command "Imagine World Peace," for example, is the condition, "If you can read this, then Imagine World Peace." It's a formulation that allows the reader to get closer, to engage in conversation, to align themselves with or against a belief.
Sometimes, of course, those beliefs are outdated, vestiges of a moment when a now-obsolete slogan was in vogue; at any rate, a sticker always specifies a particular time and circumstance. Even though Forest Gill made the bumper sticker removable so many years ago, it can still be hard to get one off. Unlike social media, the bumper sticker still involves a verifiable commitment, and a simply stated one. "It says everything," Bird notes, "while at the same time saying very little."
---
This article appears courtesy of Object Lessons.