How New York's Top Advertisers Are Fighting Terrorist Propaganda
Madison Avenue's best talent met with government officials multiple times in recent months to discuss how to counter radicalization online.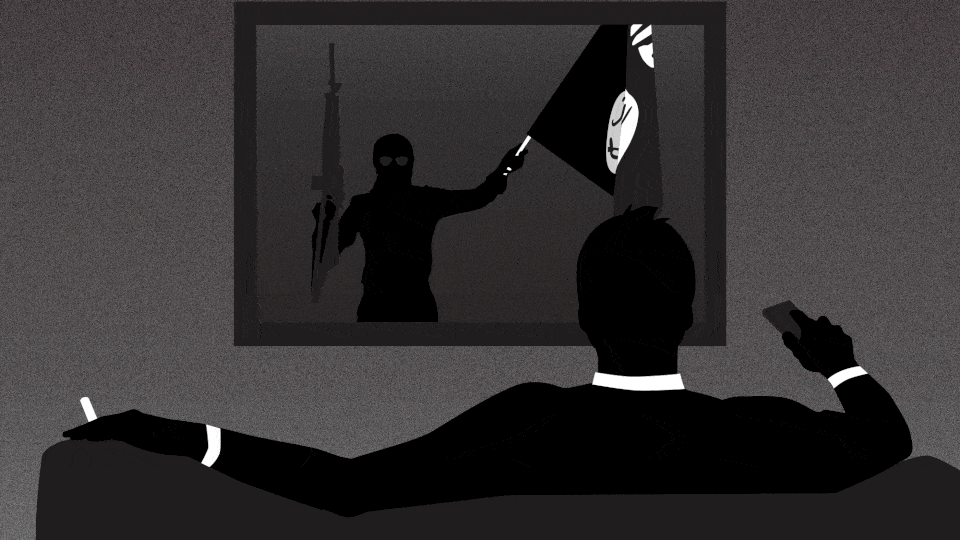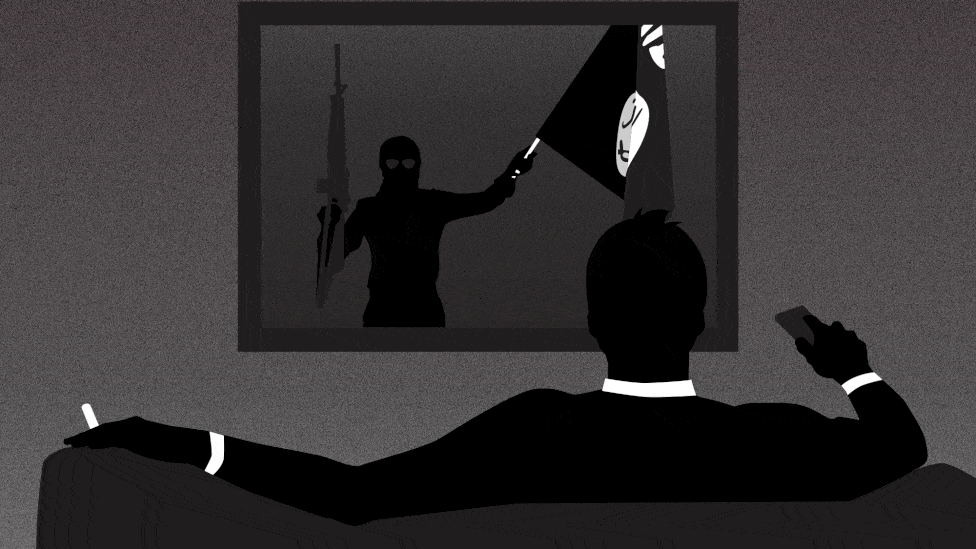 It began with an encounter at a San Francisco summit less than six months ago. Bob Jeffrey had flown out from New York for the event, a two-day extravaganza hosted by Vanity Fair showcasing members of the "New Establishment": the rich, powerful influentials of Silicon Valley, Hollywood, and the media world.
One of the first panels of the summit featured an unusual speaker. Under an enormous projection screen that read "It could happen to you," Sony Entertainment CEO Michael Lynton chatted with John Carlin, the assistant U.S. attorney general for national security. They were talking about the Sony hack that brought the company to a near-standstill, revealed hundreds of thousands of internal emails, and embarrassed celebrities and executives alike.
Jeffrey, the non-executive chairman of New York-based advertising agency J. Walter Thompson, was intrigued by the panel. He was attending the Vanity Fair summit with an eye toward making new connections, so he approached Carlin after the panel was over.
"We were talking about the radicalization of youth and terrorism and so on, so I said to John Carlin and his team, 'You know, the ad industry historically used to be helpful to the U.S. in situations like this,'" Jeffrey told me. "I said, 'John, you know, I think people in the industry would love to figure out a way to contribute.'"
The two men chatted about the government's long-running effort to counter extremist ideology in the U.S. During the Cold War, Senator Joe McCarthy warned of widespread Communist subversion at home. But nowadays, anti-extremism looks different: the main source of radicalization is ISIS, whose supporters have found special success using online tools to recruit young people to join them.
Government agencies have long collaborated with community groups to counter terrorist propaganda online, producing tools like the FBI's "Don't Be a Puppet" website, which warns teens against being sucked in by "radical ideologies."
So when Jeffrey introduced himself to Carlin in San Francisco, counterterrorism officials saw a unique opportunity: to enlist some of the world's most accomplished message-crafters in the fight against extremism.
The Vanity Fair summit wrapped up on October 7, and later that month, Jeffrey received a call from the Justice Department. He was told that a small team of government officials wanted to visit New York to meet with advertising executives about techniques to counter violent extremism. He had one week to assemble a Madison Avenue dream team.
* * *
Jeffrey made some calls. By the time the government officials arrived on November 3 and made their way to the Lexington Avenue headquarters of J. Walter Thompson, about two dozen advertising and marketing executives were waiting to greet them.
Carlin brought Marc Raimondi, the national-security spokesman for the Justice Department; and Jen Easterly, the senior director for counterterrorism on President Obama's National Security Council.
The seniority of the government participants indicates how seriously officials took the project. "Jen Easterly is not somebody that you easily get out of the White House," said one administration official who was not authorized to speak about the meetings. "For her to come up shows the importance that her office placed on this."
And the advertisers' ranks were just as exceptional. "Bob had assembled the Legion of Superheroes of the Madison Avenue crew," said the official, speaking on condition of anonymity. More than a decade of serving as worldwide CEO of J. Walter Thompson had furnished Jeffrey with a wide network to draw on.
The government visitors were "very, very candid," Jeffrey said. Easterly told the group that the White House was struggling to counter the violent propaganda coming from ISIS. The participants discussed youth radicalization and, in broad strokes, what might be done to fight it.
The advertisers approached the question of how to counter violent extremism in the same way they would tackle a high-profile client's project: with extensive research to determine a target audience, their motivations, how to reach them, and how best to change their minds. But this project was unlike any work they'd done for corporate clients, whose preferences and ideas are key to determining the direction of a communications campaign. Here, the government was not the client, simply the supplier of information. At the end of the meeting, the advertisers were asked to prepare a list of further questions for the government. But after the meeting came to a close, contact between the two groups slowed to a trickle, until events overseas jolted them into action.
On November 13, ISIS-affiliated terrorists opened fire and detonated bombs in and around Paris, killing 130 people and injuring hundreds more. Earlier that very day, Jeffrey had called a colleague to ask him to take a leading creative role in the group. After they saw the news, they rallied other participants, and by Monday—just three days later—they had a list of questions to submit to the government.
It took some time for the group to hear back, and their meetings remained under the radar. At that point, the most visible component of the government's push to fight against online radicalization centered on tech companies like Twitter and Facebook, as it had for many months.
In January of that year, Ted Poe, a Republican representative for Texas, had said that allowing ISIS supporters to post on social media was akin to "letting our enemies take out an ad in the New York Times during World War II." A few months later, a group of lawmakers on the House Foreign Affairs Committee sent a letter to Dick Costolo, then Twitter's CEO, asking his company to do more to deactivate terrorist-affiliated accounts. And after the San Bernardino attack in December, lawmakers like Senator Dianne Feinstein put pressure on the companies to report terrorist activity to law enforcement.
Twitter and Facebook are now back in Congress' good graces. Twitter announced in February that it had suspended hundreds of thousands of ISIS-affiliated accounts since mid-2015, a move which seems to have made a dent in the effectiveness of online propaganda on the platform.
* * *
When the government team returned to New York in December, they had backup. According to the administration official, the team included about a half-dozen new faces from the White House, the Justice Department, and the Intelligence Community. (One meeting participant said he learned a lot from CIA employees present in the meeting, but the agency would not confirm its involvement.)
At that meeting, a smaller group of core Madison Avenue team members watched ISIS recruitment videos, and were astonished by their quality and production value. "You could hear a pin drop," one meeting participant said.
The government briefed the advertisers in detail about the questions they'd sent after the previous meeting. They discussed how and where ISIS enlists new people, and the realities that have caused disappointed recruits to turn their backs on the terrorist group and defect: disillusionment with atrocities and the killing of innocents, corruption, and poor living conditions.
After the December gathering, Jeffrey, who was the Madison Valley group's main liaison with the government, remained in frequent contact with his counterparts in Washington. But there would be no further face-to-face meetings for two months.
During that time, the government courted two other industries it hoped to involve in its anti-radicalization project: Silicon Valley's tech experts and Hollywood filmmakers.
On January 8, White House Chief of Staff Denis McDonough, Attorney General Loretta Lynch, the directors of the FBI and the NSA, the director of national intelligence, and other officials traveled to San Jose, California, to meet in secret with tech-company executives. The officials asked for the executives' advice for how to launch counter-messaging campaigns on social media, according to reports. And a few weeks later, Secretary of State John Kerry made his way to Universal Studios, where he met with a dozen Hollywood studio executives to discuss how film and storytelling could be used to counter extremist narratives, reports said.
The culmination of the government's efforts came just last month, when officials packed a room to capacity for a closed-door meeting at the Justice Department in Washington, D.C. There, the three elements of the government's push came together both in person and in name: The agenda that was distributed to participants bore the title "Madison Valleywood Project," in honor of the three main industries in attendance.
The meeting, which was scheduled to take three hours, was a chance to connect attendees whose worlds don't usually intersect. After Carlin gave opening remarks, a New York-based branding consultant presented an overview of ISIS media strategies and recruiting tactics. Then, participants broke into eight-person teams and had an hour to storyboard a messaging plan.
The government played host and incubator, but left the creative work to the guests, who also included documentary filmmakers, political consultants, NGO representatives, and even a video-game developer. "We tried to cast a wide net," said the administration official with knowledge of the meeting. "A lot of effort went into ensuring that each table had a person from each community." Each table also included someone from the government.
Sitting next to Carlin, Jeffrey connected with another of his tablemates, a D.C.-based political consultant who staffed Obama's 2008 and 2012 campaigns. The two began to talk about one of the main hurdles that the anti-extremist project faces: how to fund it.
They're considering setting up a 501(c)(3) non-profit or a foundation, which would allow American companies to donate toward the cause. It's important the money come from the private sector and individuals, Jeffrey said. "It can't look like anything political or part of the U.S. government."
One reason the government wants to stay out of the equation is to preserve the credibility of whatever the participants produce. For a would-be terrorist, the U.S. government probably isn't the most trusted source for information. Officials are bringing people together, and giving them advice and information, but they appear to want the final product to be free of the baggage of being connected to the feds.
The Madison Avenue crew is still in the early stages of developing a product. Jeffrey said whatever the team comes up with is likely to revolve around a positive message (rather than a negative anti-radicalization message). It would involve content (think tweets and videos) developed by young people for young people, and presented organically on social media.
As an example, he pointed to DoSomething.org, a millennial-oriented website where young people can sign up to commit to social-good campaigns like organizing to ban guns from their school campus, tweeting at their school board members, or registering other students to vote.
"It's not about paid messaging from the government. It's about inspiring and influencing people to develop the messaging themselves," he said.
Jeffrey draws a parallel between this project and work he's done previously for the U.S. Marine Corps. Then, he helped get young men and women enlisted; now, he's fighting against recruiters. But the themes he's often seen motivate American youth remain the same: validation, power, belonging, higher purpose.
Although the Madison Avenue team has the background and information it needs to take this project on, its unusual setup will prove challenging. "There's no operational structure here, and there's no funding. And there's really no client," said Jeffrey.
But developing these materials is a vital first step in countering the propaganda that's already floating around online. A spokesperson for one of the technology companies that participated in the D.C. meeting told me that developing positive messaging is the current bottleneck—social-media platforms can't promote positive content until it actually exists.
The form that content will take, and the funding that will support it, remain unclear. Developing it successfully won't be easy, even by Madison Avenue's standards. But a team of the country's top creative executives may be the group best positioned to take this on.