The Military Roots of the Duck-Boat Tour
How an army vehicle became a tourist favorite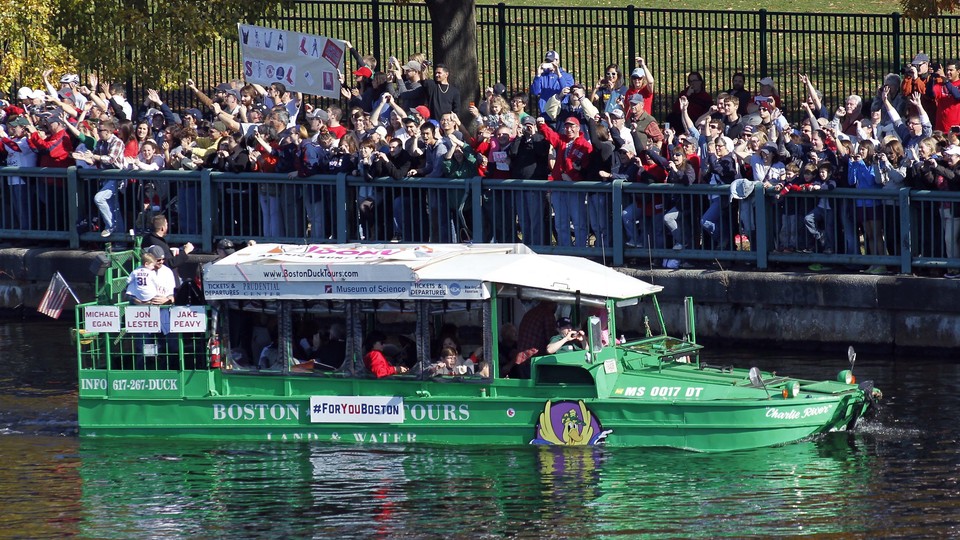 Boston's Newbury Street is quiet and leafy; high-end stores peek out between sidewalk cafes, where stoppers sit outside, soaking up the sun.
But from down the street lumbers an army utility vehicle, painted tarp-blue and piloted by a man in sunglasses and a tattered red bandana. He goes by the name Captain WeirdBeard. He lets out a strange sound: Quack! His 32 passengers join in. They all wave as they trundle by the shoppers.
The Boston Duck Tours are truly unabashedly bizarre. But they're also far from an uncommon sight. Rain or shine, the 28 boats in the fleet take to the city's streets and waterways, each captained by a character who tosses back equal shares of personality and Boston history to all aboard. The tours wend their way past the usual landmarks: the Hancock Tower, the Make Way for Ducklings sculptures, the Boston Public Library.
But on the swanky Newbury Street, "getting folks there to quack and wave back is the main goal," one captain told The Gainesville Sun in 1995.
For such a tongue-in-cheek institution, duck boat tours have a surprisingly somber origin: World War II.
In 1942, the U.S. military was faced with a quandary: with the war ongoing, soldiers stationed overseas were in need of supplies and reinforcements. But by that point, most of Europe's harbors were in tatters; the military couldn't get close enough to land to reach the troops. In response, General Motors developed the DUKW—a military-grade vehicle able to operate on both land and water, whose finest moment would come about during the D-Day invasion of Normandy in 1944.
The name DUKW derived from military equipment coding: D stood for the year of production (1942); U denoted its amphibious quality; K indicated front-wheel drive capability; W rear-wheel drive. Unsurprisingly, they just became known as "ducks."
These days, Boston is one of several cities that operate such tours. But they got their start in rural Wisconsin. After the war ended in 1945, the military made surplus supplies available for public purchase. Bob Unger, a veteran from Milwaukee, snapped up a DUKW, which he had learned to pilot during the war. Where he saw an army relic, his fried Mel Flath saw a business opportunity. Flath convinced Unger to bring his DUKW to the Wisconsin Dells—the scenic landscape surrounding the southern portion of the Wisconsin River. They launched their first tour as the Wisconsin Ducks in the summer of 1946, says Dan Gavinski, now the general manager of company.
By the next season, the tour company operated 37 DUKWs. Today, the Wisconsin Ducks, Gavinski says, has the largest fleet of DUKWs in the country, and their 91 vehicles still date from the Second World War.
The Wisconsin Ducks take pride in the label "original"—the company can lay undisputed claim to the first amphibious tour in the country. But the relaxed vibe of the backcountry routes is a far cry from the rambunctious, arguably more notorious tours that wind their way through at least 30 cities worldwide.
In that respect, the Boston Duck Tours, which launched in 1994, were the first. "A lot of people think that we're the original," says the CEO Cindy Brown. "But we always make sure to yield to Wisconsin."
The move to an urban setting was not exactly smooth sailing. According to the company, bringing DUKWs to Boston "took nearly two years, '100 halls of government,' and fierce determination by an ex-banker [the founder Andy Wilson] who felt that there was more to life than the standard 9-5, corporate world." Securing the 30 municipal permits necessary to operate the tours was a veritable nightmare "due to the infamous bureaucratic red tape, but also because most people had never heard of Ducks and simply thought the idea of a land/water tour in Boston was crazy."
The tours turned out to not be so crazy after all; during peak season, they now ferry around 4,500 passengers per day. But they are, Brown says, decidedly quirky. The drivers are encouraged to cultivate distinctive personalities, often so effectively that Brown says she sometimes finds herself calling them by their aliases around the office.
Other cities soon followed. Ride the Ducks was founded in Branson, Missouri, in 1977 and operated a rural route, but in 2003, it launched in Philadelphia and Stone Mountain, Georgia, a town outside of Atlanta, where the company is now headquartered. Many urban duck tours, like those in Seattle and Austin, operate independently, but Ride the Ducks is a franchise, complete with a production subsidiary called Amphibious Vehicle Marketing, which provides modern iterations of the WWII DUKWs to companies like Boston Duck Tours.
This interconnectedness, Brown says, is a testament to both the peculiarity of the industry and to its tiny size. "As you can imagine, there aren't many duck tours out there," she says. While that closeness fosters a sense of universality among these very location-specific tours, it also causes any backlash against the industry to amplify.
Over the course of their relatively short history, DUKW tours have come under fire for a number of fatal accidents. Thirteen people drowned in 1999 after a boat operated by Land and Lake Tours, Inc. malfunctioned on Lake Hamilton in Arkansas; the company has since dissolved. Philadelphia has been the site of two accidents: one in 2010, and one in 2015—a year which also saw a deadly crash in Seattle, after an axel failure cause a DUKW boat to crash into a bus. "If there's an accident in one place, all the companies are implicated," Brown says. "And because our industry is a little bit unique, when something does happen, it becomes a front-page story."
Yet despite the challenges, duck tours are buoyed by their weirdness, which often comes from the drivers themselves. The industry has a surprising sticking power. Boston is currently training 11 new drivers. Over a six-to-eight-week period, aspiring guides take lessons in driving, history, safety, and theatrics. Most of them stay in it for the duration: some of the current drivers have been in the business for over 15 years, Brown says. (She's been with the tours for 21 years; Gavinski started with the Wisconsin Ducks as a 14-year-old ticket collector in 1971).
Underneath all the flare, guides try to do justice by their cities. In Londonist last month, the writer Will Noble described how his trip aboard a DUKW, bolstered by his guide's "occasional bouts of flippancy," left even him—a seasoned Londoner—ever-so-slightly more knowledgeable about his city. "It was good to have a guide who can ramble on a bit like that," one of Noble's fellow passengers said. "He was like Stephen Fry."
---
This article appears courtesy of CityLab.