Medium Evolves Again
The service will add human editorial decisions to its mobile app.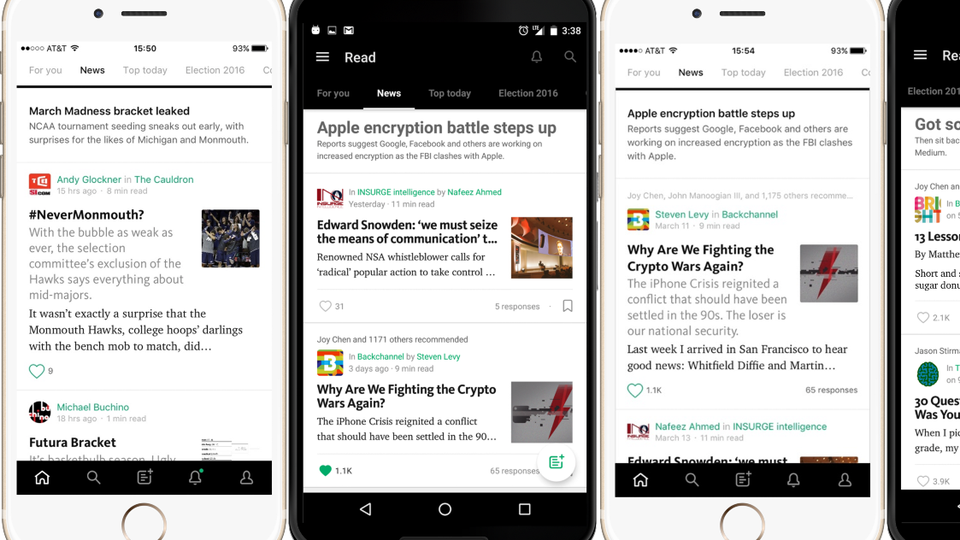 When discussing the web's great platforms, it's impossible to understate the importance of organization and distribution.
Oh, sure, the atomic units—the tweet, the post, the 'gram—get all the attention. But how Twitter organizes itself—that it displays tweets in chronological order, indexed by author—is way more important than the formal properties of a tweet. Ditto Facebook, with its profile-structure and all-powerful News Feed algorithm, and Instagram, with its scroll of endless images.
On Tuesday afternoon, Medium—the online "community for readers and writers," founded by Ev Williams—announced a new organizing principle. Technically it did this by releasing a feature to users on iOS and Android devices—the feature is called Collections—but, if these early iterations succeed, soon Collections will become a major aspect of Medium. A collection may even, one day, be weighted equally on the service to a post.
But first: What is a collection? A collection is just a list—of posts, of authors, of links to other places on the web.
"It's this thing that you can create that has a title or a description, to group together Medium stories or Medium users or Medium publications. You can also use it to link to other ideas around the web," says Katie Zhu, an engineer who helped build the feature. (Disclosure: She's also a college friend.)
In Tuesday's update of the Medium app, these lists come to dominate the platform's organization. At the top of the home screen, there's a list of topics, including "News," "Comics," "Sports," "Syrian War," and "Unrequired reading" (a play on Eggers). Collections, in other words, operate like a horizontal navigation bar.
Each of these showcase collections highlights Medium posts, major writers to follow, and a couple outside links. "News," for instance, leads with a Medium post from Tamir Rice's mother, Samaria Rice, about why she's declined to endorse a candidate; it follows that with an "open letter to America," from a defense contractor who declares "This Is Not My Republican Party." The collection about Syria points to a Washington Post story that lives on Medium—"It's the fifth anniversary of the start of the Syrian conflict. How did we get here?"—and lists users who write about the war, like Hanin Ghaddar, a security expert at the Atlantic Council.
Right now, collections only exist in the company's apps. Zhu said a Medium.com version of the feature was coming in the next few weeks.
Most importantly, collections are created by people. "We believe that in order to create a great reading experience for humans, other humans should be part of that process," writes Zhu in a company blog post. So each of the collections linked from the navigation bar was assembled by a Medium staff member or "trusted user." Those same people are the only ones who can create any collection right now: At some point in the coming months, the company may let any Medium user create a collection.
This represents a major change in strategy for Medium. When Medium was founded, it directed readers to posts through algorithmic curation of its homepage. Through the company's many in-house metrics—including its much-beloved "total time reading" measurement—it determined what stories you were most likely to enjoy. At the beginning, Medium didn't even offer users a "follow" button. If you recommended enough posts by an author, the service assured users, you were effectively following them, even if you had no button to press. The site's wise and prudent algorithm would sniff out your true intent.
The site started offering a "Follow" button one or two iterations ago, but the shift to curation here represents even more of a change. Humans, not computers, will now determine who sees a great deal of stories on the service.
When Medium was founded, many writers asked if it was a "publication or a platform." The question has since been decisively answered: Medium is, regardless of however many writers it has on staff, a platform. But the addition of collections reflects that, if you want people to stick around, you have to be more than an algorithmically curated morass of word-filled pages. There has to a curatorial voice somewhere. Medium is a platform—but if collections succeed, it will be a platform with a publication's editorial eye.