The Surprising Importance of a Facebook Comedian
Do celebrities in 2016 exist independent of their Facebook pages?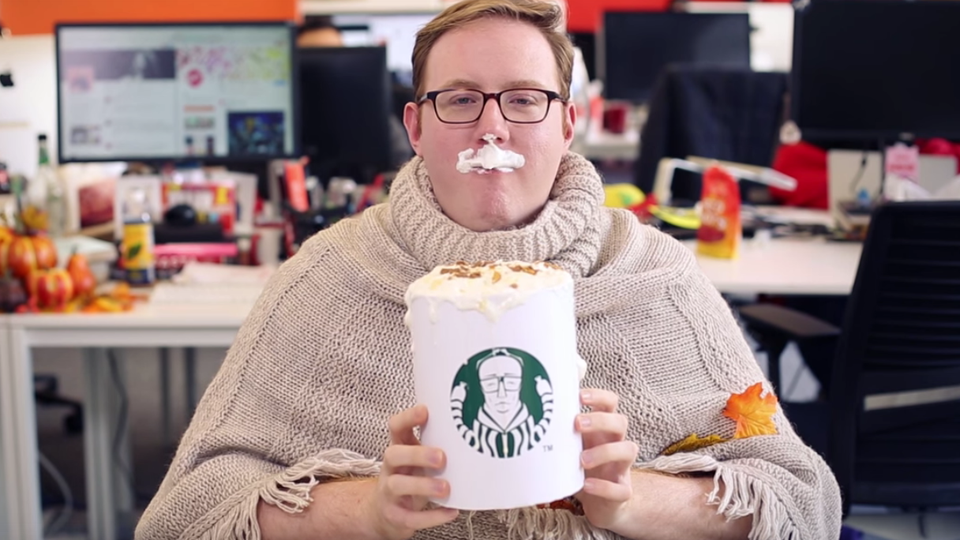 Matt Bellassai is leaving BuzzFeed.
Whether this means anything to you may depend on how many Facebook videos you've watched. Bellassai is the form's breakout star: Since beginning his "Whine About It" series last May, he's accumulated more than 150 million Facebook views and won a People's Choice Award. Also, more than 60 people dressed up like him on Halloween last year.
Bellassai signed with Creative Artists Agency last week. In an email, he told me that he's looking at putting out a video series "very, very soon," followed by a book of humor essays and a live college tour.
While this is big news to Bellassai's fans, its importance to the average American Internet user may not be immediately apparent. But Facebook pages have outsized importance in the media industry of 2016. Countless news organizations rely on their Facebook page for most of their traffic—and thus most of their revenue—which means their million-follower pages are some of their most important digital assets. Some more dour media critics have hypothesized that, in such an environment, publication brands don't even matter any more: Every useful brand identifier is subsumed to the almighty News Feed. At stake in Bellassai's new independence is this question: Is Internet stardom in 2016 separable from a Facebook page?
And behind that looms an even larger mystery: What, exactly, is celebrity in 2016?
On Tuesday, Bellassai created a new Facebook page and asked fans to follow him there. In the six days it's been live, his new page accumulated almost 215,000 likes.
That's an impressive number, and it is, in a roundabout way, a good sign for the rest of the Internet.
The original "Whine About It" Facebook page was successful for three reasons. The first is that Bellassai is good at making funny videos. The second is that the all-powerful Facebook algorithm—which determines where a vast amount of online attention is directed—has looked sunnily on native video for the last year or so. For reasons algorithmic or organic, video uploaded to Facebook does significantly better than a YouTube link. The third reason is that BuzzFeed invested in "Whine About It" in particular. The company put Bellassai on its Snapchat and Instagram; it bought ads on people's News Feeds; and it shared "Whine About It" posts from its main Facebook page (which has, of this writing, more than 6 million likes).
Bellassai now looks like he's on his way to reclaiming that 1.5-million-person audience with his new page. If he manages it, it suggests a number of good things: all of them vaguely reassuring for Internet content creators. It suggests that when people and brands appear in users's Facebook feeds, users see them as more than content briefly flickering in front of their eyes. It suggests that when people like someone's Facebook page, they actually like that person. And above all, it suggests that someone whose fame starts on Facebook isn't limited to that platform.  
Which, in turn, has consequences for BuzzFeed—both good and bad. If BuzzFeed can mint stars and then release them into the wider culture, it makes the company into a new kind of entertainment giant. But it also means that BuzzFeed can build its employees up so much that they will eventually leave—or, at least, be able to bargain with it.
Both Bellassai and a BuzzFeed spokeswoman spoke amicably about their separation. It sounds like Bellassai simply wanted a different kind of popular profile than BuzzFeed could offer him right now.
And more to the point, Bellassai never thought he would retain control of the "Whine About It
"
page. "In
my case, it was always understood that I wouldn't hold onto the Whine About It page," he told me in an email. "That page was started as a BuzzFeed project, and BuzzFeed obviously put a ton of resources into creating Whine About It and growing that page, so the understanding from the beginning was that they would grow it, but it would remain a BuzzFeed property."
Many budding writers, comedians, and video hosts are working at BuzzFeed or other content shops, trying to break in.
​ I've written before about
how much these personalities remind me of the MTV veejays
, who attained fame through their already-powerful platform, their zeitgeist-deciphering curatorial skills, and their cool-older-cousin aesthetic. But if you leave BuzzFeed in 2016, whose career do you wind up inheriting? Do you eventually become Martha Quinn, who makes her living as a Sirius-XM host and a quirky living avatar of the 1980s? Or do you become Carson Daly?
The question is more than academic—and not just for the stars navigating their fame. On the one hand, the YouTube personality Gaby Dunn has written about
how most "middle-class" Internet celebrities need day jobs
just to make ends meet: "I've never had more than a couple thousand dollars in my bank account at once. My Instagram account has 340,000 followers, but I've never made $340,000 in my life collectively,"
she said last month
. On the other hand, the leading Republican candidate for president is just a former reality-TV star with a Twitter account.
Who becomes a celebrity? How are they compensated? How platform-independent are they once they achieve fame? The answers to these questions determine not only the context of our culture, but also, in fact, its content.
On prior occasions, Bellassai has made it clear he's thinking about some of them. "I
feel like the mechanics of Internet fame are more like you move super fast and it's super cheap and you make things very quickly and people will forget about you very quickly, unless you play your cards right and put energy into making it a good thing that can have legs beyond the immediate moment,"
he told Chicago's free daily, RedEye, earlier this year.
And he certainly isn't responsible for thinking about the capital-i Importance of Celebrity and Fame. But if he can parlay his Facebook video success into a lasting career, he won't be the first star to start in
BuzzFeed
's sky.
* * *
And now a moment of disclosure: Though we haven't seen each other since graduation, I edited Matt Bellassai as a news editor at our student publication while we were both college students. Bellassai, who had lost the student-government presidential race the year before, became our lead student-government correspondent. Publishing his coverage—which was snarky, cynical, and deeply informed—ranks among the student-news accomplishments I'm proudest of.