The Strange and Terrifying Case of Ted Cruz's Two Watches
Investigating the candidate's wearable strategy.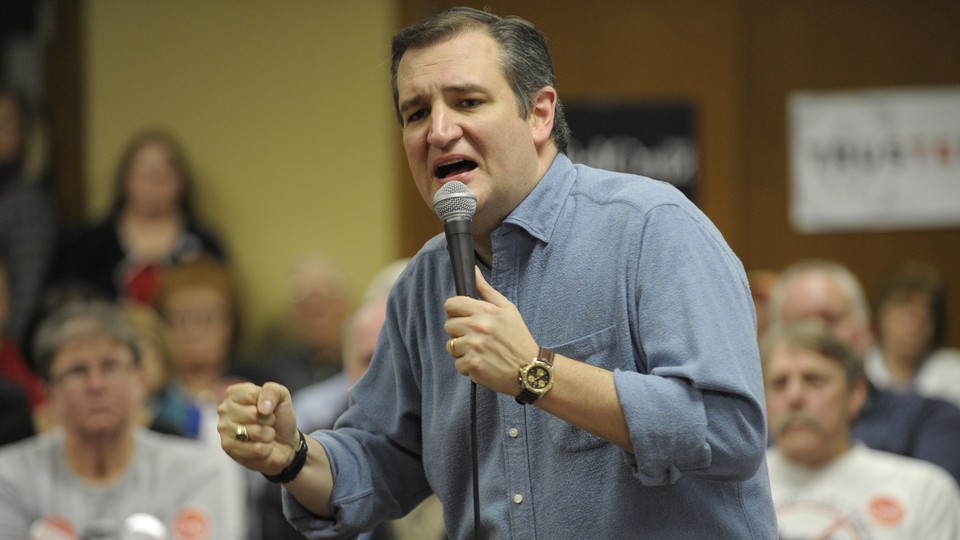 I first saw the rumor in a tweet from Kenny Keil, a writer at Mad Magazine:
Scroll through the pictures, examine them, and when you're done quivering, ask yourself: Does Ted Cruz, the victor of the Republican Iowa caucuses, really wear two watches?
I had to find out.
Before we consider that question, though, permit a short interlude. In the grand scheme of things, it does not matter. Cruz's plans to abolish the Internal Revenue Service or repeal the Affordable Care Act are far more consequential than his choice of radiocarpal accessory. But elections encompass far more than policy, however radical or horrifying; they are also cultural and aesthetic spectacles. Not for nothing was George W. Bush's main inauguration-night gala dubbed the Black Tie and Boots Ball.
And besides, two watches? The whole running-for-fifth-grade-class-president thing is really more Marco Rubio's vibe.
So with the help of Alan Taylor, senior editor of our Photos section, I undertook a thorough investigation. It turns out that Ted Cruz's horological appurtenances are absurdly well documented.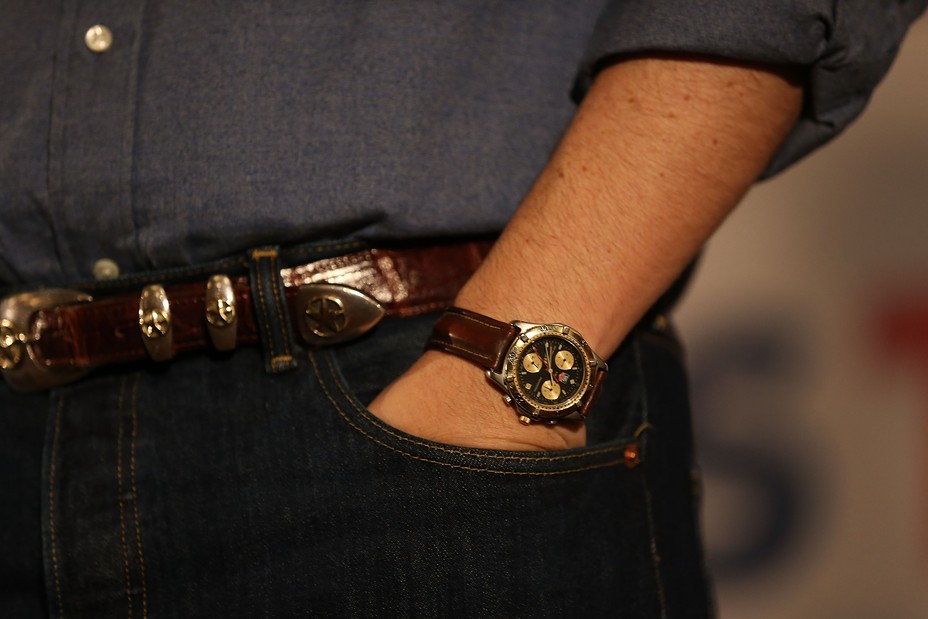 Above, for example, is Ted Cruz's left-hand watch, photographed while the candidate was speaking last week in West Des Moines, Iowa. Also his belt and jean rivets, though they are tastefully shorn in bokeh.
Look further and the evidence seems compelling. It's not just the pictures in Keil's tweet above that make the case. Examine the photo that leads this story—it sure appears that Cruz is a two-strapped contrarian.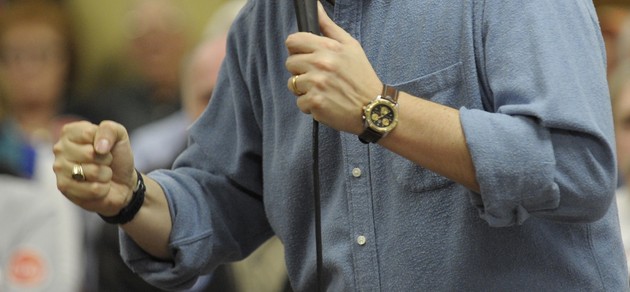 Yet further imagery appears to show that Cruz does not have a face on each strap. The Washington Post, in a story about candidate wearables last August, mentioned a Cruzian Fitbit—"when the Senate's in session, it's great, because you're walking"—and this seems to be exactly what the second strap is.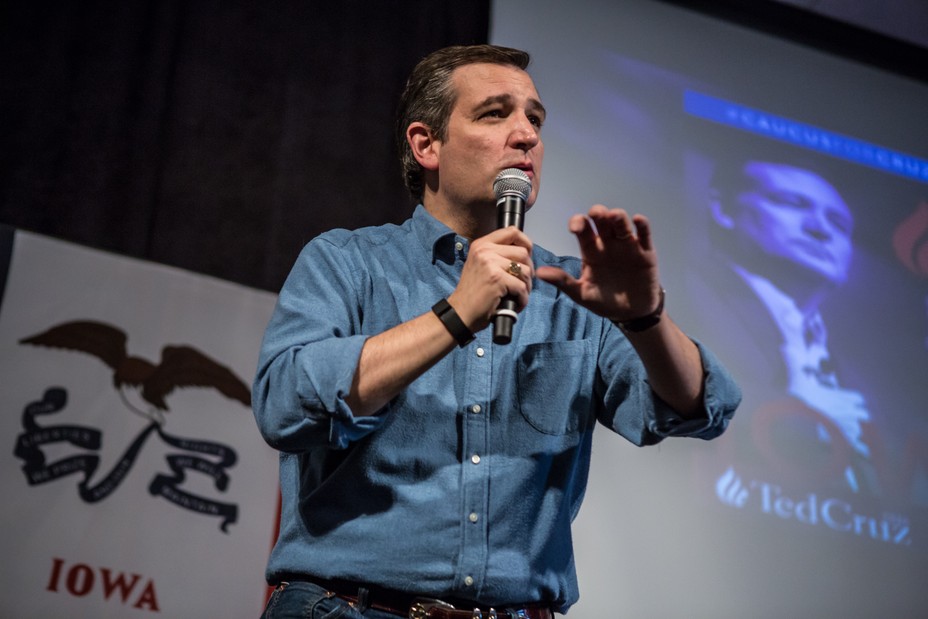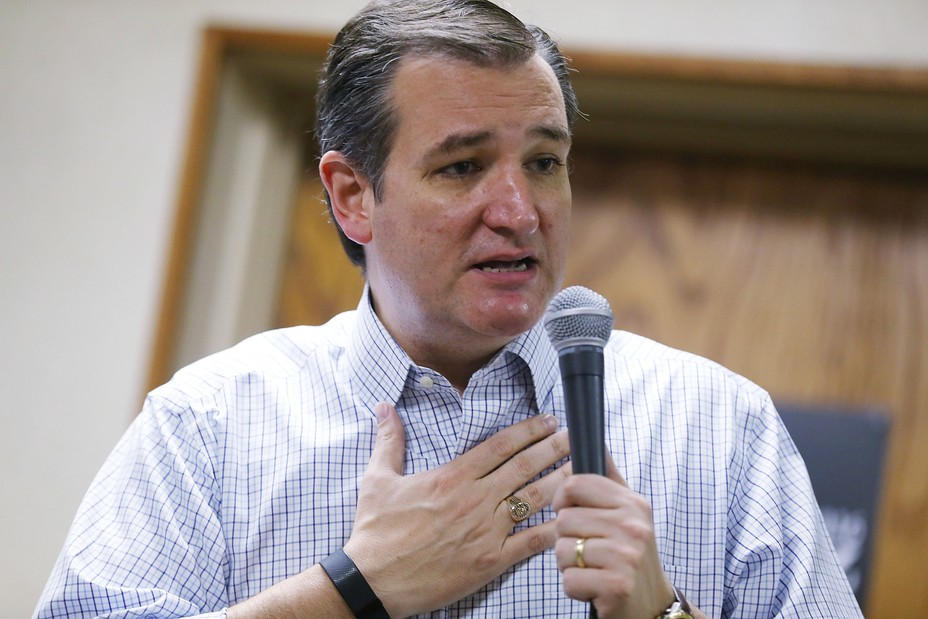 So there we go. Cruz is just wearing a Fitbit and a watch and trying to deal with the age-old circa-2013 dispute over how to wear both of them. If he's interested in combining both devices, I might—speaking here purely as a tech reporter—recommend the Activité Pop, a watch that also includes a step counter. It would certainly have come in handy during his Iowa victory speech, a 32-minute address so ponderous that even Fox News cut away from it.