Not Doomed Yet: Why Low Oil Prices Can Be Good for the Climate
They force countries to dis-invest from fossil fuels.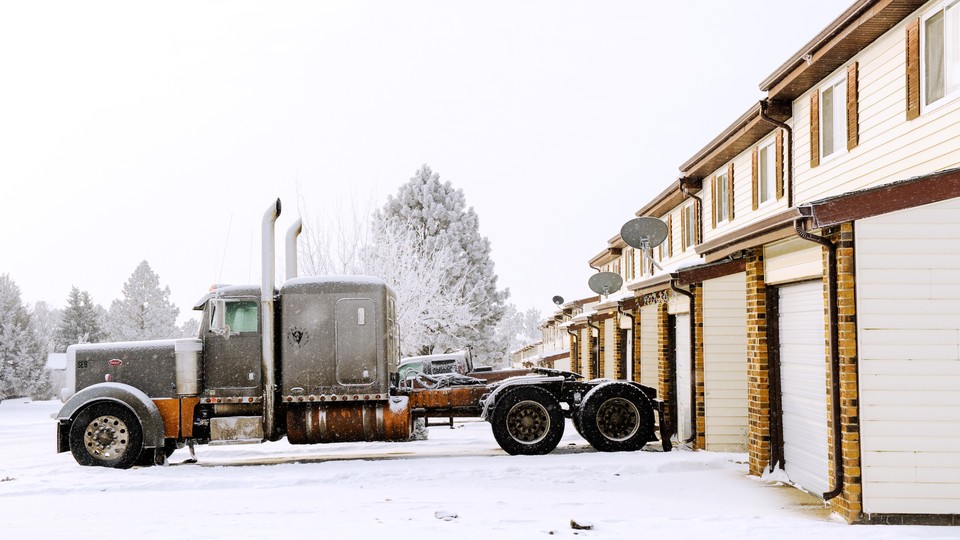 This is 'Not Doomed Yet,' The Atlantic's weekly newsletter about global warming. It lives here in the science section; you can also get it in your inbox:
---
Last week, the Bulletin of Atomic Scientists adjusted the Doomsday Clock for the year. Or, rather, they didn't adjust it: They kept the clock at three minutes to midnight, where they set it in 2015. Only three times before in history has the clock been set as close or closer to oblivion.
Last week, as well, Concepcion "Connie" Picciotto died. Picciotto kept the 24-hour peace vigil at the White House, from a tent laden with posters and photos of destruction and suffering that became iconic. Her office spanned nearly 35 years, beginning in 1981 during the Reagan administration, and only ending last summer. I appreciated Washington City Paper's coverage: They talked to other peace activists in the city, who captured both the monumental quality of her protest and her personal peculiarity:
Once she had become focused on this political cause of preventing nuclear war and abolishing nuclear weapons, she was able to better [manage] whatever her personal problems were. And live a life that was purposeful instead of a life that was just focused on her problems. This larger cause… kept her going and dealing with people.
Picciotto was an elderly Spanish immigrant; the Bulletin of Atomic Scientists includes multiple Nobel winners and some twice-accomplished professionals, such as the U.S. Navy rear admiral who also specializes in Arctic climate science. But here are two different approaches—two different protests—to the same vast, inconceivable problem.
In the past week, I wrote about the Bulletin's approach to forecasting existential risk (and also how they weight climate change versus nuclear war) and the U.S. government's approach to forecasting food insecurity and famine. Both techniques are surprisingly low-fi. They don't rely on computers or algorithms. Instead, informed people sit in a room, play out scenarios, and talk about what worries them most. (The famine forecast is arguably more rigorous, as it draws data from about 300 employees working full-time in 20 countries.)
I don't have a big takeaway here, though my editor Ross reflected that in recent weeks my beat had become "there are no grown-ups in the world." Which, as the U.S. presidential campaign gets officially underway, feels both terrifying and key to any kind of political awareness.
The Macro-Trends
The atmosphere is filling with greenhouse gases. For the week beginning on January 24, 2016, the Mauna Loa Observatory measured 403.11 carbon dioxide molecules per million in the atmosphere (ppm).
One year ago this week, it measured CO2 levels at 400.03 ppm. Ten years ago, the Observatory measured levels at 381.62 ppm.
Renewable energy costs are falling quickly, as are oil prices.
Oil has fallen below $30 per barrel. BP reported a 91 percent decline in fourth-quarter profits, and Shell is cutting 10,000 jobs.
Some analysts project a short-term economic slowdown, as oil investments fail to pan out, even though, in the long-term, energy costs for other sectors will fall and prompt further investment. James Surowiecki at The New Yorker doesn't believe it, though he finds a staggering correlation:
Since December, there's been a nearly ninety-per-cent correlation between oil prices and stock prices. When oil has dropped, stocks have followed, and when oil prices have stabilized, stocks have tended to rise.
Okay, but: What does cheap oil mean for the climate?
Apparently it means… some good things? Pete Ogden, a former senior climate-change advisor to the White House, gets into the environmental benefits of low oil prices. I hadn't heard this before:
Interestingly, low oil prices are also resulting in some very climate beneficial policy reforms around the world: the slashing of fossil fuel subsidies. For the past few years, when oil prices were high, countries spent over half a trillion dollars each year on fossil fuel consumption and production subsidies. For oil importing countries, these low prices provided an opportunity to scale back subsidies and spare their national budgets the enormous expense; for oil exporting countries, low oil prices have left gaping holes in their revenues and they can no longer afford to sell deeply discounted products at home. If these reforms can stick, this period of low oil prices would actually leave an important climate legacy.
+ And though I've shared it here before, once more, with feeling: "That Time I Tried to Buy an Actual Barrel of Crude Oil."
In 2015, for the first time ever, the majority of new power added to the U.S. electrical grid was renewable, according to a new report from Bloomberg New Energy Finance.
The Obama administration is trying to implement its first major greenhouse-gas-limiting regulations.
At the end of January, a federal appeals court blocked a request to stay the Obama administration's Clean Power Plan. That means that rule-making can proceed until the actual lawsuit—filed by 25 state and numerous companies—gets underway this summer.
But trouble for domestic renewables is coming at the state level. By some estimates, Nevada has the country's third-most rooftop solar installations. Last week, Nevada's state legislation and local utility made it much, much more expensive to have rooftop solar panels installed, in some cases imposing retroactive penalties on households with rooftop solar installed.
China is planning a cap-and-trade program to limit carbon emissions. But a report issued last week found that in the country's seven "pilot" carbon markets, pollution credits are trading at record lows.
In U.S. dollars, it costs about $4.92 to emit a ton of CO2 in Beijing, and about $1.37 for the same unit in Shanghai. By comparison, in Europe's carbon market—which needs to be reformed—prices are trading around $6. Prices need to exceed $33 per ton of CO2 to have the desired effect of reducing emissions.
After Paris
It's been seven weeks since 195 countries adopted the final version of the Paris Agreement.
In that interview that I linked to above, Pete Ogden says that the Obama administration is aiming for two international climate-diplomacy goals in 2016. These are, first, working with India to amend the Montreal Protocol, the international treaty that protects the ozone layer, to address greenhousing hydrofluorocarbons; and, second, reducing flying-related greenhouse gases at the triennial meeting of the UN International Civil Aviation Organization. The Paris Agreement explicitly did not address aviation-related emissions.
+ Renewable energy is exploding in Germany, Italy, and the U.K. But this rapid growth has come at the same time as nuclear and hydro generation has declined, so European carbon emissions haven't budged.
+ This is a very detailed analysis of whether India can make its target of 100 gigawatts of solar by 2022.
This week in the Earth system
+ El Niño has continued to ease, though it is still strong. The Australian Bureau of Meteorology projects a "a return to neutral conditions" sometime in the second quarter of 2016. "Close to the equator, the surface of the Pacific Ocean has now cooled by 0.5 °C since the El Niño peaked in late 2015."
+ A state official very tepidly suggested that El Niño-related precipitation could end California's drought this spring. Even though that precipitation is happening now, it wouldn't affect the drought until the Sierra Nevada snowpack melts and fills the reservoirs. The spring runoff usually provides about a third of the state's water. Also because of El Niño, the North American Great Lakes did not really freeze over this year.
+ El Niño is juicing waves on the north shore of Maui, especially at the big-wave breakpoint known as Peahi or Jaws. Over the weekend, it produced a particularly spectacular, particularly Vine-able wipe-out.
+ Three years ago, Myanmar banned the export of raw timber. Now, about 2,500 of the country's 5,500 working elephants are unemployed, and they're bored, overweight, and sometimes sex-crazed. This Times story was all over Twitter when it came out but it's fully as fascinating as promised. The inline video is also very good.
​+ Rain stranded more than 55,000 people in a train station in Guangzhou, on one of China's busiest travel days of the year.  
+ This week in Los Angeles: "It's part of city lore that Beverly Hills High School has a floral-patterned tower enclosing an oil derrick on its campus, while a high-end shopping mall in West Hollywood, the Beverly Center, houses another behind a massive wall."
+ Between 2011 and 2002, the public-health cost of air pollution in the United States fell from $175 billion to $131 billion.
+ The resource curse is real. "The oil states, as a whole, are no richer, no freer, and no more peaceful than they were in 1980, and that's just remarkable. […] With the latest numbers I could get, it looks like by going to the pump, the average American family sends $275 a year to authoritarian regimes." (There are other, more troubled parts of this interview, but it's worth it.)
+ And I talked to my friend Charlie Loyd about what it feels like to look at pictures of the Earth—and about his new project, Glittering Blue:
One of the interesting things about [weather-satellite imagery] to me is that it's not intended as an aesthetic product. But once you get a big enough picture of the Earth, it's going to be beautiful. There's no way to have this information that would not be really interesting and impressive and moving. Once you have this quality of information about Earth, you can't help but like it.