How Do Americans Weigh Privacy Versus National Security?
A new poll shows people still think the collection of their personal data is a bad thing—but they're marginally more willing to support increased national-security surveillance.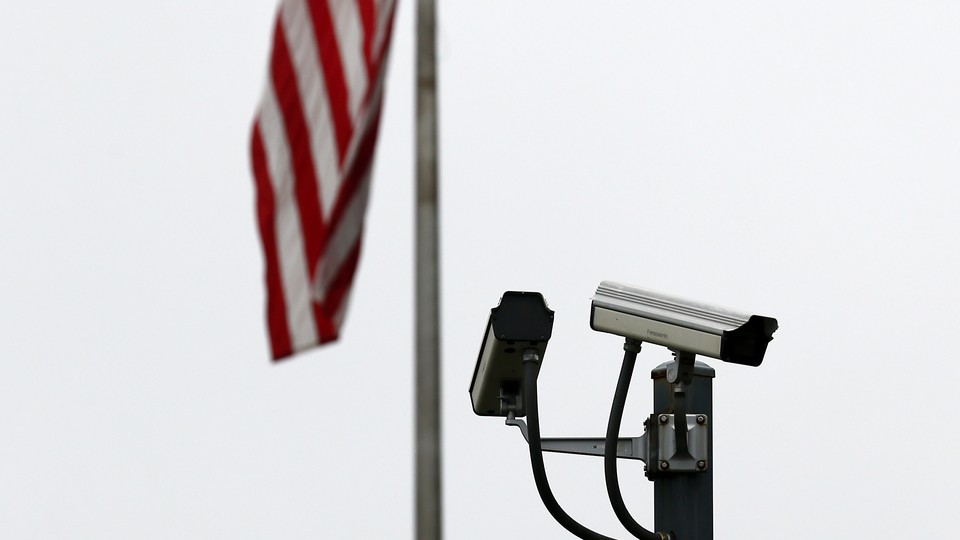 Three years ago, Edward Snowden leaked troves of previously classified information that laid bare the American government's widespread surveillance of its citizens. The takeaway was clear: We live in an age when private, personal information—from Google searches, to GPS locations, to swipes of your credit card—is being collected constantly and invisibly, and there's little any individual can do about it.
The U.S. government defended its actions by claiming that the information gathered would aid in fighting terrorism, both foreign and homegrown. Private-data collection can also help businesses grow by better delivering services to consumers, provide greater insight on spending and the health of the economy, and also improve public safety within communities.
Still, for many the Snowden leaks sparked a profound anxiety about what it means for their data to be in someone else's hands—and the complicated tradeoff between their desire for privacy and the safety of the country.
The most recent Allstate/National Journal Heartland Monitor poll found that Americans still feel as negatively towards the collection and use of their personal data as they did in 2013. A majority of respondents (53 percent) thought that the collection and use of their data by businesses, law enforcement, individuals, and other groups violated their personal privacy, safety, financial security, and individual liberties. Only 38 percent thought that the collection and use of their data was a positive development.
Danielle McMahan, 23, from Tampa, Florida, told me that while she acknowledges the potential usefulness of data collection, current surveillance tactics are flawed, and too hidden. "You don't know exactly what's being collected or when it's being collected."
These broadly negative attitudes hold true across party lines, and regardless of education level. Particularly concerned with the negative aspects of data collection were those with lower income levels. The upper and upper-middle classes, and those with a household income over $100,000, were relatively less worried about their personal data.
The results also showed a generational divide: Baby Boomers felt the most wary about personal-data collection (61 percent viewed it negatively), while the Silent/Greatest generation were the least concerned (42 percent), perhaps because they are least likely to be using technologies, like the Internet, where surveillance takes place. By contrast, 50 percent of Millennials and Gen Xers saw personal-data collection as negative.
How much were these same people willing to sacrifice their privacy for the safety of the country?
Overall, since 2013, more were willing to support some form of increased surveillance measure in order to protect national security. The proportion of respondents who didn't support any surveillance measures whatsoever decreased, from 42 percent in 2013 to 24 percent in 2016.
Fifty-year-old William Smolar, a veteran, expressed a strong belief in the importance of the nation's security—but balanced it with concerns about privacy. When it comes to government surveillance of individuals, Smolar told me, he has no problem if the individual is a legitimate suspect of a crime—"but if it's an everyday citizen who's going about their job and not causing any trouble, then I don't think they should have to give up their right to privacy."
"It's a fine line," Smolar said, "But I know there's a way they can discern between someone who wants to do harm and someone who doesn't."
Race was a surprisingly deciding factor in how Americans felt about ceding privacy in the name of safety. Black respondents were more willing to support increased surveillance efforts across the board: 60 percent of blacks were willing to support increased camera surveillance of public places (versus 47 percent of whites). And 37 percent of blacks were willing to support increased Internet censorship (versus 22 percent of whites). A quarter of whites did not support any of the surveillance options, while only 9 percent of blacks opposed any form of additional surveillance.
Still as a whole, nearly half of all respondents were most willing to support increased camera surveillance of public places (up 8 percent from 2013), while 24 percent were most willing to support increased censorship of websites or decreased freedom to access sources on the Internet (up 6 percent from 2013). Only 16 percent of respondents were most willing to support government monitoring of cellphone and email activities.
The more personal the surveillance, it seems, the less likely Americans are to feel comfortable with it; even when matters of national security are at stake.
---
The latest All­state/Na­tion­al Journ­al Heart­land Mon­it­or Poll is the 25th in a series examin­ing how Amer­ic­ans are ex­per­ien­cing the chan­ging eco­nomy. This poll, which reprises central questions that the survey explored mostly in its first two years to document how American attitudes have changed since the Great Recession, sur­veyed 1,000 adults by land­line and cell phones from Jan. 2 to Jan 6. 2016. The sur­vey has a mar­gin of er­ror of plus or minus 3.1 per­cent­age points. The sur­vey was su­per­vised by Ed Re­illy and Joseph McMahon of FTI Con­sult­ing's Stra­tegic Com­mu­nic­a­tions practice.