Guns & Ammo, Not Just Another Tech Magazine
Even in an increasingly nichified media landscape, firearms magazines stand apart.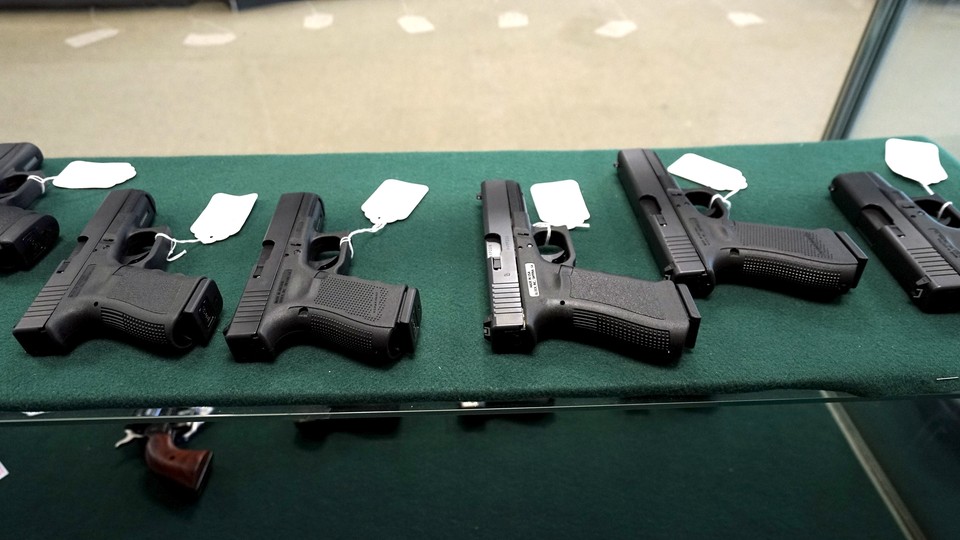 Let's get one thing straight: Guns & Ammo is not not a political magazine. Political debate is inextricable from gun culture in America.
But Guns & Ammo, which has been in circulation since 1958, is a technology publication, arguably primarily so, and one that embodies much of the look and feel of American publications devoted to gadgetry over time. Guns & Ammo's do-it-yourself ethos, a foundational value among gun owners, also evokes the spirit of magazines like Science and Invention, a tech monthly popular in the 1920s that taught readers how to build their own fireworks, radios, hubcaps, clocks, and other devices.
Humans aren't the star of Guns & Ammo, so they're rarely featured on the cover. (When the talk-radio host Dana Loesch appeared on the cover, in June, she was the first woman to appear there since 1961.)
Instead, usually, the cover image is of a gun. And many of the rest of the magazine's pages look the same: filled with sleek, smooth, powerful machines. Guns, yes, but disassociated from consequence, often just floating on the page as though it's a catalogue. In broader narratives about guns—pretty much any time they're mentioned in a mainstream newspaper—firearms are depicted as murder weapons. But in Guns & Ammo, they are first and foremost tools for hunting, devices for the protection of human life, historical artifacts, and works of art.
In the world of Guns & Ammo, guns are not a problem to be solved; they're a technology to be adored.
Actually, in the beginning, Guns & Ammo wasn't just about appealing to gun enthusiasts, but was one piece of a larger strategy to reach a desirable demographic of readers at a time when the magazine industry was thriving. Guns & Ammo was part of a portfolio of magazines, all published by Robert Petersen, that also included Hot Rod, Motor Trend, Motor Life, Car Craft, Hot Rod Cartoons, and Skin Diver. By 1981, his magazines had a combined circulation of about 4 million readers, most of them male and "action-oriented," as The New York Times once put it. That number wasn't exactly huge for the time, compared with mainstream magazines—National Geographic alone had more than 1.3 million subscribers at the time—but Petersen's success showed there was a real appetite for niche publications.
In Petersen's era, the special-interest magazine genre grew explosively. (Although going back to the 18th century, America has seen periods of expansion and contraction among special-interest publications. The Internet age has ushered in its own phase of unprecedented nicheness.) It wasn't long after Guns & Ammo was founded that popular mass magazines began to lose momentum, as niche magazines—particularly those pertaining to fishing, hunting, and mechanics—made significant strides. David E. Sumner, in his book, The Magazine Century: American Magazines Since 1900​, says that these trends may have been prompted by the rise of television. TV helped expose audiences to new ideas, places, and hobbies, which buoyed those same audiences' interest in publications like Guns & Ammo.
Petersen knew how to cater to tap into huge audiences of potential readers. He may have been fixated on cars and guns, but he also founded Teen magazine, aimed at preteen girls.
Petersen, who died in 2007, apparently knew when to get out of print. He sold his company for $450 million in 1996, at a time when the web was poised to decimate the publishing industry. Today, Guns & Ammo is owned by InterMedia Outdoor Holdings, which runs several other shooting and hunting publications like Gun Dog, Peterson's Bowhunting, Wildfowl, Bowhunter, Handguns, Rifleshooter, Shooting Times, Firearms News, and several others. (Guns & Ammo didn't respond to my request for an interview.)
"My main takeaway is that these are all essentially car magazines," Justin Peters wrote for Slate in 2013, in a review of Guns & Ammo, Handguns, and Rifle Firepower. "They feature money shots of various guns, plenty of product reviews, and geeky, unbridled enthusiasm for their subject matter. They rarely stray into politics. If you don't own a gun, there's no real reason for you to read them."
The look of the magazine is the reason Guns & Ammo has broadly the same feel as Macworld magazine, or Personal Computing, or Creative Computing—only instead of pages filled with images of monitors and keyboards, there are colorful close-ups of Glocks and silencers. But I disagree with Peters that politics rarely comes up. Politics is implicit in cover-story headlines ("Ready to fight") and explicit in the "politics" section of the Guns & Ammo website. (Other dedicated categories include "shoot 101," "ammo," "gear," "personal defense," "survival," "military & law enforcement," and "suppressors.")
Politics are also, it seems, a contributing force to the magazine's longevity. As many other print-era special-interest publications have folded, Guns & Ammo has, so far, lasted—maybe even thrived. Today it has 378,000 print subscribers, according to its parent company, more than half the number of weekday print subscribers to The New York Times (about 625,000).
Which means Guns & Ammo has a relatively large audience for a special-interest magazine. Maybe that's because guns aren't really "special interest" in the United States, a country where there are some 350 million firearms and 320 million people.
Other gun magazines have had similar successes. In 2013, Ad Week called them a "beacon of hope for the American publishing industry":
American Rifleman and America's 1st Freedom, both of which are benefits of NRA membership, saw their circulations increase 14 percent to 1.9 million and 8 percent to 545,019, respectively, in the first half of the year versus the year-ago period. Handguns and Guns & Ammo, published by InterMedia Outdoors, saw their circ jump 16 percent to 137,648 and 7 percent to 416,224, respectively.
That's the other thing. Guns & Ammo isn't the only gun magazine out there, though it may be the best known. The sheer volume of titles available represents a "remarkably specialized" slice of the larger gun world, says Robert Spitzer, the chair of the political-science department at SUNY Cortland, and the author of five books about gun policy. For example, Spitzer sent me an incomplete list of the magazines he saw, in print, at a grocery store in upstate New York this week:
Recoil
World of Firepower
Pocket Pistols
S.W.A.T.
Guns and Ammo
Guns: eXtreme
Ballistic
Shooting Illustrated
Guns and Weapons
Military Surplus
Gun World
Shooting Times
AK-47 and Soviet Weapons
Trigger
Rifle's Handloader: Ammunition Reloading Journal
American Handgunner
Everyday Guns
If the popularity of these magazines correlates with gun ownership, they're also linked to what some gun owners perceive as a growing threat to their rights.
Guns & Ammo's ad revenue has swelled in recent years. Its print ad pages grew 3 percent in 2013, according to Ad Age, during a period of time when industry ad pages overall declined 0.5 percent. In 2012, the year of the mass shooting at an elementary school in Newtown, Connecticut, Guns & Ammo's ad pages "climbed a whopping 20 percent," Ad Age said.
"Traditionally, these magazines do better when gun owners feel their rights are being threatened," Steve Cohn, editor-in-chief of Media Industry Newsletter, told Ad Age in 2014. (Though it's still worth noting that, as with most print publications, its print subscriptions have declined.)
Which brings us back to politics, the undercurrent in American culture that sets these special-interest publications apart—and perhaps buoys them at a time when other legacy publications have crumbled. (It's not as though they lack online competition: There are countless Reddit threads and other independent websites devoted to firearms.) "All of these publications [are] now are infused with gun politics to some degree," Spitzer told me in an email. "The NRA wouldn't have it any other way."
In recent years, several gun journalists have been fired for being perceived as too soft on Second Amendment rights. One high profile incident, in 2013, resulted in the ousting of Dick Metcalf, a journalist who had written about guns for nearly four decades. Metcalf had written a column in which he suggested some regulation of firearms might be okay. ("The fact is," Metcalf had written, "all constitutional rights are regulated.")
"The backlash from Second Amendment Fundamentalists—and I used to think I was one of them—was immediate," Metcalf later wrote in a column for Politico about what had happened. "The hijacking of our movement by these radical extremists causes me to fear for the future of the right I have spent my adult life fighting to defend."
The shift that Metcalf perceived has to do in part with forces outside of Guns & Ammo, or even the larger debate over gun regulations. The nichification of media, the extent to which special-interest communities are now everywhere online, arguably has had a segregating effect whereby likeminded people congregate, and tolerance for (or even exposure to) different points of view is diminished. (Eli Pariser wrote a book, The Filter Bubble, about this phenomenon.)
Which, in a way, means more publications and publishing platforms are becoming more like Guns & Ammo: special-interest spaces where people seek affirmation of their existing values, and who are infrequently challenged to reconsider. Whether Guns & Ammo is a tech magazine or a politics magazine ends up being, to its readers and non-readers alike, meaningless. People on either side of the guns debate aren't coming together anyway.
"I think it's an unbridgeable gap, because neither side will trust the other," Metcalf said at the Aspen Ideas Festival in 2014. "I'm afraid I'm not optimistic in the aftermath of what happened to me."
And anyway. It's a place for guns, not for debate. The magazine, that is. But probably the country, too.
---
This article is part of our With Great Power project, which is supported by a grant from the Joyce Foundation.