Heart This Post: Why Facebook's Biggest Change Since 2010 Is Important
The dislike button is finally here, but under a different name.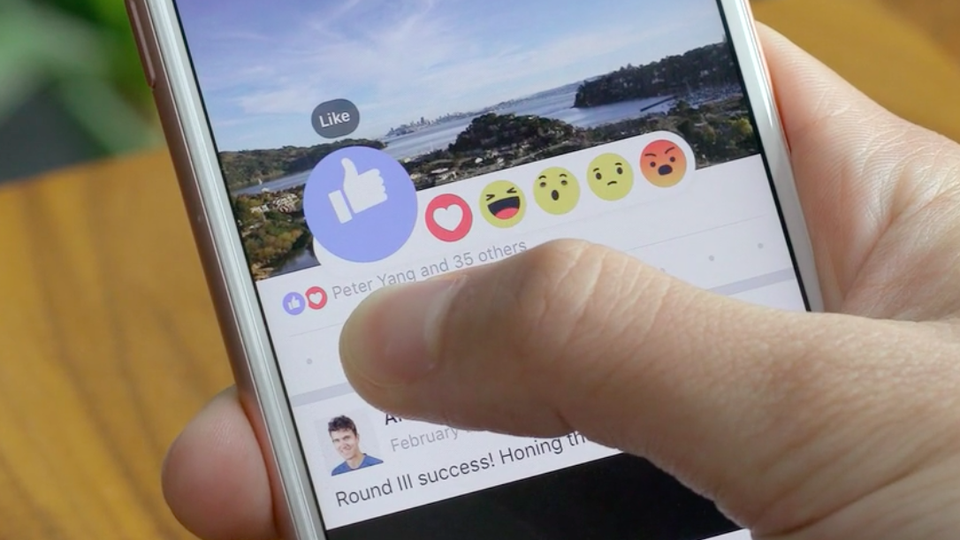 Facebook users—we few, we chatty few, we 1.5 billion—finally gained the option to "dislike" a post on Wednesday, though it wasn't with the thumbs-down icon that many have long envisioned.
Rather, the ability to express unhappiness came as a few of six options available to users through a new Facebook feature called emoji reactions. Someone can now respond to any post on Facebook with a heart for "love," a laughing face for "haha," an astonished gape for "wow," a tearful frown for "sad," a reddening face for "angry," or a good ol' reliable thumbs-up for "like."
Since the News Feed is Facebook's "homepage" both on desktop browsers and phone apps, this feature might be the most substantive single change to the company's flagship product since its abortive attempt to replace email in 2010. Facebook is now more colorful and more cartoonish than it's ever been.
The feature also echoes a similar reaction scheme rolled out by Slack, the Silicon Valley darling that makes business software, last summer. In all its smiling (or crying) verve, Facebook's new reactions show that icons and GIFs (whether on Twitter or on Tinder) are taking over more and more of the communication that was previously done with text online.
To put it another way, you may not have used the pictorial characters called emoji on your phone or on your computer yesterday. But since Facebook has now embraced them, emoji are about to become unavoidable to Americans of all age groups.
That's because the Big Blue, despite its collegiate or tech-whiz roots, now lies at the deepest current of the American mainstream. The company announced the new feature this morning on the Today show, the same cultural venue where Martha Stewart previews a new cookbook and Justin Bieber performs at 8 a.m. The Today show is so politically and culturally bland that it's interesting in its blandness, but Facebook might be even blander. In an America of increasingly fracturing interests, Facebook is something, like Top 40 mega-hits and nightly dinner preparation, that a vast majority of us share.
The emoji reaction release ends a nearly seven year period when Facebook knew that, even though it only had a Like button, not every post should be liked. The "Like" button was first introduced in the fall of 2009. Just four months after its release, more than 3 million users had signaled they wanted a "Dislike" button.
In 2013, a team in the company toyed with adding a "Sympathize" button, figuring that that was more considerate than the straight "Dislike" button that users clamored for. Nothing came of it. But in September of last year, Mark Zuckerberg told an internal town hall that the company would finally be adding a "Dislike" button, with a twist. It wouldn't work like a "down vote"  button like Reddit has, he said.
"What they really want is the ability to express empathy. Not every moment is a good moment," he said.
A month later, Facebook previewed how the feature would work: a list of emoji-like "reactions" that users could choose to say how they felt about a posting. Users in Ireland and Spain immediately began using the smileys. With the addition or deletion of a couple possibilities, it's basically the feature Facebook debuted on Wednesday. (Facebook often tests features in Ireland and Spain because users there, for whatever reason, have fewer international friends than users living elsewhere.)
So now it's easier to express sympathy with the touch of a button. But that won't make every social exchange necessarily easier. As one BuzzFeed reporter put it: