Barbie Gets a Smart House
What Mattel's new wifi-enabled Barbie Dream House—and accompanying app—are teaching kids about tech and luxury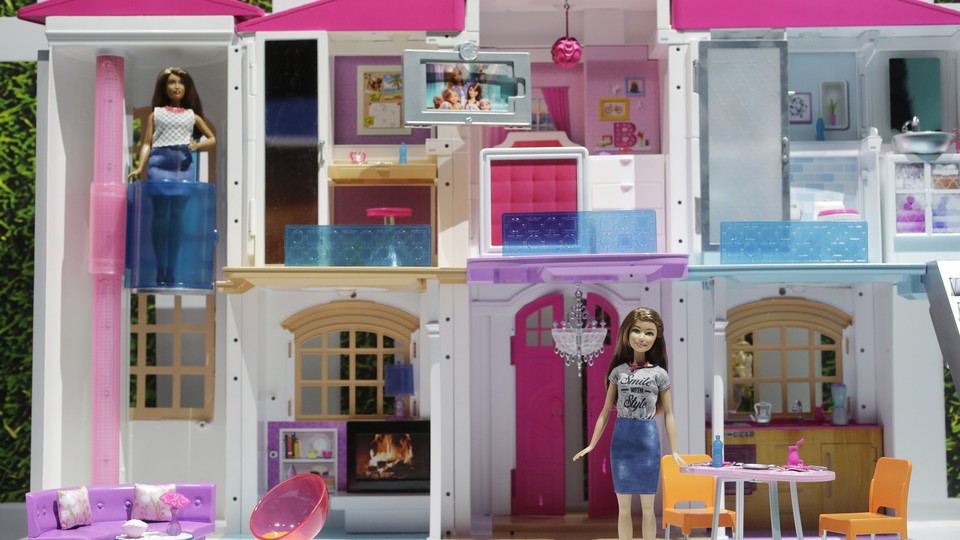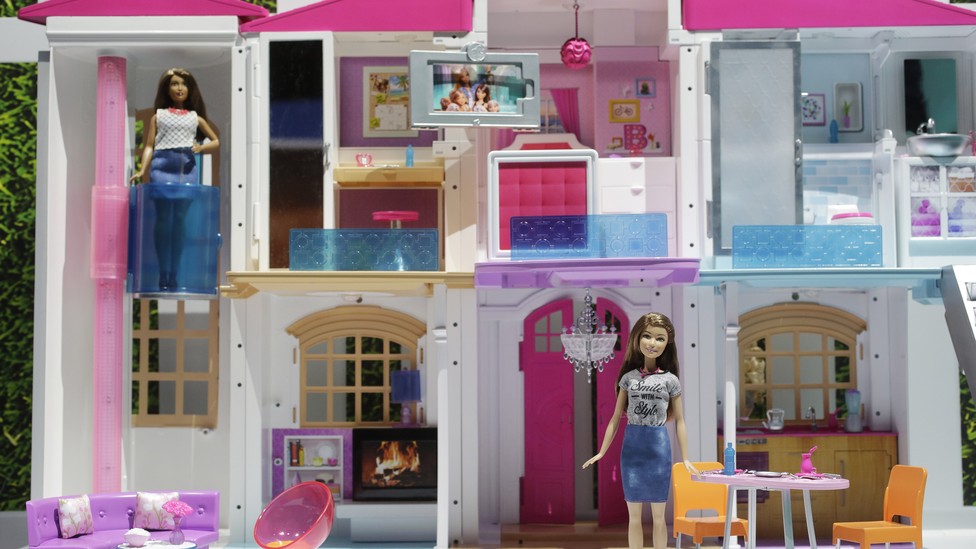 We're rocketing towards a domestic sphere that's increasingly reliant on smart tech. If you take IKEA's word for it, our kitchens of the future will be equipped with predictive cooking surfaces and self-chilling containers. The retailer's concept kitchen, which debuted last year, is just one of innumerable examples. You can hook up a digital speaker to play music from your streaming accounts whenever you enter the room. You can snap covert pictures of your dog while you're away at work.
But now, the gadget-enabled house exists on a doll-sized scale, too. Earlier this month, at the International Toy Fair in New York City, the toy manufacturer Mattel unveiled a new version of the Barbie Dream House, which will be available this fall.
As always, the $299 plastic home was garishly opulent, in just the way a tween would want it to be. It's decked out with a purple sofa, orange chairs, plenty of chandeliers, and a staircase that turns into a slide. It's the setting that bubblegum romantic comedies dream of.
But unlike the older models, this one is flashy and forward-thinking. It syncs up to wi-fi; it responds to voice requests. Kids can holler to turn on the lights or fire up the toy oven. Of course, there's an accompanying app.
The revamped home is perhaps another way that the toy company is angling to better reflect consumers' shifting realities and ideals, and modernize a brand that doesn't necessarily seem to square with how Americans—women, especially—live today.
After decades of complaints about the doll's unrealistic proportions—"bones so frail it would be impossible to walk, and room for only half a liver," declared the Daily Mail in 2013—the company announced last month that the dolls will now come in a range of shapes and sizes that come closer to representing the range of real-life body types. And now the Dream House is nodding to grown-up consumers' interest in tech-enabled homes.
Toys reflect cultural ideals—and they also condition kids to accept or reject them. Dollhouses are marketed to kids as ideal homes, and project popular aspirations, says Lynn Spigel, a professor at Northwestern and the author of Welcome to the Dreamhouse: Popular Media and Postwar Suburbs. "They clearly ask girls to try on fantasies of what it means to grow older and be a woman, [and] what their future might be like," she explains.
The 1960s version of Barbie's Dream House, advertised in the commercial above, shilled the notion of the comfortable, solidly middle-class identity marked by a spacious, suburban home. The narrator oohed and ahhed over the ample closets and sliding door. Luxury was signaled by twirling in front of a full-length mirror, or lounging around on the patio. A major selling point, it seemed, was the size. "It's even bigger now," the narrator enthused.
The new Dream House offers a much different idea of luxury—one that, Spigel says, is about "watching automated gizmos do things." The in-house elevator telegraphs the appeal and glamour of wealth: "Anybody who has an elevator in their house is going to be incredibly rich," Spigel notes. It's on par with the alluring fantasy of kicking back and watching our food cook itself, or the living room tidy itself up.
Spigel points out that the Dream House also "follows the logic of mass customization" that you see in human-sized smart homes, too. That is to say, you need to buy more stuff in order to make your house really live up to its cool potential. The toy is rearing future consumers who aren't deterred by add-ons. (After all, someday, they might buy thermostats that can talk to motorized blinds or curtains to help heat or cool their houses—the more connected, the merrier.)
"I think today, frankly more so than any other time, Barbie is truly representing what girls see," Mattel's president Richard Dickson recently explained to The New York Times. The Dream House, Spigel says, offers an idea of the future that's completely comfortable, because it retains some of the trappings of the past. And, in fact, Barbie's high-tech home does seem to be related to our own. It's just a little pinker.
---
This article appears courtesy of CityLab.