Mapping a Path for Urban Wanderers
A new app offers directions that take users off main streets and past hidden gems.
By the most brutal logic, maps exist to get you from point A to point B. Navigation tools like Google Maps prioritize efficiency, generating routes that cater to a presumed preference for speed.
In a sense, they're not wrong; time is a diminishing commodity. But by sticking only to the fastest paths through a city, you miss the very things about it that might incite you to slow down and notice what's around you.
Which is exactly what the Likeways app, launched last month, wants users to do. Developed by Martin Traunmueller, a Ph.D. candidate at University College London's Intel Collaborative Research Institute for Sustainable Connected Cities, Likeways reclaims urban walking from the realm of necessary drudgery and frames it as an enjoyable activity in and of itself. Traunmueller's work has taken him from his home in Austria to all over the world; whenever he arrives in a new place, he explores. His aimless wandering through London led him to what is now his favorite coffee shop; in much the same way, he discovered a secret garden in the backyard of an old factory building in London's tech hub of Shoreditch.
Likeways is an ode to the side street. It forgoes typical directions, which Traunmueller says are "often generated via large, noisy, and boring main roads," and leads users off the beaten path, where they might stumble upon a café or a gallery hiding out in an alley, just a minute away from the hectic swarm of the purely practical route.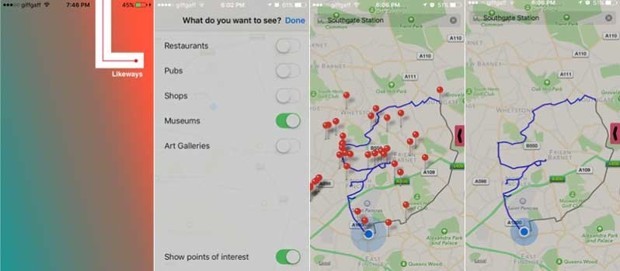 Urban gems, Traunmueller says, are sourced through Facebook Places; the number of likes for any given spot will determine the role it plays in generating the final route. Traunmueller developed this "Space Recommender System" for his masters' thesis in adaptive architecture and computation. After shopping the technology around at various workshops, he adapted it for the app.
Future versions of Likeways will offer more options, Traunmueller says, but for now, users can choose routes that wind them close to restaurants, pubs, shops, museums, or art galleries.
But there's a catch: While Likeways will assign you a route, the app will not automatically indicate what specific place you're supposed to discover. "The aim of the app is not just to guide you from one venue to the next," Traunmueller tells CityLab, "but to support a sense of urban exploration." Each route will offer so much more to see than just the intended destination. The key to making the path its own reward, he says, is just keeping your eyes open.
---
This article appears courtesy of CityLab.