Orbital View: The U.S. Capital, Covered in Snow
Editor's Note:
This article previously appeared in a different format as part of The Atlantic's Notes section, retired in 2021.
A lucky coincidence happened this weekend—and it's good news for anyone who likes beautiful pictures from space.
On Friday and Saturday, a textbook blizzard ravaged Washington, D.C., and other major cities of the mid-Atlantic. Visibility was low, cloud cover was complete, and snow piled up to record-breaking amounts. The entire region was dowsed in white. The day that followed was brilliant: sunny, cloudless, and cold enough to preserve the snow.
The Landsat 8 satellite—the most recent spacecraft of the U.S. government's incredible Landsat program—only passes over each spot on Earth about once every 16 days. By lucky coincidence, its most recent pass over D.C. was Sunday. Snow still blanketed roads, homes, structures; but virtually no clouds obscured the satellite's view. It was the perfect formula to capture the aftermath of a giant snowstorm: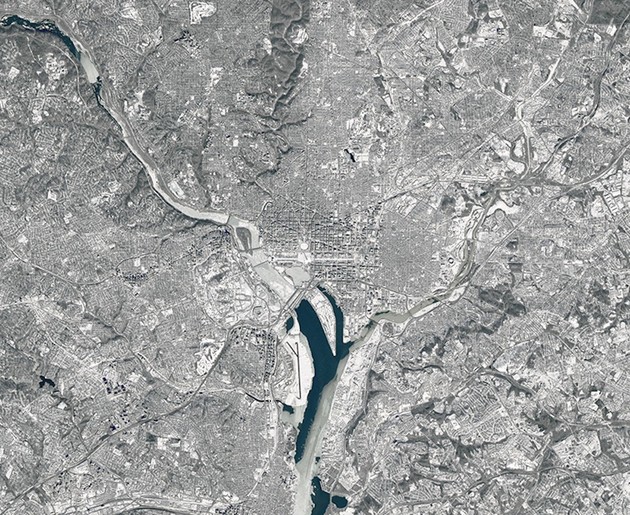 You can find the scene in captured in full detail—including Baltimore and other towns in the region—on NASA's website.
(See all Orbital Views here)