OkCupid Adds a Feature for the Polyamorous
Seeing an increased interest in non-monogamous arrangements, the company will allow couples to link their profiles and search for additional mates.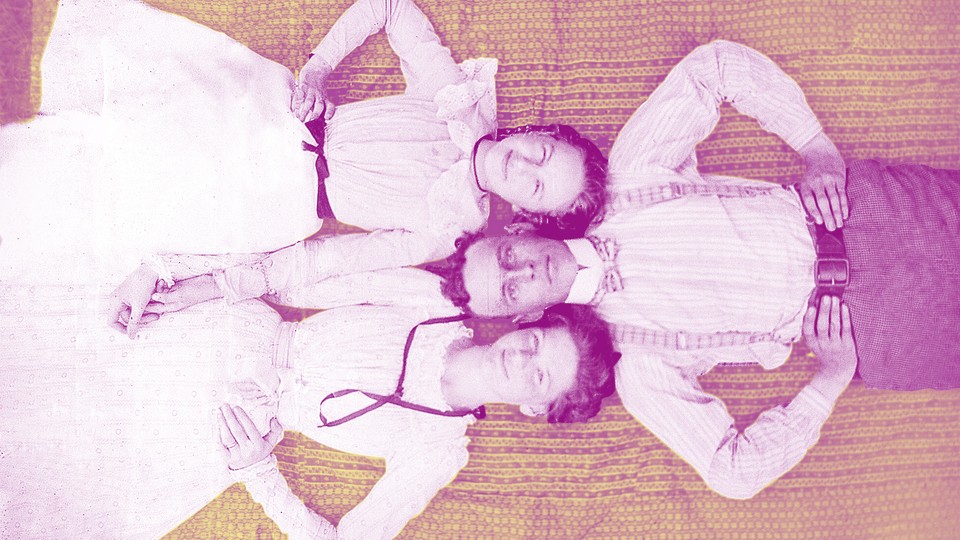 Online-dating behemoth OkCupid is adding a feature tailor-made for polyamorous people. The new setting, which became available for some beta users in December, allows users who are listed as "seeing someone," "married," or "in an open relationship" on the platform to link their profiles and search for other people to join their relationship. It will be rolled out to all users on Friday.
A screenshot of the new feature obtained by The Atlantic shows a stock photo of a sample user listed as "in an open relationship" with another, whose profile is linked below his.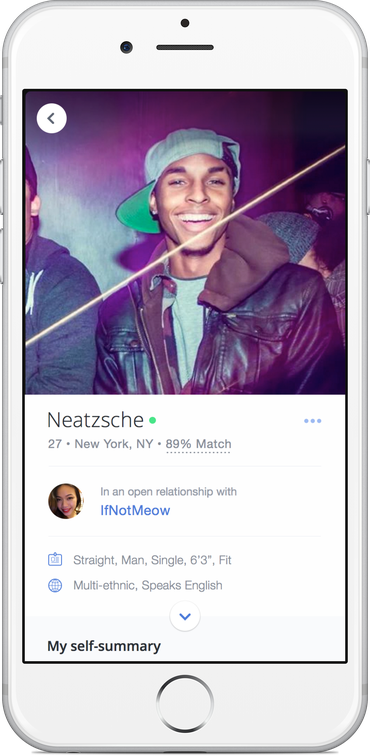 The move comes in response to a rapid uptick in the number of OkCupid users interested in non-monogamous relationships. According to the company's data, 24 percent of its users are "seriously interested" in group sex. Forty-two percent would consider dating someone already involved in an open or polyamorous relationship. Both numbers represent increases of 8 percentage points from five years ago. The number of people who say they are solely committed to monogamy, meanwhile, has fallen to a minority of all users, 44 percent, down from 56 percent in 2010.
"It seems that now people are more open to polyamory as a concept," said Jimena Almendares, OkCupid's chief product officer.
Estimates vary, but surveys suggest that roughly 4 to 5 percent of Americans are polyamorous. It's common for couples to begin their foray into polyamory by searching for a single, bisexual woman to court, according to Elisabeth Sheff, a sociologist who interviewed 40 polyamorous people for book, The Polyamorists Next Door.
OkCupid added the "open relationship" setting in 2014. Last year, it increased the numbers of genders it recognized to 22, adding options like transgender and genderqueer. The polyamorous profile-linking setting is not yet coming to Tinder or Match.com, the other sites owned by OkCupid parent company Match Group, according to Almendares.
Though specialized dating sites for polyamorous people exist, this appears to be the first instance of a mainstream online-dating platform allowing two users to search for sexual partners together, as a unit. Polyamorous people have long used dating apps and sites by either spelling out their arrangement in their profile bios or by creating their profile as a couple.
However, Almendares says, that created confusion for people looking to join polyamorous arrangements. The poly-couple profile could only select one gender, for example, and its profile photo would feature two people. "As a user, when you land on that profile, you wouldn't know what you're seeing," she said. With the new feature, both users must opt into being linked to one another.
Almendares said OkCupid is agnostic about the kinds of relationships people pursue on its platform—it's simply following the numbers.
"Finding your partner is very important," she said, "you should have the option to express specifically and exactly who you are and what you need."
---
Related Video
The co-founder of OKCupid shares findings from his analysis of millions of users' data.