Why Haven't Gunmakers Improved Safety Technology the Way Automakers Did?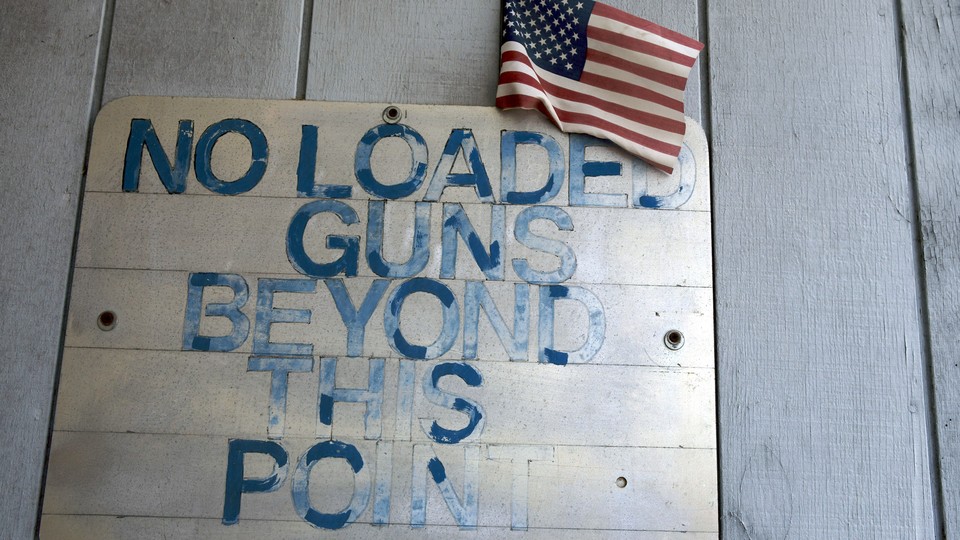 Guns and automobiles are curiously linked in American culture. They're both outsized symbols of the nation's dearly held values: individualism, personal liberty, and power.
They're also among the most dangerous technologies out there, responsible for some 33,000 deaths apiece in the United States each year, according to federal data. That's nearly 700,000 deaths from firearms and automobiles combined in a decade.
For the first time in a century, gun deaths were poised to surpass car deaths last year. (The data that could confirm this turning point is set to be released by the National Highway Traffic Safety Administration next month.) Such a reversal—guns becoming more deadly than cars—may be important, symbolically, but it doesn't change two facts that are already abundantly clear:
1. Guns and cars are killing people in America.
2. It doesn't have to be this way.
Looking at the history of the automobile offers an instructive, if limited, framework for thinking about how gun safety might (or might not) improve. The two main ways that technologies become safer over time is through technological improvements and government regulation.
Cars have added several safety technologies over time, often because manufacturers were required to, and as a result they are much, much safer than they used to be. In the 1960s, annual deaths from car accidents in the United States hovered around 60,000—almost twice what it is today.
The federal government began requiring automakers to standardize seat belts in 1968. And over the next two decades, most states passed laws requiring people to wear them. A federal mandate on airbags followed, in 1998, requiring all cars sold in the United States to have front-seat airbags.
Those laws helped usher in a cultural shift in the way people thought about cars—and, in turn, how they shopped for them.
"Motorists had generally been apathetic about safety devices until recent decades," Roger White, a historian of road vehicles and technologies at the Smithsonian's Museum of American History, told me last year for a story I wrote about the history of the airbag. "The impetus [for better safety] was not coming from motorists. A lot of people associated seat belts with reckless driving like stunt drivers."
By the 1980s and 1990s, people increasingly saw safety technologies as a selling point. Companies like Volvo, and more recently Tesla, successfully marketed their vehicles to appeal to this new sensibility.
But for carmakers, beyond wanting to sell their cars to safety-minded consumers and beyond needing to follow government regulations, there was a third factor driving improved safety technologies: liability.
This is where the potential similarities between car culture and gun culture in the United States sharply diverge. Whereas car manufacturers are subject to major lawsuits for safety defects, gunmakers are largely protected from such legal action.
A law passed by Congress in 2005 gives gun manufacturers special immunity from many kinds of litigation. (The law, known as the Protection of Lawful Commerce in Arms Act, has been a recent sticking point among Democratic presidential candidates: Hillary Clinton has said she wants to repeal it. Bernie Sanders, who voted in favor of the act as a member of Congress, now says lawmakers should "tighten it up," The Wall Street Journal reported on Sunday.)
For people who are focused on improving gun-safety technology, that law represents a major obstacle to a larger cultural shift in favor of gun safety like the one the helped prompt automakers to manufacture safer cars.
"The gun industry is exempted from these lawsuits," said Robert McNamara, the founder of TriggerSmart, a company that is building a system that uses radio frequencies to determine whether an authorized person is holding a gun. "And the gun industry is the only industry in America—I don't know of any other in the world—that has this kind of exemption."
The broad immunity that gunmakers enjoy is unusual, even among a rare class of industries shielded from certain kinds of lawsuits. Here's how The Washington Post explained it last year:
Few industries have federal liability immunity. Vaccine manufacturers have limited protection from lawsuits if their vaccine led to an injury. The federal government enacted this immunity to encourage companies to produce more vaccines without the fear of lawsuits, for their benefit to public health. Another example is federal protection for the airline industry from lawsuits arising from the September 11, 2001, attacks. But unlike the gun law, both cases established a compensation scheme for victims to recover money for damages.
The Protection of Lawful Commerce in Arms Act is one of the linchpins to improving gun safety. But the cultural aspect of the debate on guns is just as important. Gunmakers, understandably, focus on making products that consumers want to buy. And some American gun buyers have demonstrated everything from disinterest in improved safety to outright antagonism for it.
Sixteen years ago, after Bill Clinton's administration announced a partnership with gunmaker Smith & Wesson to improve firearm safety, the National Rifle Association led a boycott of the company. Smith & Wesson had agreed to a number of safety requirements, including making trigger-locks standard and adding a hidden set of serial numbers to new handguns to make it harder for anyone to scratch off identifying marks. Other gun manufacturers blasted the company as a sellout. (Part of why Smith & Wesson agreed to the deal in the first place was because the federal government agreed to drop a number of lawsuits against the company in exchange for its cooperation. This was, of course, before Congress agreed to give all gunmakers protection from various litigation.)
The backlash nearly ruined Smith & Wesson, the nation's oldest manufacturer of handguns. And before long, it had retreated from key parts of the deal. One aspect of the agreement that never came to pass: a requirement that gunmakers move forward with developing authorized-user technology—the same kind of technology that President Barack Obama pushed for earlier this month, and that McNamara and others are trying to build.
In 2000, the Clinton administration said Smith & Wesson would be required to include authorized-user systems in all new firearm models within 36 months. But 192 months later, even the champions of such systems acknowledge it will be a huge cultural challenge to make gun owners enthusiastic about what they're trying to build.
Until the people buying guns demand safer weapons, the people making them aren't likely to budge.
"With the car industry, it was more that they were anti-regulation than anti-safety," McNamara told me. "But the gun industry knows that they can sell whatever they want to whoever they want."
---
This article is part of our With Great Power project, which is supported by a grant from the Joyce Foundation.