Why Are Government Weather Forecasts So Shouty?
They're one of the best products put out by the NWS. But they have a certain style.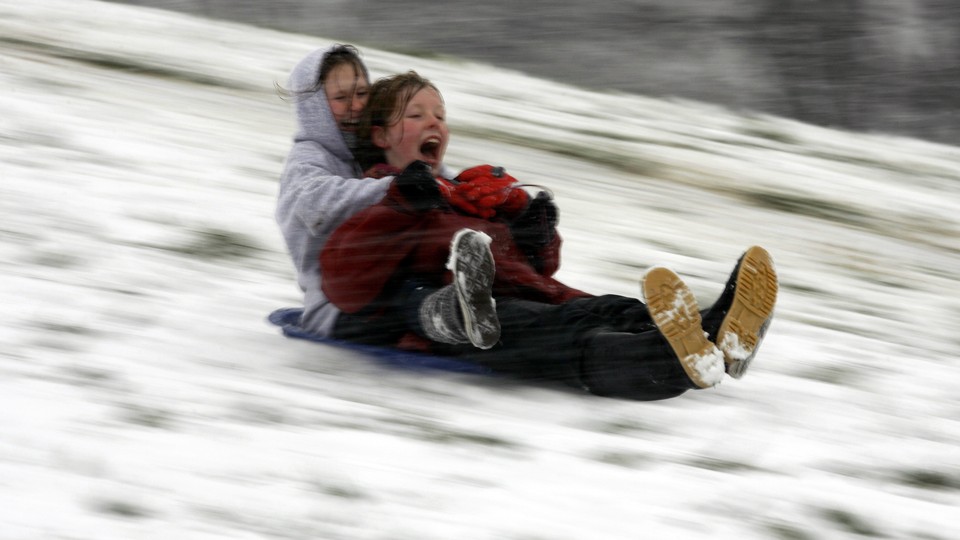 PERHAPS AS THIS WEEK'S HISTORIC STORM HAS LOOMED OVER YOUR REGION … YOU'VE TURNED TO FORECAST DISCUSSIONS … LOOKING FOR WISDOM … CONTEXT … AND CLARITY.
FORECAST DISCUSSIONS ARE ONE OF THE MOST HELPFUL TOOLS THAT THE NATIONAL WEATHER SERVICE PRODUCES. WRITTEN TWICE A DAY BY GOVERNMENT METEOROLOGISTS THEMSELVES …  THEY SAY WHICH  MEASUREMENTS ARE IMPORTANT AND WHICH MODELS TO TRUST.
THEY ARE ALSO WRITTEN IN …
A VERY DISTINCTIVE STYLE.
Which I will now stop mimicking. But for many weather-nerdy Americans, reading the forecast discussion has become part of the standard pre-storm prep routine. The discussions' mix of chatty professionalism and meteorological arcana scratches a brain itch not that far from Drunk History.
Meteorologists seem to have fun with the discussions. Forecasters have turned discussions into spoofs of the Declaration of Independence, Edgar Allen Poe's "The Raven," and the Star Trek Captain's Log. They have filed retirement notes in the discussions and made Yule-themed concrete poetry. They have even commented on the accuracy of their own equipment:
SINCE OUR RADAR IS STILL OPERABLE … I AM FAIRLY SURE THAT THE 343 MPH WIND GUST AT MILLINGTON IS AN ERROR. MY GUESS IS THAT IT IS OFF BY ABOUT 340 MPH.
(All of these examples come from the programmer Ben Cotton's wonderful forecast-discussion hall of fame.)
But no matter how goofy or grave, every forecast discussion adopts the same formal traits. It uses no lower-case letters and it makes frequent and somewhat erratic use of … ellipses. As one writer asked before Hurricane Sandy struck the East Coast, "Why is the National Weather Service yelling?"
Wait, let me put that in terms they can understand. HELLO NWS … OBSERVE AMPLIFYING QUESTIONS FROM THE ATLANTIC … PLEASE ADDRESS WHY ARE YOU ALWAYS SHOUTING.
* * *
"Most of our products remain in the all-caps format," says Chris Maier, a meteorologist at National Weather Service headquarters in Silver Spring, Maryland. (For what it's worth, he didn't sound like he was shouting on the phone.)
The all-caps style originated from teletype machines, which were essentially typewriters controlled by telephone lines. For most of the 20th century, "the news wire" came in by teletype. Newspapers and radio stations got their AP stories, weather bulletins, and sports scores live—and loudly, what with all the clacking—via teletype. (Early in his career, Ronald Reagan did radio play-by-plays of Chicago Cubs games without seeing them: The game's action came in through the wire.)
When the government started requesting forecast discussions, they weren't for public consumption. Rather, they were an internal communication tool between weather bureaus. Twice a day, along with the standard temperature and wind speed and pressure readings, meteorologists would add their professional annotation of the forecast.
Talking only to each other, and pressed for time, forecasters developed shorthand to send more information over the wires quicker. Some of these abbreviations are intuitive—NW for northwest, SE for southeast—but others require a little explanation. Every model gets its own initials: GFS, ETA, and EURO.  SCT means scattered clouds, which cover about three-eighths of the sky; BKN clouds are broken, obscuring about seven-eighths of the sky. Other abbreviations include:
BLO  - below
CB - cumulonimbus clouds, or thunderheads
OBS - observation
PCTN - precipitation
POP - probability of precipitation
"These terms are supposed to be spelled out nowadays," says Maier, because forecast discussions are now written for public consumption. But even that change happened recently. The National Weather Service only began making forecast discussions for the entire country available to the public in 2005 or 2006, Maier said. Before that, some local bureaus released their forecast discussions, but it wasn't a matter of federal policy. (Forecasters now communicate internally with a chat program.)
Maier's old bureau, in Salt Lake City, was posting forecast discussions online by 1998, he said. At the time, local emergency managers asked for more expert analysis of weather data. So many different kinds of disasters could beset Utah—floods, wildfires, high winds, lake-effect snow—that they needed to know which predictions to take seriously. Handing them the forecast discussion was the easiest way to do that.
But even as the discussions moved online, the old format persisted. The reasons were, and remain, stubbornly technical: Early teletype machines couldn't transmit mixed-case letters, so all-caps became industry-standard. As recently as 2012, the World Meteorological Association required weather data to stick to the all-caps format. And even as the National Weather Service has updated its tornado-warning language in recent years, its had to stick to publishing all "products"  in the all-caps style.
Maier said that most meteorologists have become tired of shouting and are eager to move to a more modern format. But he said the National Weather Service still has to complete a formal review begun years ago in which it checked with all the users of its products—that is, "the military, other federal agencies, other state and local agencies, and a large component of the private sector"— to make sure they can handle mixed-case briefings. The worry isn't that some tiny weather-obsessed shack in a remote corner of Alaska is still using a teletype machine, but that many different organizations automatically script certain responses to certain weather warnings. Will those ancient programs recognize weather data if it comes in looking like regular text?
And what about those ellipses which litter every weather briefing?
"In the old teletype system, you weren't allowed to use commas. That's your dramatic pause," he said, laughing.
Yet I wonder if, even after forecast discussions stop looking like E.E. Cummings at his angriest, that old constraint will persist. Earlier this week, I spoke to Paul Kocin, one of the weather service's senior winter-weather experts. (He put out a forecast discussion on Tuesday that made its own inside joke.) I asked him why so many forecast discussions use dot-dot-dots so liberally. Why … do so many discussions … look like this?
"I think it's just a style we follow," he said. Yet what he described was a once-mechanical limitation becoming an untaught flair of forecaster prose style. "I can write like a normal human being," he said. "I have no reason why. I'm just sort of like, okay, if that's how we write them, then I'll write that way too!"