Obama's Big New Move on Coal
In another aggressive measure to fight climate change, the White House halts all new mining projects on federal lands.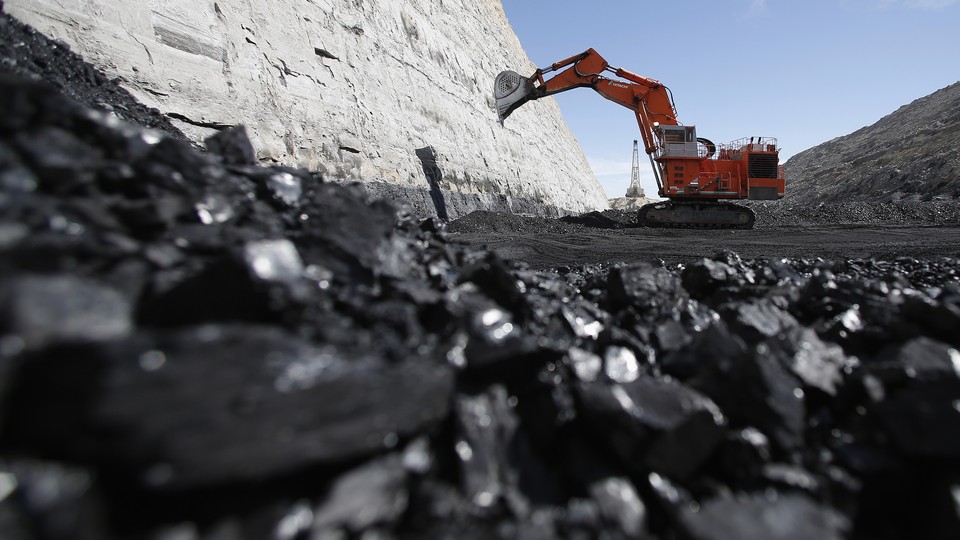 In his second term, President Obama has taken increasingly forceful steps to fight climate change. He's forged emissions-limiting deals with China and pushed for the first international climate accord. Most importantly, last year his administration initiated the Clean Power Plan: a new set of EPA regulations meant to slowly phase out the nation's array of coal-burning power plants and reduce its carbon emissions overall.
Those rules were meant to constrain the demand for coal, limiting how much of what's mined ever actually enters the atmosphere. But many economists have long maintained that if the U.S. truly wanted to mitigate climate change, it would have to target the supply of coal—how much of the fossil fuel is mined—as well. That's why activists opposed the Keystone XL pipeline for so many years, and why green groups have since rallied around the slogan, "keep it in the ground."
On Friday, the Obama administration announced its most significant measure yet to do just that. The Department of the Interior said that it would not grant any new leases to mine coal from public land until it reviewed the federal coal program. That program produces about 40 percent of all U.S. coal: Virtually all coal mined west of the Mississippi is technically owned by the federal government. It's expected that the government will eventually make it much more expensive—and effectively unfeasible—for companies to mine that mineral.
"Given serious concerns raised about the federal coal program, we're taking the prudent step to hit pause on approving significant new leases," said Sally Jewell, secretary of the Department of the Interior, in a statement. At least until the review ends, ongoing coal-mining projects on federal land can continue.
Obama previewed the news on Tuesday during his State of the Union address, when he promised to "push to change the way we manage our oil and coal resources so that they better reflect the costs they impose on taxpayers and our planet."
Climate-activism groups largely celebrated the news.
"We opposed and defeated the Keystone XL pipeline because it would take more tar sands out of the ground and have a disastrous impact on the climate. The same goes for fossil-fuel development on our public lands," said Jason Kowalski, a policy director at 350.org, in a statement. "It's a positive step forward to see this 'keep it in the ground' principle being applied to more government decision making, but the clock is ticking."
But energy-markets analysts said they weren't sure the Obama administration's move would have a major effect on energy markets. At least not yet.
"This doesn't drastically change the overall trajectory for the coal business in the U.S.," said Rob Barnett, an energy-policy analyst at Bloomberg Intelligence. Domestic coal companies are already having so much trouble with current market conditions—especially the recent EPA rules and state-level legislation—that their near-term outlook just can't be damaged further by a moratorium.
"If you look from 2014 to 2015, coal production here in the U.S. fell by 100 million tons," he told me. And Bloomberg's analysis, he said, estimated coal production would fall another 80 million tons this year. Historically, the United States has produced about one billion tons of coal per year.
And since the new rules are likely to be litigated this year, their long-term success or failure is likely to depend on whoever wins the White House in November, Barnett said. "If you're playing this out over a multi-decade period, and this really does ultimately become the firm law of the land, at some point it could become a binding constraint on the industry."