The Untold Stories of the Hairbrush
How a beauty tool can be a symbol of love, power, or identity: An Object Lesson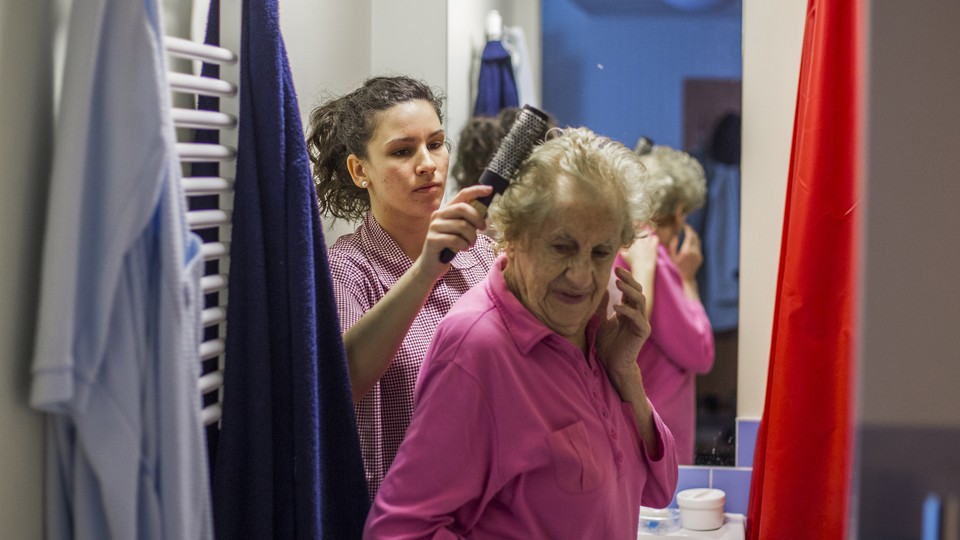 The next time you wander through your local drugstore, take a good look at the hairbrushes—the quantity, the type, the things they claim to do. There's a hairbrush to "smooth and add shine" from Conair, a brush to "reduce frizz/retain moisture" from Revlon, the "Quikstyle" brush with "absorbent microfiber bristles" from Goody. Rectangular brushes with plastic ball-tipped bristles, the obligatory wood-handled brush with 100-percent boar bristles, the strange construction with a refillable strip of argan oil wedged in the middle. The options collectively resemble  a modern snake-oil vendor's cart, promising that their handles and spiky bits will Tame Frizz, Add Luster, Style with Confidence.
Quietly, these hairbrushes play a role in shaping their users' identities. In various places and at various times in history, hair has been seen as a signifier of status or a means of identifying with a certain community, something to show off or something to hide. Consider the political statement once inherent in the Afro, or the fraught nature of dreadlocks. In some cultures, women's hair is completely covered; in others, it might be shaved altogether. In the West, how hair looks, feels, flows, shines, moves, even smells, is often inseparable from popular notions of female attractiveness.
When I was in high school, I had straight brown hair down to my waist. It was prone to frizz and probably full of split ends, but it was thick and shiny and good hair, and I was horribly vain about it. Before I finally chopped it off to chin length when I turned 18, my boyfriends were entranced with my hair. They loved the way it swung loose and slid across my shoulders, the way I sat at my dressing table winding pointless, tiny braids down its length. But mostly, they loved to brush it. It always felt odd to me, sitting there as a boy ran a brush slowly from my scalp to my waist, his marvel almost palpable and strangely non-sexual. It felt like the sense of wonder a father-to-be experiences as he places a hand on his wife's pregnant belly.
This hair-brushing is also an act that, not long ago, would likely have been considered taboo if it were performed anywhere but my bedroom. "The dressing of women's hair was only considered acceptable if performed by other women," Kim Smith wrote in an essay on hair salons for the anthology Hair: Styling, Culture, and Fashion. "The notion of a solitary male ministering in public to what was a very private part of a lady's toilette was unthinkable."
Even in the 21st century, brushing someone else's hair can inspire a sense of breathless intimacy. Not just stroking it or winding it around a finger, but taming it, working through the depths of its tangles. When those boyfriends slipped the bristles down my hair, it put me in an unfamiliar position of power. I was allowing them to enter into this ritual, a trespass that felt more delicate and thrilling than sex.
Even though people associate brushed hair with beauty and cleanliness, though, nothing could be further from the truth. Before it was associated mainly with beauty rituals, the hairbrush was considered primarily a hygienic tool for its use in removing lice, dirt, and accumulated oil. The average hairbrush harbors almost 3,500 bacteria colonies per square inch. Take a good look at yours. If you don't clean it regularly, it probably has a mat of hair—just one hair follicle holds 50,000 germs—under which you'll find dirt and dust (which means dust mites), grease, residue from shampoo, gel, hair spray, conditioner, and, of course, dead skin cells. Every time you stroke your head with the brush, you add skin and dirty hair and dust mites back to your head.
Hair is also a repository of the body's internal waste, of drugs in particular. The first case of using hair to detect poison was published in the 1850s, according to a paper published in Forensic Magazine in 2013, when scientists found arsenic in the hair of a body exhumed 11 years after it was buried. Hair is more useful than urine for detecting drugs, the authors of the Forensic article wrote, since "hair samples provide a larger window of detection as well as history of use over time." Forensic science's partnership with hair analysis, though, is still a shaky one: Cocaine, for example, can be detected in hair, but chemists can't yet tell whether it took up residence there after use, or after external exposure. Researchers at the Institute for Forensic Medicine in Freiburg, Germany, reached the same conclusion about cannabis: Cannabinoids are easily transferred to hair from others' hands, sweat, and secondhand smoke.
Our hair can lie about us, in other words, taking our friends' crimes and attaching them to our scalps.
Depending how it's wielded, the hairbrush can also be an instrument of control, or of love. As a child, I would stubbornly refuse to brush my hair before I left the house, which always infuriated my mother. "You know what my father did when I refused to brush my hair?" she would tell me. "He cut it off." My mother had grown up on a Montana frontier town in the decades before parenting made room for a child's willfulness.
But I didn't mind when my father used to brush it. He started at the very bottom, working his way up about half an inch at a time—the only effective method, if you didn't know, for brushing hair of any noticeable length; starting too high simply adds to lower tangles, creating impassable knots that take painful minutes or sometimes scissors to undo—and I didn't object because he knew how to tie my hair up in a high ponytail just like Sandra Dee's in Grease. By the time I was in junior high I was doing the same for my younger sister. And to this day, when my older sister visits, one of the first things I do is to spend an hour brushing out her waist-length hair, a mane so thick and heavy that ponytail holders and clips couldn't hope to hold it.
Pull out a strand of hair and you're looking at months, even years, worth of relationships and secrets. We can step into a friend's bathroom, or our own, and see the hairbrush sitting there on the counter, tangled with follicles of various vintages, an exposed personal nest of scalp flakes and dust mites and residual conditioner and DNA. It's a collection of dirty and intimate things, on a tool meant to turn an unruly existence into something beautiful.
---
This article appears courtesy of Object Lessons.