When Infrastructure Doubles as Public Art
A Canadian seawall that's also a sculpture shows how function and beauty can coexist.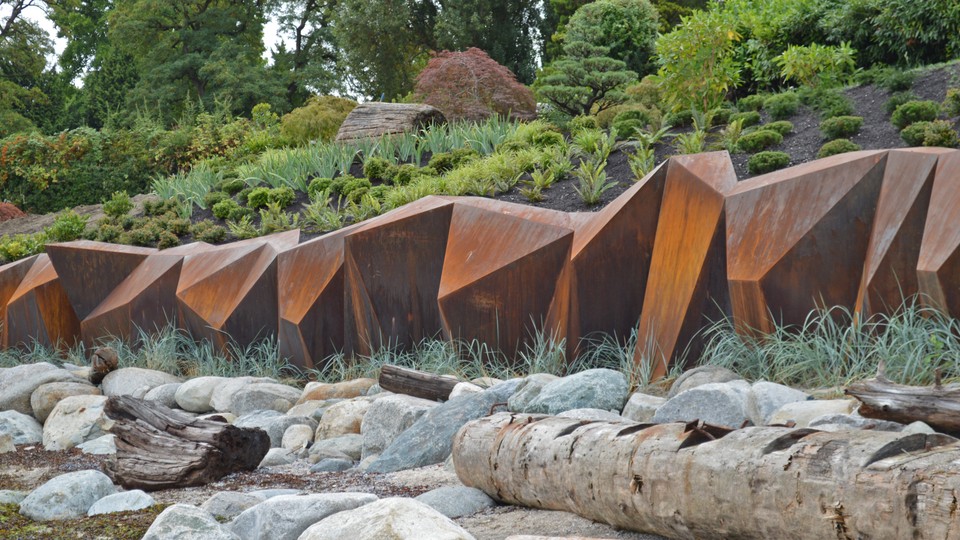 In the alternately dour and idealistic world of water infrastructure, there are some pretty clearly delineated Good Guys and Bad Guys. The Bad Guys are everywhere: gray concrete culverts, drainage pipes, and seawalls that use brute force to shove water out of sight and away from settlements and homes, often exacerbating flooding in places just past the barrier.
The Good Guys are a much rarer species. They exist as much in renderings (like the Dryline proposal to protect Lower Manhattan from floods) as they do in real life—attractive, park-like wetlands that use natural ecosystems to slow and filter water.
One project in Vancouver breaks out of this assumed binary and combines elements of both with new ways to look at landscape ecology and hydrology.
Seawalls are typically some of the most brutish and aesthetically gross pieces of water infrastructure around, but Metamorphous, by Paul Sangha Landscape Architecture, turns a seawall into a 200-foot-long piece of public art. Its concrete and steel structure protects homes on the English Bay coastline. Plantings and strategically placed boulders create a more porous edge, slowing the flow of water and the deposit of sediment, and building up a new sand beach.
The project began in December 2012, when Vancouver was pounded with record-high tides resulting from twice-yearly waves caused by the overlapping gravitational pull of the sun and moon combined with a chance storm surge. These "king tides" gnawed away at the earth that grounded one home's seaside patio and deck, washing 10 feet of the property into the ocean and leaving it cantilevered over a wave-battered beach.

Over time, this would become a threat to the house itself and nearby properties. City inspectors told the owners, Barrie Sali and Roxanne Diaz, they had to put up a fence.
"We had to do something to protect their property, and to provide a solution that would be sustainable," says Vikas Tanwar, the project's lead designer.
Calling a landscape architect to design a seawall isn't the most intuitive choice. But Tanwar's firm had recently worked in the neighborhood, and has a long portfolio of high-end seaside landscape projects.
Working with a biologist and engineers, the landscape architects began by placing boulders along the foreshore (the area between low tide and high tide) and adding plantings like dune grasses and pine shrubberies that would slow water's flow toward the houses and encourage sand to be deposited. "We never had a sand beach before," says Sali.
The wall itself is a Corten steel shell, filled with shotcrete, concrete that's blasted out of a hose. The rust-colored hue and texture of the Corten (a material equally fetishized by architects and artists) makes it a tactile piece of sculpture. Its faceted, angular geometry is drawn from local sandstone formations and the ultimate symbol of stubborn immobility in the face of crashing waves: the barnacle. It's a vaguely biomorphic shape, but still crisp and mathematical, a sharp, thoughtful contrast to the scrubby grasses and tide-polished stones on the beach. Metamorphous won a design award this September from the American Society of Landscape Architects.
Like any coastline, the seawall won't be a static object. Its Corten shell will eventually dissolve after 75 or 100 years, making it just as mutable the rest of the water-mitigating boulders on the beach.
The wall, 13 feet tall at its western end and six feet at its eastern edge, was originally meant to protect two adjacent lots owned by Sali and Diaz. But neighbors were impressed with the nuanced and artful approach Tanwar took and signed on, extending the wall another 80 feet.
Already, the wall's aesthetic and functional features have turned what was an underutilized, soggy, and storm-battered beach into a new quasi-public amenity, Tanwar says. It's now a misty Pacific Northwest beach filled with driftwood, moss-covered stones for clambering over, and a bracingly fresh piece of sculpture calling people to the water. Landscape renovations connect it to an adjacent public park. Families picnic on the beach and sunbathe on the boulders.
"We never anticipated it would go to this level," says Tanwar. "The social aspect of how it's transformed is most exciting for us."
Tanwar says Metamorphous's cost was comparable to a standard seawall, and Diaz reports that the total (including the surrounding landscaping) came to approximately 650,000 Canadian dollars, or about $478,000. That's not affordable for the average group of neighbors, but still, it challenges lazy assumptions about what water infrastructure has to look like.
"It's not that [doing it better] will be hugely costly," Tanwar says. "It's just a matter of having a vision, backed with the right research and the right partners."
Though it's a private project for a few homeowners, the seawall is a careful steward of the greater landscape. Sali and Diaz can't even see the massive piece of sculpture they've paid for from their rear windows as it tucks down into the beach.
Small, interstitial green spaces along the water's edge make the landscape hospitable and welcoming—something that couldn't be said about harsh concrete seawalls, tagged with graffiti that hasn't touched Metamorphous.
---
This article appears courtesy of CityLab.