The Hackers Who Hate Donald Trump
The "hacktivist" group Anonymous took down the Trump Tower website for about an hour.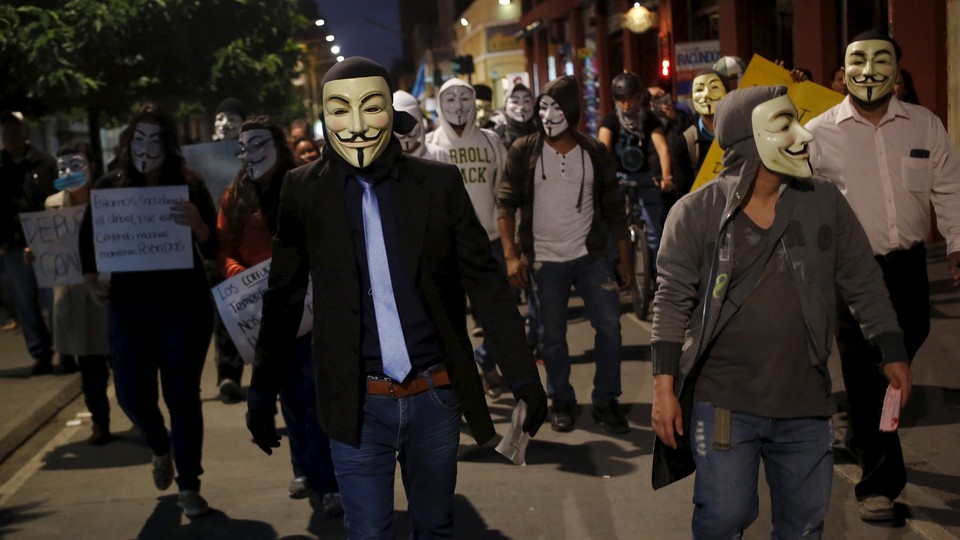 Fresh off a campaign to shutter thousands of Islamic State-affiliated Twitter accounts, Anonymous, the loosely affiliated group of hacker-activists, has turned its attention to a new target.
After a video message was posted Wednesday by a YouTube account affiliated with Anonymous, the website of Trump Tower in New York City went down for at least an hour.
Drawing on the group's trademark style, the video features grainy footage of a person in a Guy Fawkes mask who speaks through a voice changer, to ominous effect. The speaker singles out Donald Trump's proposal to ban Muslims from entering the United States.
"This policy is going to have a huge impact. This is what ISIS wants," the speaker says. "The more Muslims feel sad, the more ISIS feel that they can recruit them."
Trump's proposal to keep Muslims out of the U.S. has been met with outrage from members of both parties. A poll from NBC News and The Wall Street Journal found that 57 percent of Americans oppose the policy.
The Anonymous campaign against Trump, which the group dubbed #OpTrump, has not yet had much success. Despite the group's apparent distributed-denial-of-service attack, which aimed to take down a web server by flooding it with fake traffic, the Trump Tower website was up and running by 11 a.m.
It is unclear if Anonymous plans to go after any of Trump's other online properties. The group has its hands full: It has also declared December 11 "Official ISIS Trolling Day," encouraging social-media users to post funny photos and messages that mock the Islamic State in an attempt to drown out its online propaganda.