Video Is Never Enough
Would body cameras have made justice speedier for Laquan McDonald? Not without new laws.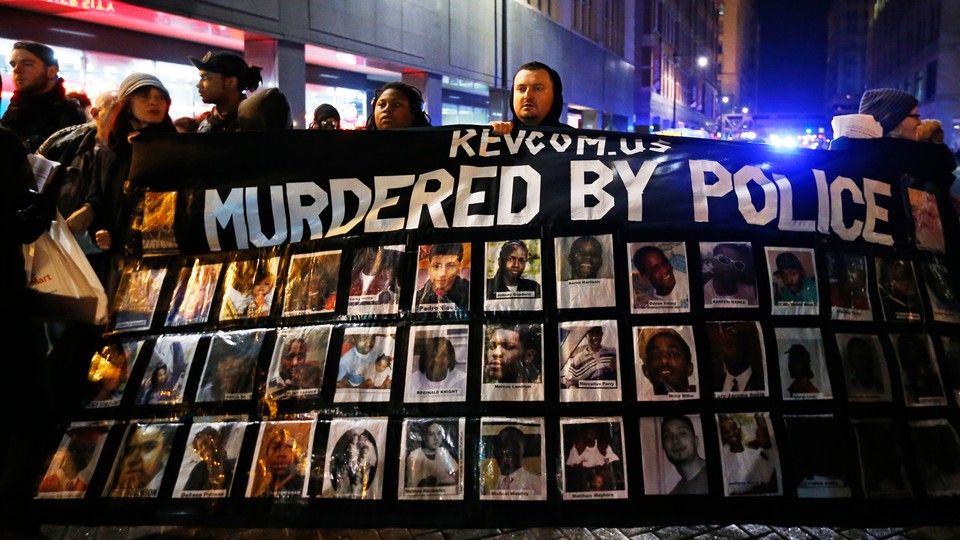 On October 20, 2014, a white Chicago Police Department officer named Jason Van Dyke fired 16 shots at a black Chicago resident, a 17-year-old named Laquan McDonald. Van Dyke started shooting McDonald while he had his back turned on the officer, and he continued firing after McDonald had fallen to the ground.
McDonald was not carrying a gun at the time, though the city says he was holding a three-inch knife. He died later that night.
On November 24, 2015, the city of Chicago released a video of the killing, captured by a police-car dashboard camera. Hours before releasing the video, Cook County also charged Van Dyke with first-degree murder—the first Chicago cop to be booked for that crime in almost 35 years.
What happened in the 13 months between McDonald's killing and the video's release?
As the Chicago Reporter summarized Tuesday, a great deal. It took a still-secret city whistleblower, an autopsy report, and a $5-million city settlement with the McDonald family for the public to have any sense that what happened on October 20 did not match what the police originally reported. Then, it took multiple lawsuits—filed by the American Civil Liberties Union, The Wall Street Journal, and a freelance journalist named Brandon Smith—for the video of the killing to finally be made public under Illinois's Freedom of Information Act.
In other words, it took a highly non-standard series of events—a whistleblower and many lawsuits—for Chicagoans to learn of, and then get to see, the incident. (As recently as November 13, Rahm Emanuel, the city's mayor, refused to put a hard date on the video's release.) If a similar incident were to happen, and it was captured on a body cam, what would it take to make it public—another whistleblower?
It's more than an academic question. The city of Chicago will soon spend $1 million in federal funds to purchase body cameras for its force. As I wrote last December, the campaign which got dashboard cameras installed in most American police cars last decade looks a lot like the one that currently seeks to get body cameras placed on most American police. Then, as now, a coalition of local chiefs and anti-police-violence activists rallied to support the technology. Then, as now, millions in federal funding soon followed.
But then, the story of police dash cams ground to a halt. There has never been a widespread study of whether dash cams reduced racial profiling or police abuse, though some smaller studies have found they they did not. (It's highly likely that body-worn cameras will be better studied.) And as various cities limited access to dash-cam footage, it became difficult for citizens and activists to obtain video.
Will the story be the same with body cameras? Let's look at the law.
Two different policies guide how body cameras are used in Chicago. The first is Illinois's state body-camera law, which was signed and passed in August. Though slightly more prescriptive than similar legislation in other states—Illinois orders officers to film every citizen interaction, unless a subject asks otherwise—it leaves most of the nitty-gritty of body-camera policy up to local departments.
Which is where the second policy comes in. The Chicago Police Department's internal department notice D15-01 governs how that city's officers can use body cameras and how the city can treat footage produced by the devices. Earlier this month, that policy was evaluated by the Leadership Conference on Civil and Human Rights, a policy and lobbying organization for hundreds of U.S. rights groups, and Upturn, a firm that frequently consults on progressive technology issues.
Their scorecard found that the city's body-camera rules are mostly lacking. While Chicago's policy satisfied two important criteria—it set limits on when officers could record and it protects some classes of subjects—it specifically leaves open many questions of access. Chicago allows officers to view footage before filing a report, which many civil-rights groups oppose. Chicago does not specifically prohibit tampering with footage (though it does forbid copying or disseminating footage without authorization, and it says all access to its online database is tracked). And, crucially, the city provides no way for people captured by body cameras or their families to gain access to footage.
Chicago isn't alone here. With the exception of the metropolitan police in Washington, D.C., no major American city—not New York, not Los Angeles, not Houston, Miami, or Baltimore—allows people recorded by body cameras to have access to footage of themselves. These cities prohibit access to footage even if someone on film, or a survivor from their immediate family, is filing a complaint with the department.
In fact, of the 25 departments examined by the Leadership Conference and Upturn, only the small town of Parker, Colorado, extended that ability to residents at all times.
Since last August, Americans across the country have protested what they see as the racist state of modern policing and incarceration. Body-worn cameras have so far been the greatest policy outcome of this movement, even though many activists feel squeamish about them. That squeamishness is understandable: Body cameras are meant as a tool of police transparency, but they surveil the community.
Whether body cameras will function more as the former or the latter is now being decided, in state houses and town halls across the country. It seems to me that activists should intensify their focus on creating a better legal structure for body cameras—as it's the legal structure that determines how body cameras work as a technology and whom they ultimately serve. In truth, many already have: We the Protestors, an organization associated with many of the best-known activists, also released a body-worn camera scorecard earlier this month.
The crimes that the city of Chicago committed in the case of Laquan McDonald appear to go much further than its handling of open-records law. But this is not the last time that the city or its civic servants will commit those crimes. Strengthening the legal strictures around body cams now might make justice arrive a little faster next time.