Why I Quit Ordering From Uber-for-Food Start-Ups
The food was decent, but the vibes were dystopian.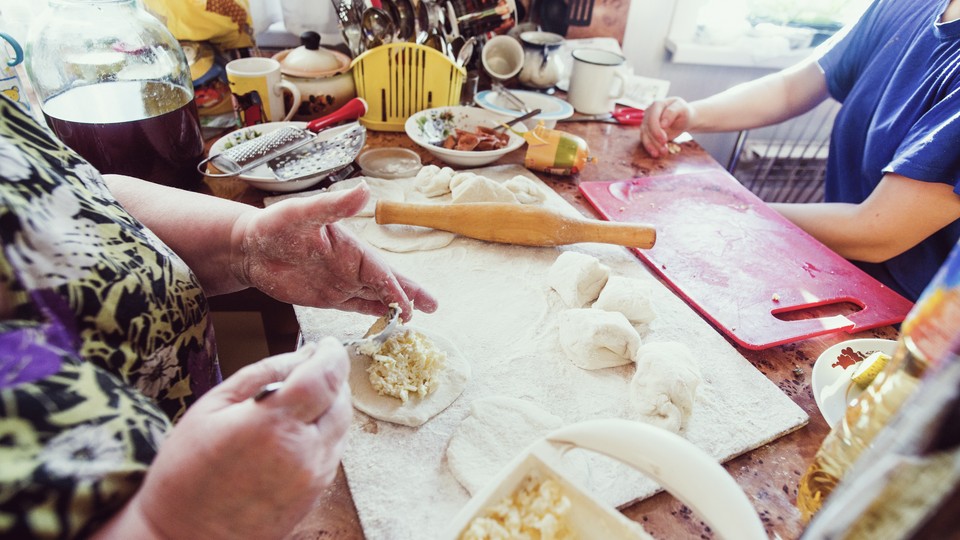 I work some days from a small office in San Francisco, and every day, I gotta eat. For a stretch of several weeks this year, I obtained my lunch from an iPhone app called Sprig.
It's a beautiful piece of software. A trompe l'oeil table offers a compact slate of choices for lunch and dinner, all photographed beautifully from above. On the day I'm writing this, I can get a Caesar salad ($11), blackened chicken with broccoli ($11), a lamb-kofta wrap ($11), a tequila-lime shrimp salad ($13), or a kimchi veggie bowl ($10). Everything is organic, with sources all specified. The chicken comes from Petaluma.
* * *
I work some days from my apartment in Berkeley, and every day, I gotta eat. Two or three times a month, I obtain lunch or dinner from a network called Josephine.
The first time I encountered Josephine, its website was a bare page that instructed you to enter your phone number and "join our SMS list." The design is only slightly more elaborate today; there's still no iPhone app.
Josephine doesn't prepare any meals itself. Instead, it screens home cooks and takes orders on their behalf. On the day I'm writing this, I can get carrot soup ($11) from Lisa in Oakland or pho ($13) from Hai in Emeryville. That's it for tonight. Tomorrow, there's chicken and dumplings ($11) from Suzie in Albany or veggie enchiladas ($8) from Afiba in Fruitvale. The menu extends out two weeks; Josephine is less "I'm hungry now" and more "I expect to be hungry on Thursday, so I'd better line something up." The photography is rough-and-ready, Etsy-caliber, and the dishes are described by the cooks themselves.
* * *
Sprig sells on speed: From selection to delivery, it's twenty minutes. The experience is identical to an order from Seamless or GrubHub. A harried courier extracts your meal from a fat insulated bag; you say "thank you," close the door, and feel bad for a moment about the differences between your lives. Five stars.
Meals from Sprig arrive reliably deflated from their in-app depictions: soggier, less composed. The quality of the food ranges, in my experience, from "sure, I can eat this" to very good indeed. It's approximately equivalent to what you'd get in a nice cafeteria; better than Kaiser Permanente's, not as good as Facebook's.
"Gotta eat" is a rumble in the belly, a business opportunity, and a public-health crisis all rolled into one, and to address it, Sprig is building the biggest, nicest cafeteria ever. The ambition is clear: Sprig in every city, with longer menus, better ingredients, faster delivery. I can see them: the drones dropping lamb kofta from the sky.
But there's more to any cafeteria than the serving line, and Sprig's app offers no photograph of that other part. This is the Amazon move: absolute obfuscation of labor and logistics behind a friendly buy button. The experience for a Sprig customer is super convenient, almost magical; the experience for a chef or courier…? We don't know. We don't get to know. We're just here to press the button.
I feel bad, truly, for Amazon and Sprig and their many peers—SpoonRocket, Postmates, Munchery, and the rest. They build these complicated systems and then they have to hide them, because the way they treat humans is at best mildly depressing and at worst burn-it-down dystopian.
What would it be like if you didn't have to hide the system?
* * *
Meals from Josephine are not available for delivery.
On the day of your order, a text message arrives bearing a street address. You ride over on your bicycle and spot a Josephine sign taped to the front door, which is ajar. You step inside; the feeling is both clandestine and transgressive. In the kitchen, the cook—your neighbor—is working. Maybe another customer—also your neighbor—is lingering. You announce yourself, say hello, receive your meal. Chat a bit, if you like. Carry it home in a bag dangling from your handlebars.
It definitely takes more than twenty minutes.
But I will tell you that my Josephine pickups have been utterly reliable generators of smiles and warm feelings. I look forward to them, not just because "gotta eat," but because they unlock my neighborhood, fill in the blank spaces on my mental map. And of course, it's always fun to see the insides of other people's houses.
The seriousness of Josephine's cooks ranges widely. Some are clearly demi-professionals, as polished and efficient as Airbnb hosts; others seem surprised to have people in their kitchen. Some offer fat slices of cornbread as impulse buys; others seem happy to have finished their soup in time.
What unites them is this: They are your neighbors; they have cooked a dish of their own design; they have invited you into their home.
I flaked on a Josephine meal once, and as the pick-up window was closing, my phone rang. It was the cook. "I can leave it out for you," she offered. I demurred. "Oh, okay," she said. Her voice betrayed her disappointment. I felt bad all night.
* * *
Sprig started in 2013. Its four founders have tech-industry roots, and the company has raised around $50 million so far. (It is safe to assume the words "Uber for food" were uttered along the way.) Currently, you can order in San Francisco, Palo Alto, and Chicago—the last of which is clearly the test case for national expansion. The Sprig careers page advertises openings in Boston, Los Angeles, Seattle, Dallas, and Austin.
Josephine started in 2014. Its two founders also have tech-industry roots, and the company has raised around $600,000 so far. Mark Bittman recently joined its board of directors. Josephine's home cooks are mainly scattered around Oakland and Berkeley. In October, the company listed its first batch of meals for San Francisco; on the day I'm writing, there are three home cooks in the city.
If Sprig projects an Amazon-like relentlessness, Josephine feels tenuous; some days, it seems almost too good for this world, too "eat your vegetables," literally and figuratively. It's convenient, but not THAT convenient. When it needs more cooks, it can't simply hire them. Its viability in neighborhoods beyond the Bay Area will depend on instruments subtler than a war chest and an expansion playbook.
* * *
We are alive at a time when huge systems—industrial, infrastructural—are being remade, and I think it's our responsibility as we make choices both commercial and civic—it's just a light responsibility, don't stress—to extrapolate forward, and ask ourselves: Is this a system I want to live inside? Is this a system fit for humans?
It's like this:
Sprig-type operations drain agency and expertise out of the world. They centralize, aiming to build huge hubs with small spokes; their innermost mechanisms are hidden. They depend on humans behaving as interchangeable units of labor.
In the hypothetical future we can label Full Sprig, no one cooks who is not employed by this kind of company.
Josephine cultivates agency and expertise. It decentralizes, aims to build a dense mesh, neighborhood-scale; its mechanisms are public. It depends on humans developing their specific, idiosyncratic tastes and skills.
In the hypothetical future we can label Full Josephine, many people don't cook, but some people cook a lot more, and better, than ever before, and all of us, cooks and non-cooks, derive pleasure from that. We meet on the sidewalk carrying warm veggie enchiladas.
What kills me is the plausibility of the Josephine future. This isn't some utopian vision; there's a scale model working in the East Bay today. Neighborhoods everywhere are full of cooks, or would-be cooks; the talent and the desire is thick on the ground.
Josephine employs the most basic tools of telecommunications to make a market and match "gotta eat" with "wanna cook." This could be the system! The rumble in the belly, the business opportunity, the public-health crisis: The answer to all of it might be waiting next door.
We make these choices, bit by bit. I stopped ordering from Sprig back in the spring, because (a) I don't like that future and (b) they sent me a truly sub-par chicken sandwich.
Every couple of weeks, or whenever I think of it, I check Josephine for something nearby. The food is always good, at least friend-cooking-dinner good and often better, but honestly, the future is what sells it.