Thanksgiving at the White House: The Menu Changes More Than the Silverware
On the president's holiday table, tradition and politics intersect with culture and design.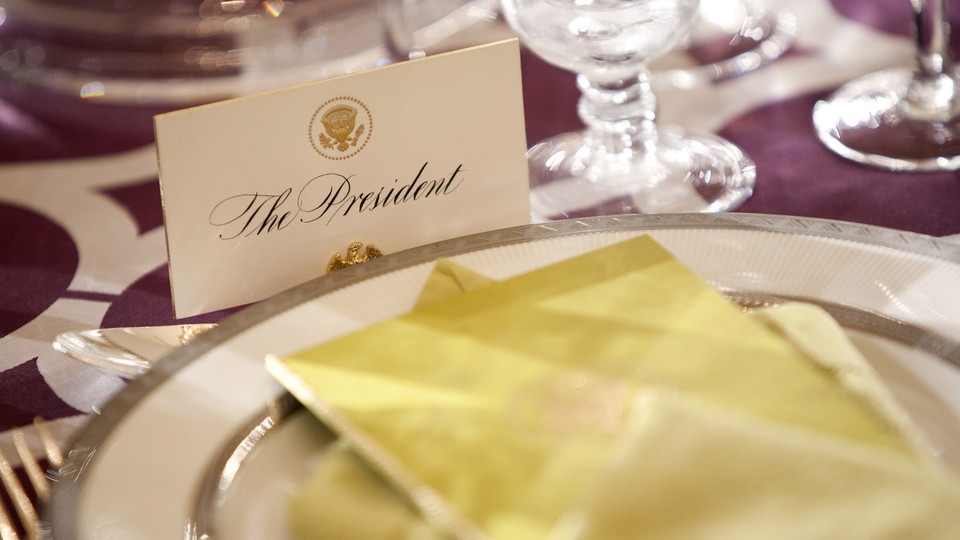 Looking back at decades of Thanksgiving menus at the White House is fascinating—and, frankly, a little gross.
What ends up on the chief executive's table on that most American of holidays seems to be a reflection of both the era (molded cranberry sauce for Lyndon Johnson in the 1960s) and of a president's taste (Nancy Reagan's famous monkey bread in the 1980s).
Theodore Roosevelt's family dined on turtles, in addition to turkey, in 1903. Franklin Delano Roosevelt's 1937 menu included curled celery with toast fingers and olives. And in 1909, William Howard Taft and his dining companions dug into a 26-pound Georgia possum. (They had a 30-pound bird, too.)
Turkey, of course, is a mainstay, but not much else remains consistent from one president's Thanksgiving menu to the next. There are some culinary echoes. Lots of presidents have enjoyed pumpkin pie. The Obamas and the McKinleys have both served oyster stuffing, more than a century apart.
One thing that hasn't changed since the 1970s, at least: The silverware. The White House uses Gorham-made sterling flatware in a pattern called King Charles. The design, recast from original 1894 dies, is characterized by florid, Rococo-esque swirls. It's based on the 18th-century "Kings" pattern found in early American silver collections.
Eating utensils aren't just for dining. They're as much a cultural beacon as they are a functional form of technology. Forks and spoons and knives have, for centuries, been treated as status symbols. Sara Goldsmith, in a detailed cultural history of the fork for Slate in 2012, gave the example of Jean Anthelme Brillat-Savarin, a judge who wrote extensively about the significance of the dining table. In the 18th century, Brillat-Savarin noted how outsized that cultural place had become, writing that "more orderliness in the meals, more cleanliness and elegance, and those various refinements of service which, having increased steadily until our own time, threaten now to overstep all limits and lead us to the point of ridicule."
There has since been something of a cultural reversal when it comes to sterling as a symbol of opulence on American dinner tables. Many newlyweds don't register for sterling the way they once did. "What's your silver pattern?" isn't asked of brides the way it was decades ago. When Pat Nixon approved the purchase of the King Charles pattern in 1974, newspapers predicted that young married couples would be scrambling to buy the same pattern. These days, the owners of antique shops report an influx of customers selling the silver they inherit. "Younger people don't care about [sterling silverware]," the owner of a jewelry-exchange store told the Fort Worth Star-Telegram in 2013. "They want to turn it into a big-screen TV or a vacation."
In one view, sterling silverware can be seen as another casualty of an increasingly informal world, reserved for holiday dinners and presidential dining tables. On the other hand, the Internet has created a culture in which practically any design or technology inclination can be fulfilled instantly if you have enough money and know where to look. Bakelite plastic flatware, popular in the 1930s and 1940s, has since made a comeback among collectors. It's kitschy as ever, but valuable in a way that its original owners likely wouldn't have anticipated.
Forty years ago, the White House paid $21,600 for a 130-person service set of King Charles sterling silver, which included 3,434 individual pieces and replaced a 90-person set that had been used since the Coolidge era.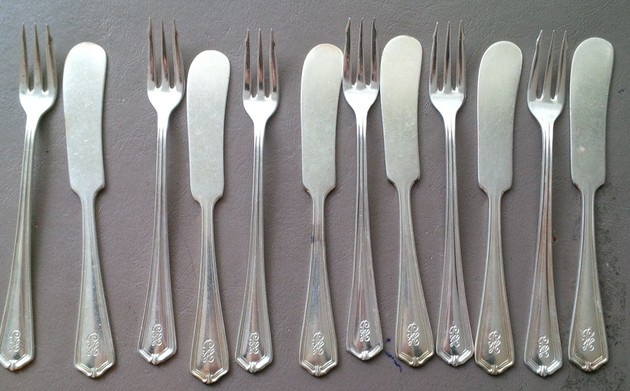 The retail cost for the new silverware would have been closer to $100,000, a White House spokesperson told the Pittsburgh Post-Gazette in 1975, but Gorham covered the additional cost as "a gift to the American people." Today, you can see a 38-piece set of this pattern listed on eBay for $2,655.
In 2006, during George W. Bush's presidency, the collection was increased from 130 place settings to a 300-service set. Bush used another Gorham design, Chantilly, on Air Force One, but King Charles has remained for on-the-ground White House dining since the 1970s. (Gorham has a long history in the White House. Mary Todd Lincoln picked out a pattern called Josephine, which features a delicate reeded edge and an acanthus leaf, for the White House in the 1860s.)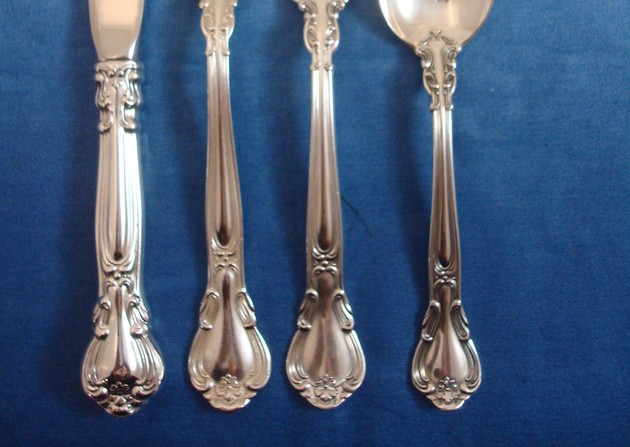 The Obama White House uses its King Charles silverware for formal luncheons and some dinners. But for state dinners, White House tables are set with a hodgepodge of gilded silver flatware. "The forks were made in 1894, the dinner knives in 1924, and other pieces in 1950 and 1994," William Allman, the White House curator, said in 2003.
When The New York Times profiled Allman in 2011, the newspaper pointed out that, in a property as historic and politically charged as the White House, "art decisions are never just aesthetic."
That's true, culinarily speaking, too.
The Obamas have a tradition of serving at least half-a-dozen pies for Thanksgiving. Since Obama has been in the White House, the Thanksgiving menu has included huckleberry, pecan, peach, apple, chocolate cream, sweet potato, pumpkin, cherry, and coconut and banana cream pies. (Republicans are fond of criticizing Obama for his pie weakness.)
Last year, when Obama quipped that the executive pastry chef's creations were so good they might have crack in them, the first lady was stirred to clarify: "There is no crack in our pies."