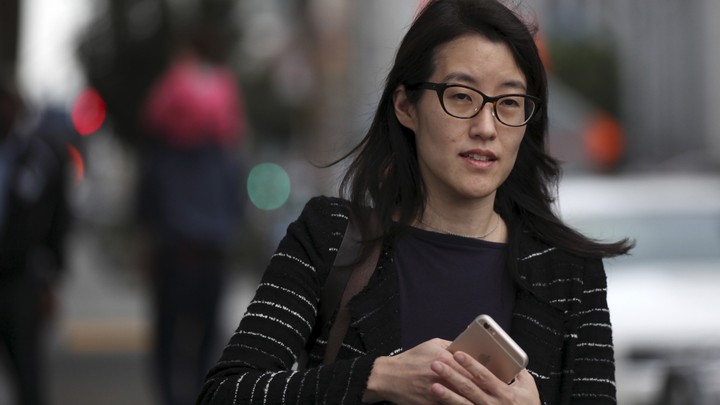 If you're an executive in Silicon Valley who calls the diversity problem in tech an "unconscious bias," you're kidding yourself. And if you're a woman working for a company whose CEO has said something to that effect, get out of there. That's the message from Ellen Pao, the former Reddit CEO, in her essay for the newsletter Lenny on Tuesday.
Pao, who lost a high-profile discrimination lawsuit against the venture-capital firm Kleiner Perkins earlier this year, challenges the industry's common refrain that the tech is dominated by white men because fewer women and people of color have sought opportunities in Silicon Valley. "Actually, it's about how the system treats people before and after they enter tech," Pao wrote. "At this point, we've heard enough excuses. Know that when people use dog whistles like 'the pipeline problem,' they are saying: We haven't done anything wrong, and we don't care to fix it."
The discrimination that minorities in the technology industry face is even worse than what Pao says she and her colleagues experienced in law—and what she describes abut her experience is skin-crawling. In one instance, a woman at Pao's law firm was sent home for wearing pants. In another, a woman gained a reputation for being distant because she started closing her office door when a senior partner would ogle her while eating ice cream.
By the time Pao made the switch from working at law firms to working at tech companies, she said it had become harder for her to rationalize the discrimination she saw. "Several start-ups had no women or minorities in management and engineering ... I soon realized these institutions were using the same methods to build management teams and boards of directors and to invest in co-founders who are the next generation of wealth, power, and leadership."
This section, in particular, will be familiar to any woman who has worked in a male-run environment:
I saw inconsistencies in what people said and what they actually did. I saw many firms talking meritocracy but ignoring great opportunities that women brought in or giving men credit for them. I saw the bar for promotion move as soon as a woman crossed it. I saw inconsistencies in how aggressiveness and strong opinions were rewarded across genders. I heard stories about harassment and off-color jokes and sexist/ageist/racist conversations. Women founders were pushed out or into lesser roles as a condition for investment, while similarly inexperienced male founders were given the benefit of the doubt and supported.
The picture Pao paints of Silicon Valley is grim, and it's consistent with what many, many other people have described. But the situation is also improving, Pao believes, because more people are speaking out and sharing data.
It's been 18 months since Google set off an industry-wide movement to disclose workforce figures detailing diversity. "We've always been reluctant to publish numbers about the diversity of our workforce at Google," the company wrote at the time. "We now realize we were wrong, and that it's time to be candid about the issues." Now, some media companies are following suit. How these companies learn from and react to this data will be most telling. A handful of companies, like HP, have long made diversity data public, but that alone hasn't done much. It will likely be years before the efficacy of recently enacted diversity initiatives can be properly measured.
"For now, what I'd tell any woman struggling in a male-dominated work culture is: Do not give up. You are not alone," Pao wrote. "When you are thinking about a school, job, or role somewhere, and it doesn't look right to you, trust your gut. You'll hear all kinds of defenses, but if they really want women and minorities as employees and leaders, why aren't their numbers higher? Either they don't really want them or they are incompetent. You shouldn't work for them either way. If you have the option, run."
We want to hear what you think about this article. Submit a letter to the editor or write to letters@theatlantic.com.
Adrienne LaFrance is the executive editor of The Atlantic. She was previously a senior editor and staff writer at The Atlantic, and the editor of TheAtlantic.com.